Inspiration-Mac Setup
Step 1: Installing InVue
These instructions are for installing the InVue on a Mac for the Creative Cutter Inspiration (with light blue sides).  Do not follow these instruction if you are using the Vue.
(This link will take you to our online store to purchase the InVue Software as a Digital Download.)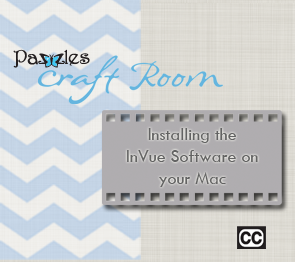 This video takes you through the steps of installing your InVue software for the first time on your Mac computer. It also includes installing your gallery of 300 exclusive images and 4 exclusive projects.

Note that you may need to change the security settings on your Mac computer so that application installations from third party developers are enabled. To do this, please follow the steps below.
Click the apple icon in the top left corner of your screen and choose "System Preferences".
Select "Security & Privacy" from the System Preferences window.
Select the "General" tab, and select the lock in the lower left corner to allow changes.
Enter your computer username and password, then select "Unlock."
In the "Allow apps downloaded from:" section, select the radio button to the left of "Anywhere."
Close the window. You can now install unsigned applications that you trust.
Step 2: USB 3 and Your Inspiration
USB 3 is a newer, faster standard of communication with USB ports. Our Inspiration cutter was released before the adoption of this new standard, and will not function while plugged directly into a USB 3 port. Most Apple computers built in 2012 or later come with only these ports, predominantly. To bypass this hardware incompatibility, you will need to purchase a third party USB 2.0 hub.
Most USB Hubs are USB 2.0 and should work. Some are USB 3.0 and will not work.
The following links are both working examples of a USB 2.0 hub:
Sabrent 4-Ports Aluminum USB 2.0 Hub
Sabrent 4-Port USB 2.0 Hub
Either of these will work, as well as just about any USB 2.0 hub (just make sure it is not designed for use with USB 3).
Step 3: Allowing Communication
To allow communication on Mac OSX 10.9 or higher, there is a driver patch that you will need to download.
You will need to turn off your Inspiration Cutter, then install the patch. Once the patch is installed, restart your computer.
Once the computer has booted back up, the cutter should be communicating with the computer.
If there are still any issues, you can join our support in live chat for troubleshooting between 9am and 5pm MT, Monday – Friday here.