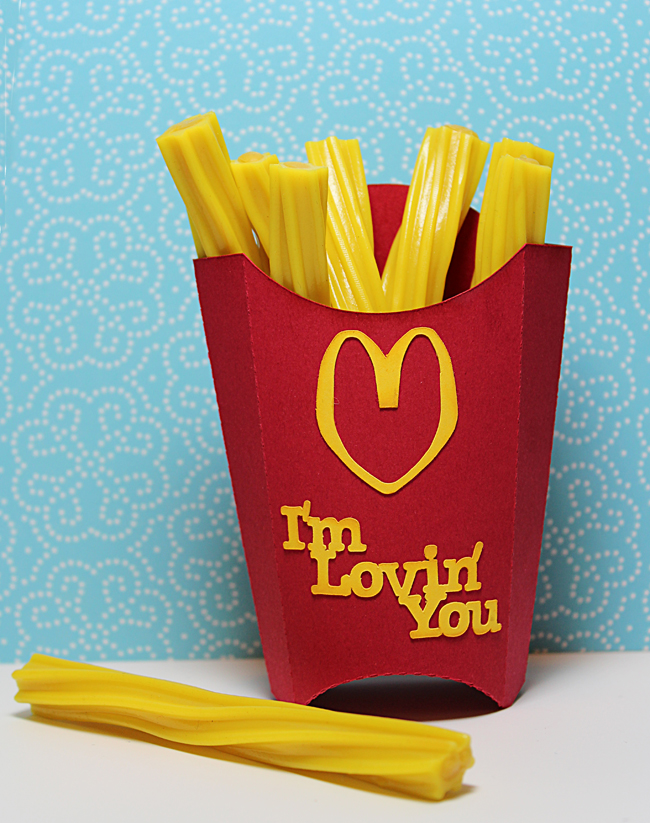 I fell in love with the mini sized fry boxes that now come in kid's meals. The little size is so cute! I saved a few from my grandkids lunch one day but had no idea what I would do with them. Then I saw yellow Twizzlers at the store and the idea for this valentine treat was born. I am sure you can guess where I got the idea for the saying and of course what inspired the shape of the heart. This is a fun treat that any kid, big or small, will enjoy receiving. We hope you have been inspired by our series of quick and easy valentines! Make sure to check out all 8 of our valentine projects by clicking on the Projects category (there are lots of other cool projects there to check out too if you didn't know!)
Here is the recipe and cutting file for this valentine! We have included the cutting file for cutting just one valentine, or a file that is set up for cutting multiple valentines at once for easy mass producing!
Recipe for Fry Box
Cutting file for Single Fry Box
Cutting file for Fry Box
OR
Tags: cutting files, dimensionals, projects by Chris, special occasions, valentines day
8 Responses to "Quick and Easy Valentines: I'm Lovin' You Fry Box"
Leave a Reply
You must be logged in to post a comment.