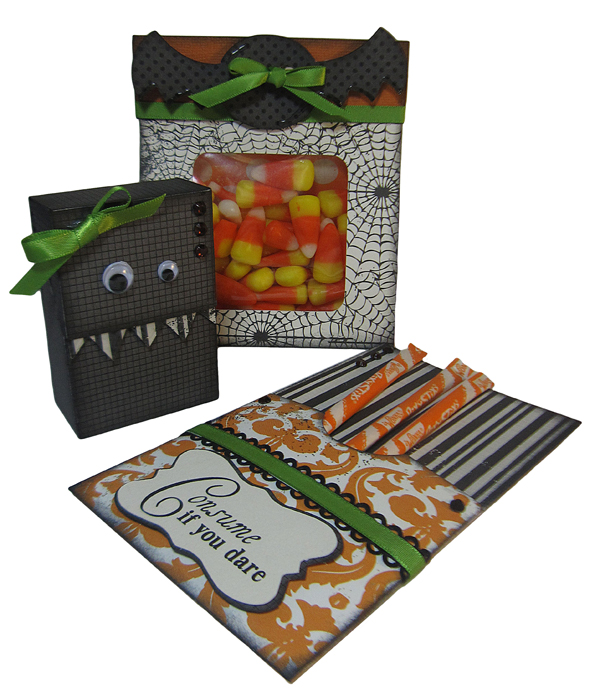 The weather has taken a sharp turn towards winter this week here at Pazzles and it is impossible to deny any longer that summer is over and fall (winter?) is here. Though I have always been a warm weather person, I can't help but feel a child-like excitement start to bubble up in me when I realize that the holiday season is upon us. I love the memories, activities, and traditions that surround every holiday and some of the "heavy hitters" are just around the calendar corner!

With that in mind I started to work on some treat containers for Halloween. Halloween colors are so much fun to play with. I am not sure what it is about the deep purples, vibrant greens, deep blacks and oranges. Everything about those color combinations sounds wrong to me, but in reality they are a blast to work with! I hope you like the treat containers I came up with. All of them are super simple to make so that you can make them in mass if you want to really wow your tricker-treaters or party attenders this year. I have even added an extra file that has each project formatted for cutting large quantities. Also, as we have so often been doing lately, I am including the .AI and .SVG files for those you who prefer to use those formats. Hope you enjoy and have a beautiful fall weekend!
Here are the recipes and cutting files (including a separate cutting file for cutting large quantities!)
Bat Bag Cutting File for large quantities
Monster Box Recipe
Monster Box Cutting File for large quantities
Consume If You Dare Recipe
Consume If You Dare Cutting File
Consume If You Dare Print and Cut File
Consume If You Dare for large quantities
Here are the SVG and AI files!
Halloween Treat Containers SVG
Comments
comments