Today we officially have embarked into the month of June! June means a lot of things to me – half way through the year, summer vacation, and both Father's day and my father's birthday. So as we were thinking on projects for this month, I naturally started thinking about "man" cards. For most of us, manly cards are a struggle. There are so many options out there for girly things between ribbons, rhinestones, flowers and swirls; when it comes to the guys on the other hand I am often at a loss. Our team decided to face this challenge head on and bring you a series of masculine cards that hopefully will help you always have the card you need for the men in your life. We hope you enjoy this card series!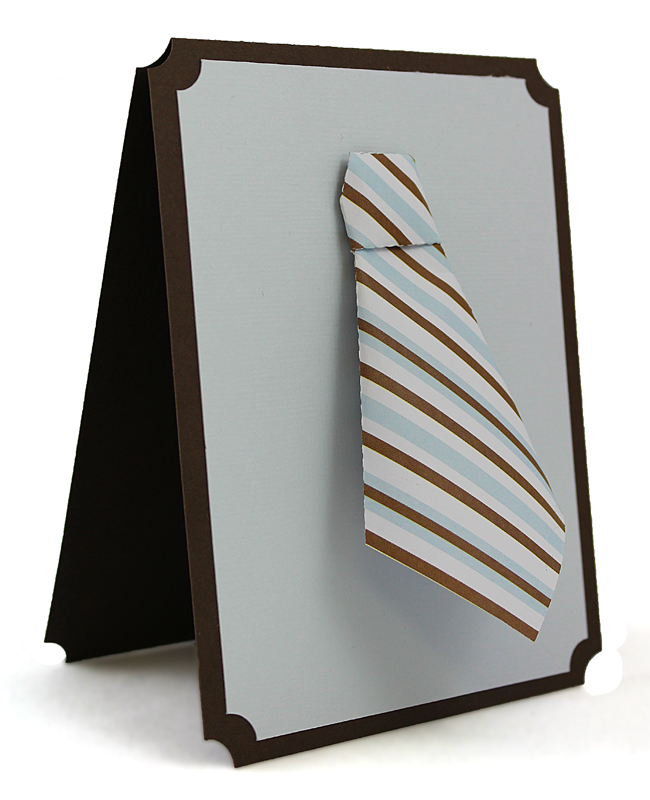 I am kicking off this series with a fun origami tie card. I don't think we often consider origami in conjunction with the Inspiration, but the two actually make a great pair! I love origami because it can give some "bulk" to an object that would otherwise be boring and flat. This card wouldn't be nearly as cute with a flat diecut tie! However what I DON'T like about origami is that I can never get my folds perfect. I never get it folded perfectly in half, my folds never line up the way I want them to etc. However by making myself a template in the Inspiration Studio I now have a pattern for this tie that guarantees I'll get a perfect and consistent tie every time. This is also a wonderful way to get your kids involved in the card making. Kids can easily fold on the lines and make up a card for their dad – they will feel so proud and dad will love it! I hope you enjoy this card and if you love this origami template LEAVE A COMMENT AND TELL ME SO and you just might see more templates in the future!
Here is the recipe (including folding instructions) and cutting file for this card!
Origami Necktie Card Cutting File
OR
Origami Necktie AI and SVG Files
Comments
comments