This months challenge is Christmas in July (or whatever holiday you choose to celebrate in a normal December).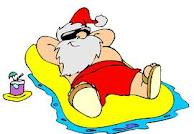 You know how we always say we are going to start on our projects early this year, or make cards early and send them BEFORE the holidays? Well, this challenge is the perfect way to get started towards fulfilling those goals.
You can make anything you want as long as it is something you will be using in the month of December, whether it is a gift, decoration or a card, just do it. Then share it in the July 2012 Challenge folder.
If you haven't joined us for a challenge yet, this is the perfect time to do so. You can read more about the great prizes on the Challenge Page.
Comments
comments