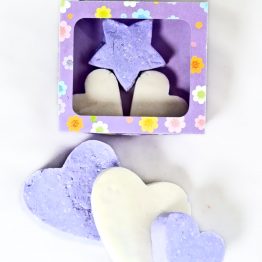 Recently I asked my Facebook fans for ideas to do with my five grandchildren ages 2 to 9. I got a lot of wonderful ideas from them! (If you want to see more ideas 'Like' my Facebook page.) One of the projects was to make soap in the microwave. It was such a success that I couldn't wait to tell the Pazzles office staff about it. Eventually I concluded that a demo was in order so I packed up the supplies and brought it all to our Pazzles kitchen.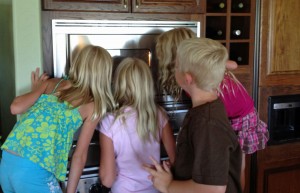 The magic of this project is watching what happens when you put Ivory soap in the microwave. At home I had four kiddos jostling for a spot to see the transformation. Guess what! The same thing happened here! I showed it four times so everyone could see. 🙂
This is a wonderful project to do with the kids. Grandparent's Day is next month and it would be a great handmade gift. Of course, you can make the little gift box with your Inspiration. The one I used is from the Craft Room library. I just cut a window and lined it with a piece of plastic cut from an Inspiration Mat cover.
There are instructions for this project on different websites, but I did discover a few things on my own. You must use Ivory soap. No other soap will work and it has to be fresh. Don't dig up a bar under the sink that you have had for ages.
So without further ado here are the instructions with lots and lots of pictures: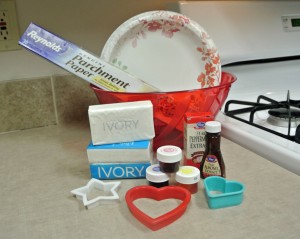 1. Gather your supplies: Ivory soap, parchment or wax paper, paper plates, mixing bowl, electric mixer, food coloring, cookie cutters in simple shapes, paper towels for messy hands, water in a cup, spatula, and plastic spoons. You can also add scent to the soap by adding almond, peppermint, or lemon extracts.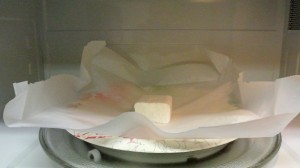 2. Line a paper plate with parchment paper and fold up the sides so that it will turn freely in the microwave. I suggest starting with a half bar of soap and if you have a bigger microwave you can graduate to a full bar later.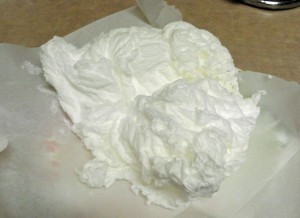 3. Microwave a half bar on high for 1 to 1 1/2 minutes. You will need to watch this, don't over cook. Mine took 1 minute but microwaves do vary. This is the time to gather round and watch the transformation! It happens pretty fast and is very dramatic.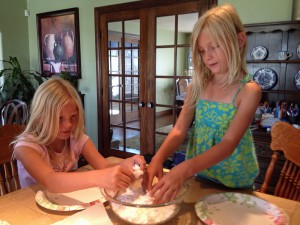 4. Crumble the soap into a bowl.  Make sure it is cool and watch out for any soap lumps in the middle. The finer the crumbles the better. The kids loved doing this. Warning! Crumbling creates soap flakes which can get everywhere but they are easy to vacuum up.
5. Mix in a very small amount of water using an electric mixer or a pastry dough blender. This is the time to add scent as well. I add food coloring to water in a cup and then pour small amounts of water in as needed. You want the soap to get to the consistency of pie crust dough.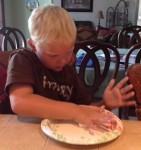 6. Knead the soap 'dough' to mix color is thoroughly. The kids love this part.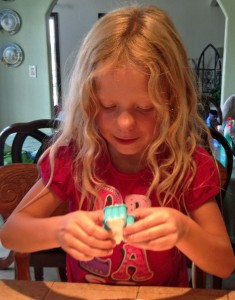 7. Press the soap into a cookie cutter. Wait 10 or 15 minutes then push the soap shape out of the cookier cutter.
You can also press a flat pancake shape of soap and use the cookie cutter to cut the shape much like cutting out cookies.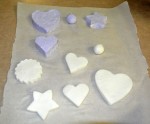 8. Let the soap dry on parchment paper. Turn several times.
9. Clean up with a vacuum cleaner first! Then you will only have small amounts of soap to wipe up.
Comments
comments