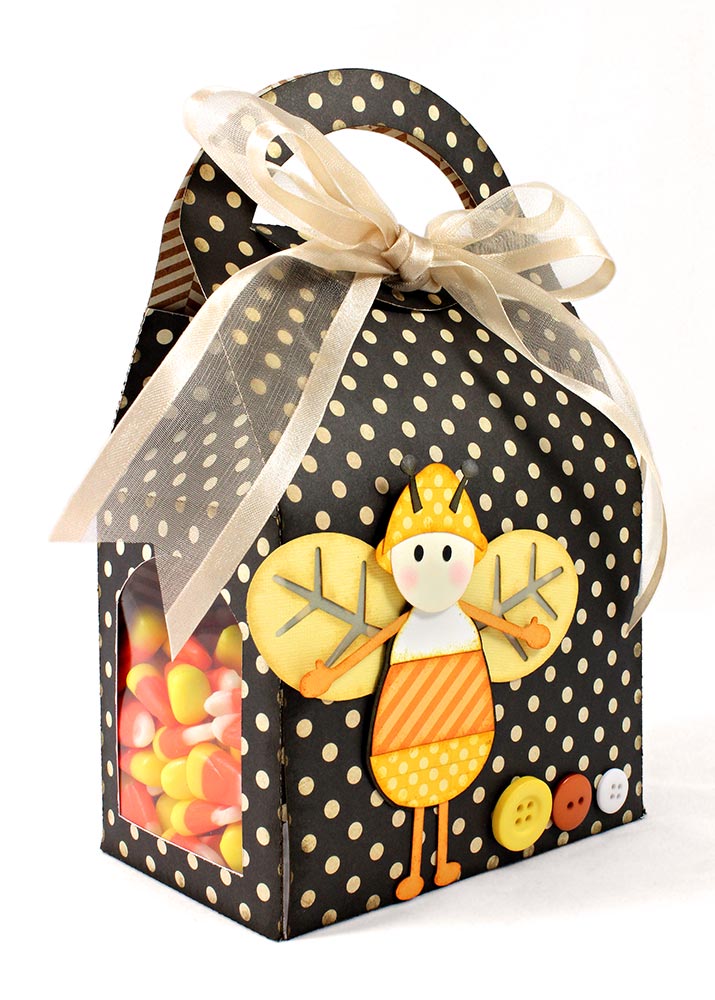 You may have seen this cute little Candy Corn Bug in the New Images folder. When I designed him, I immediately knew that I was going to have to include him in a project. He is just too precious to pass by! I backed his wings in vellum to give them a fairy-like feel. This Candy Corn Bug Box project is probably not quite a 15-Minute Project, but it is really close! It depends on how much inking and decorating you want to do.
I used the Round Handle Box file that is also in the New Images folder this week. I enlarged it so that one half of the box fits on a 12 x 12 sheet of paper. I also cut some windows in the sides and lined them with plastic. That way the treat inside is visible and, of course, the treat has to be candy corn!
This box has a unique fold-over flap. First run the ribbon through the holes in the front of the box. Fill the box with whatever goody you choose and then fold the flap through the front handle. Thread the ribbon through the flap holes and tie a bow to hold the box shut.
The bug could be made in pinks and reds for Valentine's day and would be adorable! It would also make a great feature design for a baby shower. However you choose to use him, he will the perfect compliment to the occasion!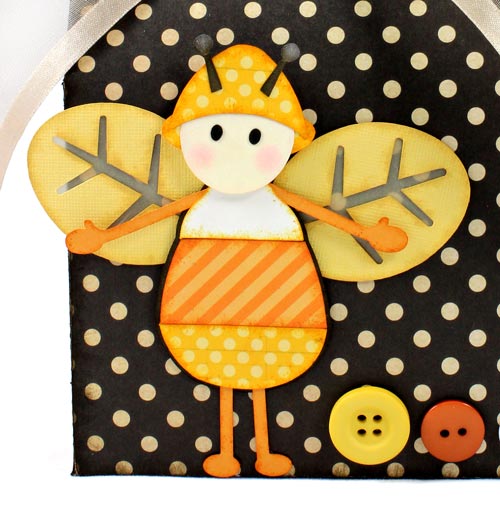 Supplies:
• Two 12 x 12 sheets of My Mind's Eye Lost and Found Halloween 'Hallows Dots' card stock
• Scrap of Echo Park Dots and Stripes Candy Shop Mango Large Dot/Diagonal Stripe
• Scrap of lily bee design Buttercup Sunflower
• Scraps of white, orange, ivory, black, dark brown, and pale yellow card stock
• Scrap of light yellow or white vellum
• Clear plastic for windows
• Matching buttons in 3 sizes
• Matching wide ribbon
• Inks or chalks to distress and pink chalk for cheeks
Comments
comments