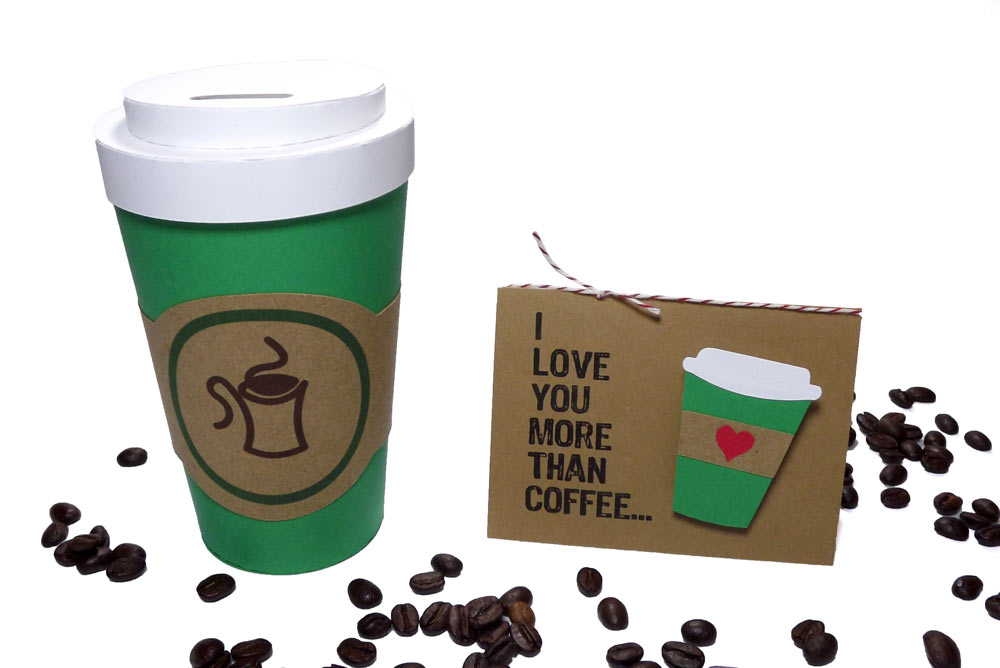 Is it morning yet? Or should I say is it coffee time yet? Ok really, when is it not coffee time?
This coffee cup box and gift card holder set would make a perfect gift for anyone on your list who likes coffee. You can fill the cup with biscotti or coffee flavored candy, specialty creamers or really any treat your recipient enjoys. I plan on giving this set to my husband, for a just because gift.
I used the print and cut feature to print "I love you more than coffee" on the Gift Card Holder and then cut the Latte cup file out and attached it with an Action Wobble Spring. I just love those things! The inside of the gift card holder has four slits that you can use to insert your gift card into. Of course you can change the sentiment to anything that is appropriate for the recipient.
I included two different shaped coffee cup sleeves that are very easy to print and cut. I choose the band with the rounded middle for this cup. I printed out the center oval and coffee mug onto brown paper and then used the print and cut feature to cut around it. You can add a name or any design you would like to whichever coffee sleeve you choose. It's a very simple and easy process.
I've included a link to the assembly instructions and cutting files below.
A Craft Room Membership is required to access additional content. Please Join Now or Login!
~Heidi
Supplies:
Recollections Card Stock
Red Twine
Wobble Spring
Comments
comments