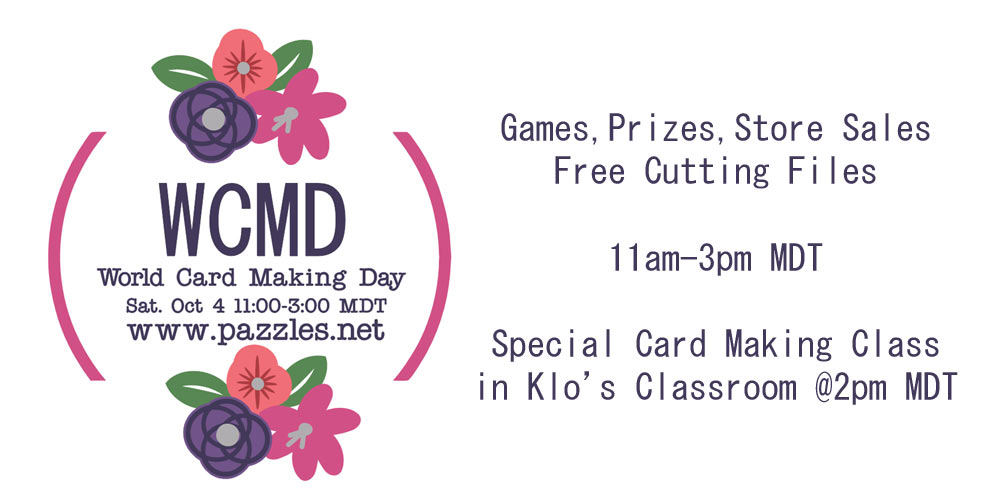 Let's get this party started!
Free Files: Each hour on the hour we will share a new technique and free cutting files with you here on the blog. These files are free to everyone and will remain free after the party. We will not have formal challenge folders this year, but we would love for you to share your projects created with these files and techniques.Upload your projects to our Facebook page, or the Forum Gallery, or feel free to link to your blog projects in the comments below.
Live Chat: Craft Room Members and free forum members can join us in the Member Chat area for extra fun and games (and more prizes). Chat with Klo and Michelle, get to know one another, and play games for extra prizes. If you are not a Craft Room member be sure and register for a free forums account  so you can play along.
Prizes: We have Pazzles Gift Cards to give away. Play along with us today for a chance to win.
Klo's Class: At 2pm (MDT) Pazzles Educator Klo Oxford will be teaching a live class on a fun card making technique. Click here to go to the Classroom page with instructions on how to enter the live classroom. The classroom will open shortly before 2pm (MDT) and stay open for a while after the class so you can share the projects you've created throughout the day with one another. At about 1:45pm (MDT) we will post the files for Klo's Class right here on the blog.
See you in the Chat Room in 10 minutes! Leave a comment below to "check in" to the party and we will randomly pick someone to win a $20 Pazzles gift card! (Comments close Monday Oct 6 11:59pm MDT)
Comments
comments