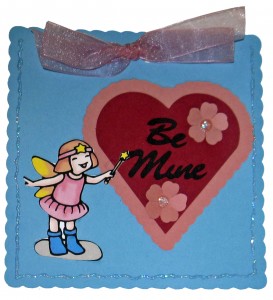 One of the new additions in the Inspiration Vue is that it comes with an optical eye for print and cutting clipart. If you have our previous model, the Inspiration, that doesn't mean that you are out of luck, though! The Inspiration will do an incredibly accurate cut around a printed design and the process is simple and surprisingly fast once you understand how it is done.
Some of you may wonder why anyone would want to cut around clipart. We do have, after all, the best cutting machine around and we can cut anything out of paper. I am a lover of paper piecing and would rather use layered paper designs than clip art and stickers for most of my projects. But, I will admit there are times when clipart is the better alternative. If I have to make 50 valentines in a hurry, I do not want to use paper pieced designs. Either I will resort to something simple or I will use clipart. If I had to cut the clipart out by hand I would probably end up in Walmart to buy inexpensive cookie cutter valentines. Instead, I can find a cute clipart, print it out in multiples and let my cutter do the cutting for me. Add some cut out hearts, words and flowers; glue them down with pop dots and voila! handmade valentines!!
Perhaps I want to make birth announcements with the baby's picture. But I want to have the baby's picture cut in a circle. I could get out the old circle cutter or I could print out the photo in multiples on photo paper. Then use the print and cut method to cut circles accurately around the photos. I am sure that you can think of many other ways that print and cut would be useful.
The process is so simple and takes only a few steps. First, import the clipart into the Inspiration software. Next, trace around it using the hand vectorization method (or use Edition vectorization). Print the clipart and cut a template for positioning it. Put the clipart on the template and cut! While the process is not hard, it is more easily learned if you see it done. I have created a video tutorial that shows how to do Print and Cut. It will also teach you how to use the Edition vectorization function. It is a little known method for tracing around the outside of clipart. (I am also including the Fairy Clipart I used in the tutorial.) Once you have tried Print and Cut, I would love to hear how you are using it.
You can watch the video below or you can find the Print and Cut tutorial in the Video Library under Advanced Techniques.
A Craft Room Membership is required to access additional content. Please Join Now or Login! This tutorial will show you how to import your clipart in to the software and create a cutting template. You will learn how to use the Edition method of vectorization to automatically trace around the outside of the clipart for a cutting line. Finally, you will learn how to use the template to position the clipart for a great cut. After learning this technique you will be even more in love with your Pazzles cutter and it will change how you look at clipart forever!
Print and Cut Practice File