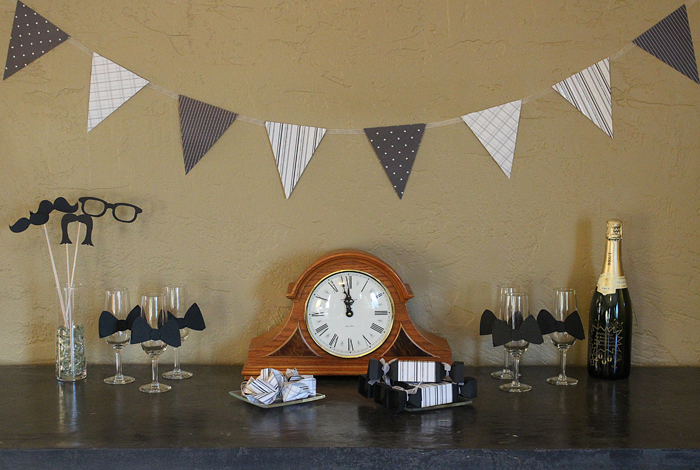 New year's eve comes so closely on the tails of Christmas that in the aftermath of Dec. 25th I have a hard time preparing anything much for it. This year however I (and now you too) am prepared! I know you are probably still doing last minute Christmas shopping, baking, wrapping, cleaning, traveling, planning…..So your mind is probably not looking towards 2012, but it is just around the corner! Don't fret though, this whole spread is amazingly simple to make and looks so cute! In fact I only used 4 sheets of black paper and 4 sheets of double sided patterned paper to do EVERYTHING!
I do have to give a little shout out to the party crackers. I know that has been a requested file and, though I am usually quite good at designing boxes, I was a bit intimidated to tackle that design! However the end result is really awesome and it is actually a really simple box to put together. There isn't any piece in this whole collection that isn't super fast to make. So relax, enjoy your Christmas weekend and next week you can put together a fabulous New Year's Party with very little effort!
P.S. Even if you don't have the time (or desire) to do this party for New Year's there is no reason you can't use it for ANY fun party throughout the year!
Here are the recipes and cutting files!
Eyeglasses, Moustaches, and Bowties:
Champagne Bowties Cutting File
Party Cracker:
Fortune Cookies:
OR
SVG and AI Files for all New Years Eve Projects
Comments
comments