Plastic spray stencils are everywhere. They come in basic shapes and trendy patterns, like chevrons and hexagons. And as cool and trendy as some of them are, I always put them back on the shelf, thinking, "why buy it, when I can cut it with my Pazzles Inspiration?" Time to put that idea to work!
I've seen lots of great scrapbook layouts lately with a lot of white space, and a really tiny photo and headline, off-center. Some of these layouts, like this one from Studio Calico, use a large circle of embellishments to take up some of the white space, and drive the eye in to the focal point.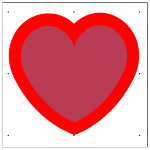 I decided I wanted to create a layout like this for myself, but instead of a giant circle and a ton of embellishments, I wanted an outline of a heart shape. It's the same kind of curved shape to draw the eye around the page, but I used a custom sprayed background to subtly fill some of the white space. Rather than buy a 12 x 12 background stencil for $5 or more, I cut my own from a piece of Pazzles Stencil Plastic and one of the hearts from the "Handful of Hearts" file in the Craft Room Image Library.
I picked the heart I wanted from the file, and enlarged it to take up about 75% of my 12 x 12 mat.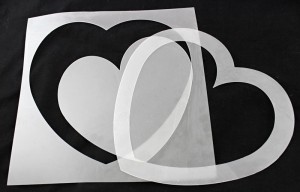 I used the Outline feature to make a 1″ outline around the heart. I used the Distribution feature to center the heart and its outline on my page. Then I cut it out of the stencil plastic. The result is three pieces: a heart, a 1″ thick heart border, and a 12 x 12 square with a heart-shaped hole. I can actually use any of my three pieces as a spray stencil!
For my project though, I wanted the 1 inch heart outline. I laid my stencil at an angle directly on top of my paper, and sprayed to my heart's content [pun intended].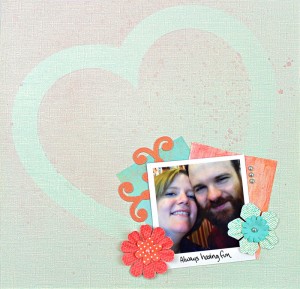 Check out my results! It's subtle, but distinctive!
I managed to get three different heart stencils from one piece of plastic. Our stencil plastic is 12 x 12. If you cut backgrounds for A2 sized cards, you could get 4 different styles out of one piece of plastic.
Let's do the math. If one A2 stencil at the store costs $2.99, four would cost $11.96. If I can get 4 stencils out of one $2.00 piece of plastic, I just saved $9.96!! That's a couple of lattes and a pastry right there!
Need some stencil files? No problem! Search the Image Library for "paper lace" to find circles, herringbone, or the super-trendy chevrons (in two different styles). Not a Craft Room member? Get the "Paper Lace" Image CD in the Pazzles Store.
Comments
comments