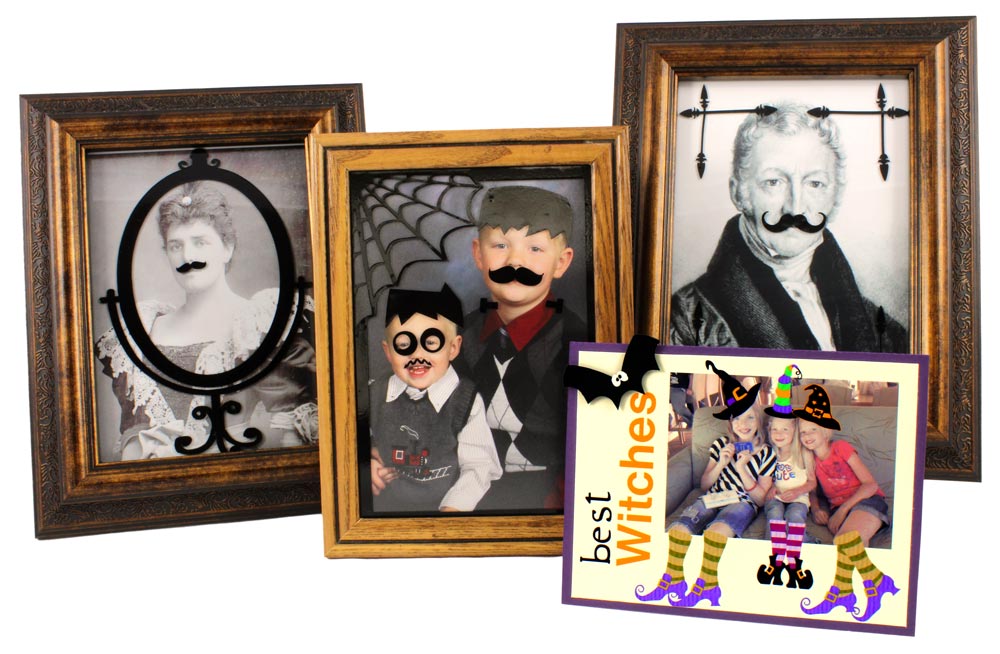 Do you realize what a fantastic resource our Craft Room Library is? The images there are not just for cutting out of paper. They can be used in so many different ways! Today's 15 Minute Project is the perfect example of how versatile the designs are. In a very short amount of time you can make some amazing spooky transformations to photos of family and friends.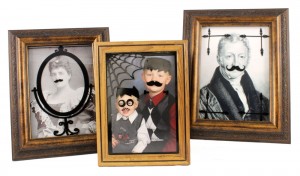 The photo frames are a great way to add a little bit of fun in unexpected places. Add vinyl mustaches and hair to framed photos you already have on display. Then wait to see how long it takes for family to notice that you have transformed your little monsters into… well, little monsters.
If you prefer, you can find vintage photos online, print them out and put them into inexpensive frames. Add vinyl frame borders and mustaches to them. This is reminiscent of the pictures hanging in haunted houses. I think it would be fun to drape some fake cobwebs from them too!
You can also make goofy Halloween cards very quickly in the Inspiration Studio Software. I made one featuring three of my granddaughters. Each girl has her own witch hat plus witchy shoes and stockings. I created a simple title and rotated it sideways to fit the card. To add dimension, I cut the Bat out of paper and used pop dots to add it to the card.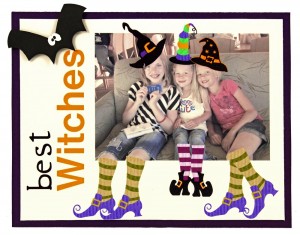 To make your own personalized Halloween card, open a new page in the Inspiration Studio Software. Under the View menu choose Show Printer Page. This will add borders indicating where you should place your design in order to print properly. Import your picture into the software. Size it to fit on a card. Then look for images in the Craft Room Library to use as accent pieces. Layer the images directly on top of the photo, resizing and rotating when needed. Once your card is designed, go to the Print Preview which can be found under the File menu. In Print Preview you can see whether your photo is in the proper position. Print your newly transformed photo on photo paper and layer onto a card base. This is a really fun way to add some silliness to a photo!
The frames used in today's projects can be found in the Craft Room Library by searching for Frames. The Mustaches are in the Odds n' Ends category. Of course, the monster hair, eyes, witch's legs and hats are all in the Halloween folder which can be found in Holidays.
~ Chris
Supplies:
Frames as desired
Photo Paper
WorldWin ColorMates in Plum for card base
Scraps of black and white cardstock for bat
Comments
comments