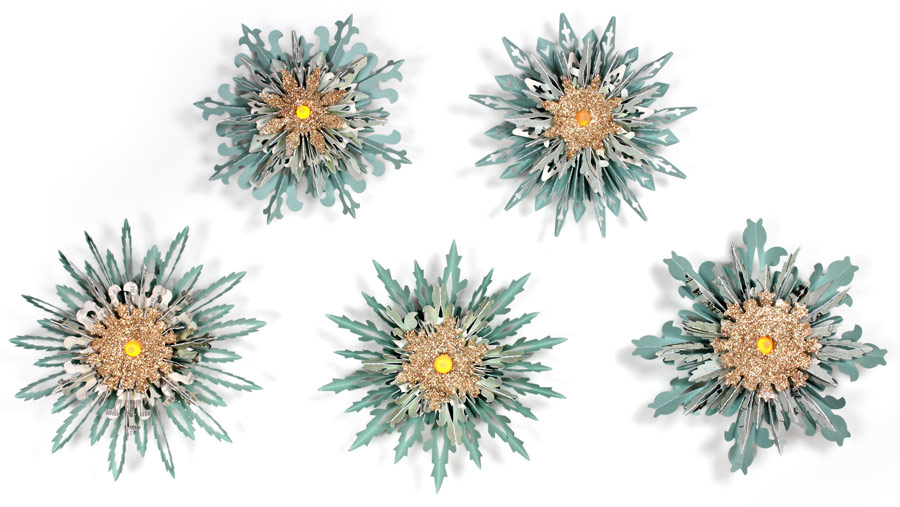 It's been lightly snowing in Kuna, Idaho the past few days, but the best snowfall has been inside the Pazzles office. While my office floor is covered with paper scraps, the office snowfall I'm referring to is the beautiful layered snowflakes lighting up the office.
Today's beautiful project may look complicated and tedious, but the Inspiration electronic die cutter does all the work for you. We've simply assembled the main snowflake rosette piece and then added a smaller snowflake rosette on top. We created the smaller snowflake by re-sizing the cutting file in the Inspiration software. If you need instructions on assembling a rosette, be sure to check out the Rosette Tutorial which includes an instructional video.
In each main rosette cutting file you will find a rosette, a matching snowflake medallion, and a coordinating snowflake banner. The medallions are perfectly sized to be used as the base and top pieces of the rosette. We also added a small hole in the medallions so that the completed snowflakes can be placed over a string of lights or centered on a tea light like we have done.
The Rosette Snowflake Collection is available for purchase in AI, SVG, and WPC cutting file formats in the store, and was released to Craft Room members on Friday in the New section. Craft Room members can see our other Collections in the Library, and non-members can purchase any or all Collections in the Store.
~Chris & Michelle
Supplies:
Comments
comments