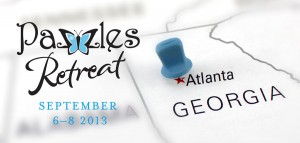 The Pazzles Atlanta retreat is only eight weeks away! Klo and I have been planning all kinds of great lessons and projects to share with everyone. There will be lessons, games, creative time, and pampering designed to foster friendships and learning new skills.
Have you signed up yet? Our registration numbers are a little low, which we feel is odd because every other retreat has sold out, and this location was chosen by popular demand! Unfortunately, the hotel requires us to have a minimum number of attendees to hold the event and keep our costs reasonable. We have until August 1 to meet those requirements so if you have been waiting, please sign up now. If you are going, please encourage your friends to join you in the fun!
Come to Atlanta in September and join us to experience the famous Southern hospitality!!
~Christine and Klo
Click here to find out more about the Atlanta Retreat
Comments
comments