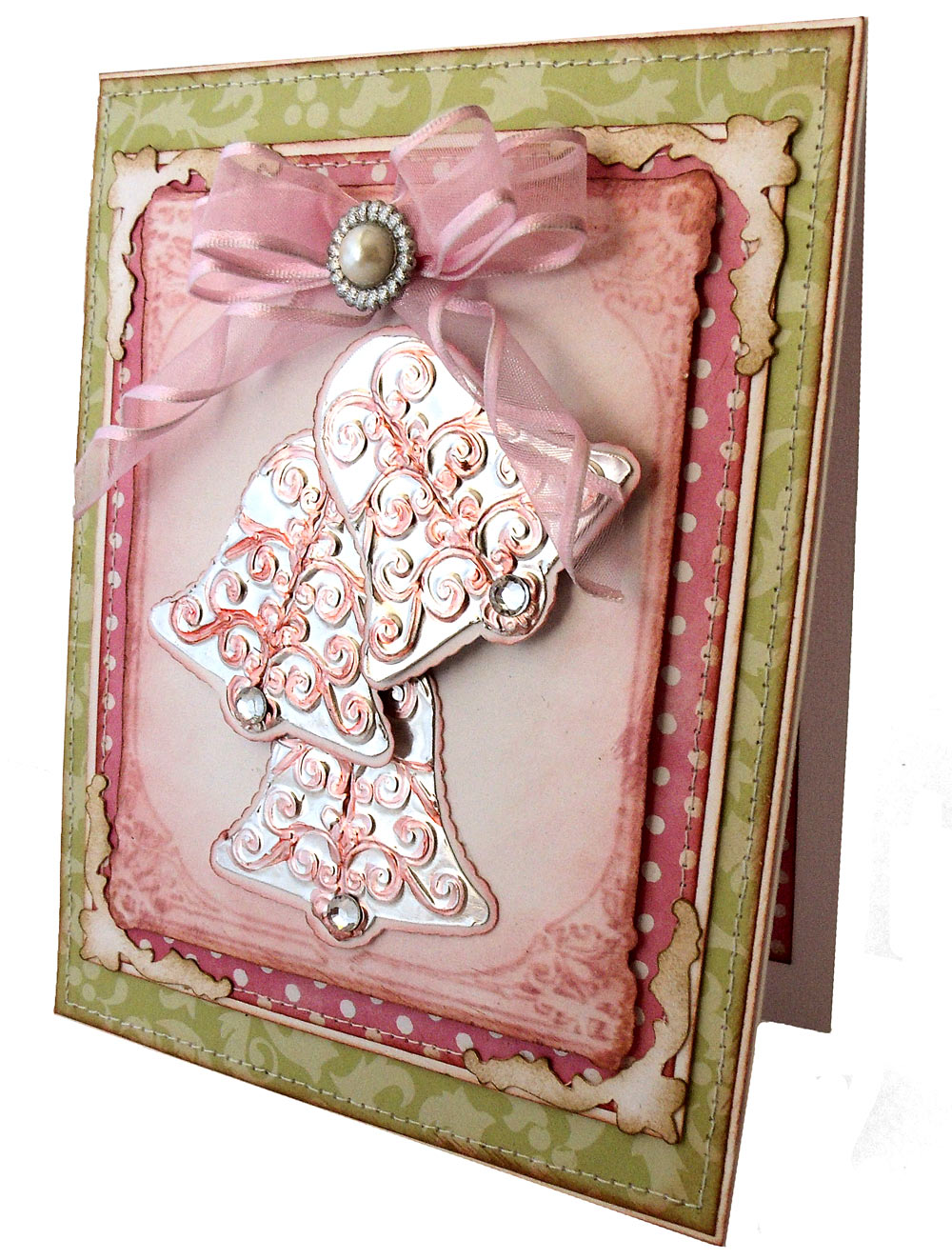 Hello crafty friends. Melin here again. Today I am sharing a card I created with the awesome Pazzles Embossing Tool! I had some thin metal in my stash and was waiting for the right opportunity to use it. Here is what I came up with.
I started by using the embossing tool to emboss the beautiful Victorian Frame File from the Craft Room Library onto some white cardstock. I lightly inked the edges of the cardstock. I wanted the embossing to really show up. I trimmed up my mats and patterned paper and then machine stitched them. I inked the edges to give them a shabby, vintage look and added the Fancy Corners file to the edges of my mats. Then it was on to using the embossing tool on the metal.
I used the Xmas Bell file and the Fleur-Flourish file to create the bell. I welded the fleur-flourish file together three times and then trimmed the edges of the file accordingly so that it would fit into the bell file. I then created and outline of the bell file and made the edges scalloped. The Pazzles software makes this a snap! Once I did all that, I was ready to emboss! After I embossed the decorations on the bell, I switched out the embossing tool and cut them out. I wanted the decorative swirls to really show up so I used my Copic Marker R27 to color along the swirls. As it is an alcohol based ink, it dried up quickly and gives it a "washed" finish. I completed the bells by inking the edges of the scalloped backgrounds and adding a little gem to the bottom of each bell. I layered it all together and finished it off with a bow, a gem, and some beautiful photo corners using the Fancy Corners file.
It is so much fun to explore all the wonderful things our cutters can do. If you don't have this tool in your crafty arsenal, then it is time to treat yourself! Imagine all the lovely things you can emboss!
~Melin
Supplies:
DCWV Christmas and Winter Cardstock Stack
DCWV Floral Fair Stack
Pazzles Embossing Tool
Sheer Pink Ribbon from Hobby Lobby
Paper Studio Gems
Copic Markers
CTMH Cotton Candy and Saddle Inks
Machine Stitching
Comments
comments