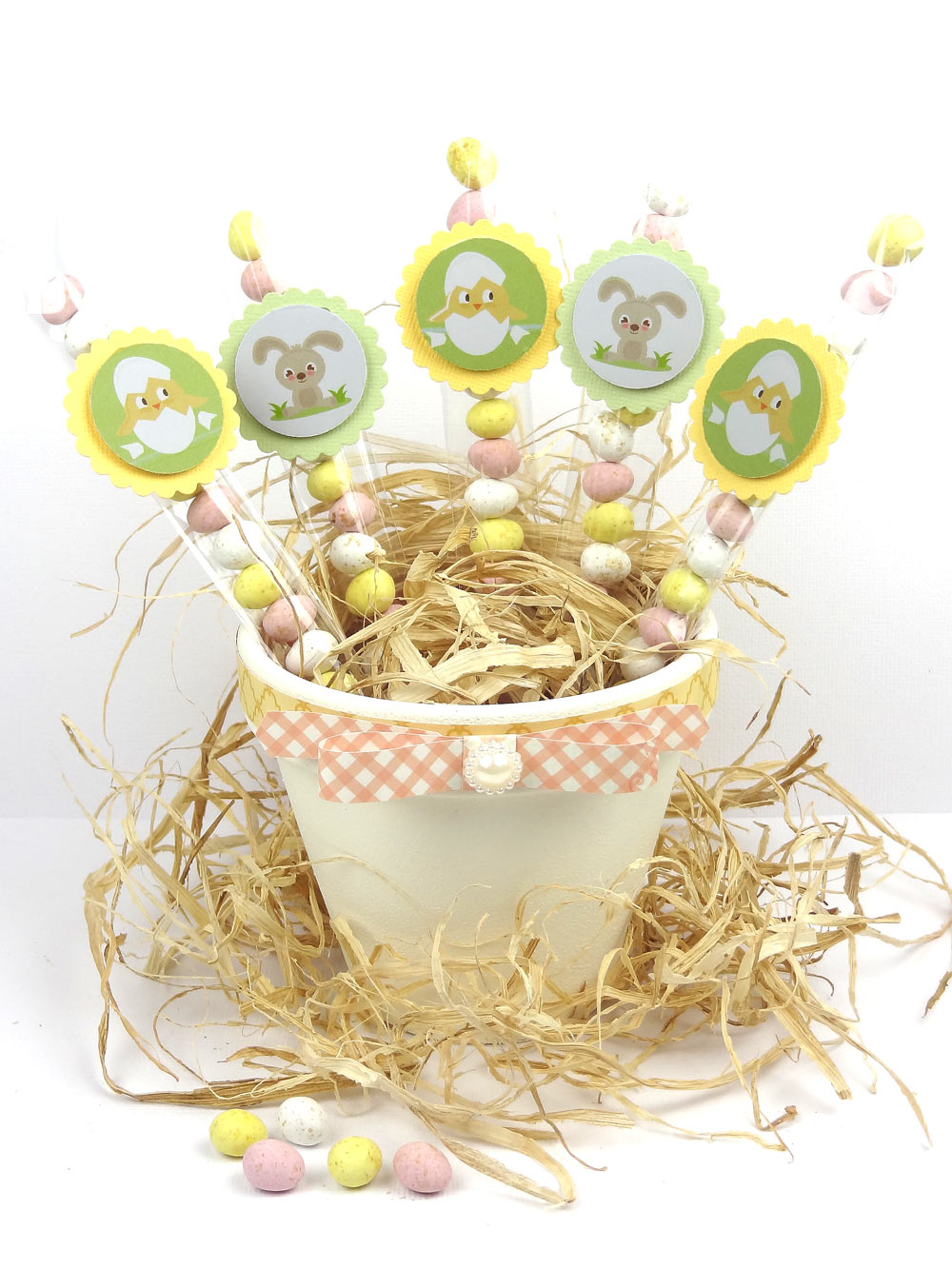 I work in a Reception class at school and the staff always have a hard time thinking of some fun treats that can be made in bulk, whilst still on a budget!  This year, I decided to make some Easter toppers for treat bags but they could so easily be made into cake toppers, tags etc.
Firstly, I decided on the size I would like to make my circle using my Pazzles software.  I then imported the adorable cutting files by Miss Kate Cuttables, found in the Craft Room Library, Chick in Egg and Spring Bunny.  The elements of the file are all separated, so you just have to spend a few moments layering all the pieces, whilst referring to the image to make your Print & Cut topper.  When you are happy with your image you will need to group it and arrange it in the circle. I then multiplied the two designed toppers to get the amount I needed on one sheet of printer paper including the registration boxes.  I referred to the video tutorial Using Cutting Files for Print and Cut, which explains how to use registration boxes for perfect cuts every time.  Once I had printed out the multiple toppers I laid my printer paper onto my cutting mat and cut out my circle toppers, which included the images. I then imported the Crown Circles from the Spellbinders Cutting Collections.  If you look closely you will find a scalloped circle.  I resized it so that it fitted perfectly around my circle topper, which I cut out several times using coloured cardstock.
I filled my cello treat bags with mini Easter eggs and adhered my Easter toppers to the front.  Finally, I painted a flower pot and decorated it with patterned paper.
Now, all I need to do is make at least 80 more for the school children by Easter!  However, it's not as daunting as it sounds…….with the help of my Pazzles and Printer it will make the job so much quicker and not cost too much money!
~Joanna
Supplies:
Kaisercraft –Tea Break collection (papers)
Cello Treat Bags
Mini Easter Eggs
Colour Printer
Clay Flower Pot
Pearl Embellishment
Comments
comments