Our warehouse is packed with Inspiration Vue™ Creative Cutters and many more are headed to your homes. We are continuing to send emails and ship them in the order that the pre-orders were received. Thank you for your patience as we work through the lists and get these rainbow colored bundles of happiness on their way.
We've had questions on the two software options and so today I'd like to give you a rundown of the two options. For reference here is a software comparison sheet that gives you a detailed list of features.
Click here for the Software Comparison Download
InVue™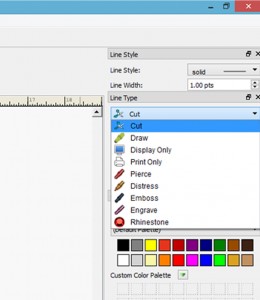 Every new machine ships with our in house design software, InVue. We've developed this software to make designing and cutting with your new Inspiration Vue as easy as possible. Beginners will find the design options easy to understand and use. Advanced users will love the intuitive print & cut process that is built right into the software, and new features such as the ability to save directly to SVG file format and Mac compatibility. If you have an original Inspiration and would like the InVue software, it can be purchased separately in the Pazzles Online Store. (Note: When you choose the digital download option of the InVue software you get both the Mac and Windows versions together, so be prepared for a longer than usual download time.)
The InVue software opens WPC, SVG and PVG vector file types. Most of you are familiar with WPC and SVG, but PVG is probably new to most of you. Within the software we've build in the option to designate certain lines as Cut Lines, Print Only Lines, Emboss Lines, etc. When you save as a PVG you are saving all of those line types as they are assigned to each line. This allows you to filter by line type. If you'd like to see pen lines only, you can simply select the pen lines in the cut control panel and only the pen lines will show on the screen.
The other cool feature in InVue is our new Pazzles Project Patterns. You have to see this in action to understand the full possibilities, but let me assure you-it is awesome! The InVue software comes with four Project Patterns and we will be adding more each month. Essentially you open a Project Pattern and you see a sketch (layout or card). Several pieces of the sketch are "replaceable". You click on the replaceable shape and then select a predesigned coordinating image from a drop down menu. The image automatically replaces the selected shape and resizes the new shape to fit perfectly. We'll show this more fully in the future, but here is an idea of what can be done. When you open the project it will look like this: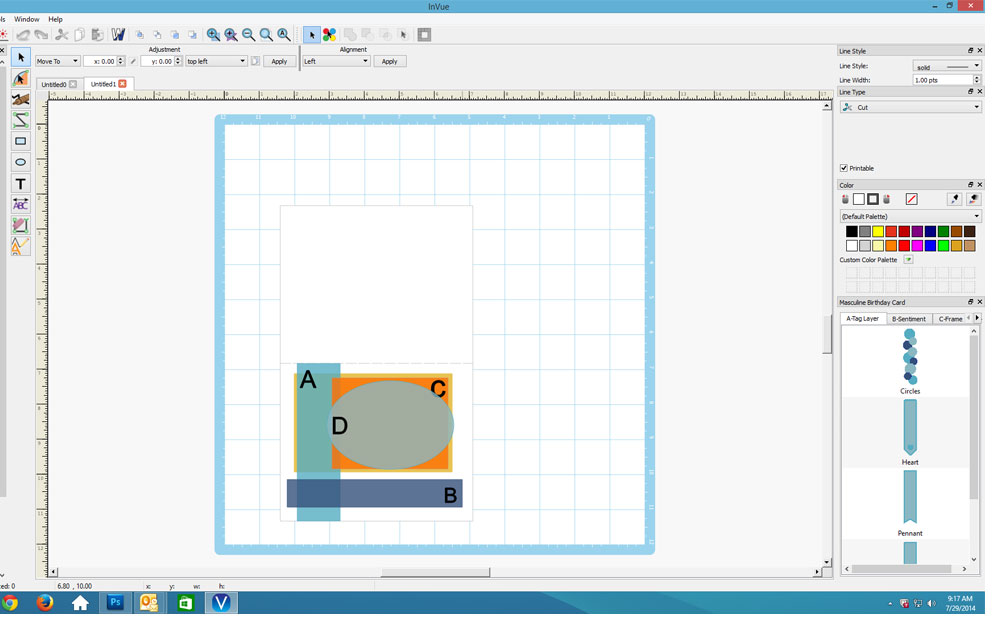 All four of the lettered shapes are replaceable. With four clicks I have this, a finished project: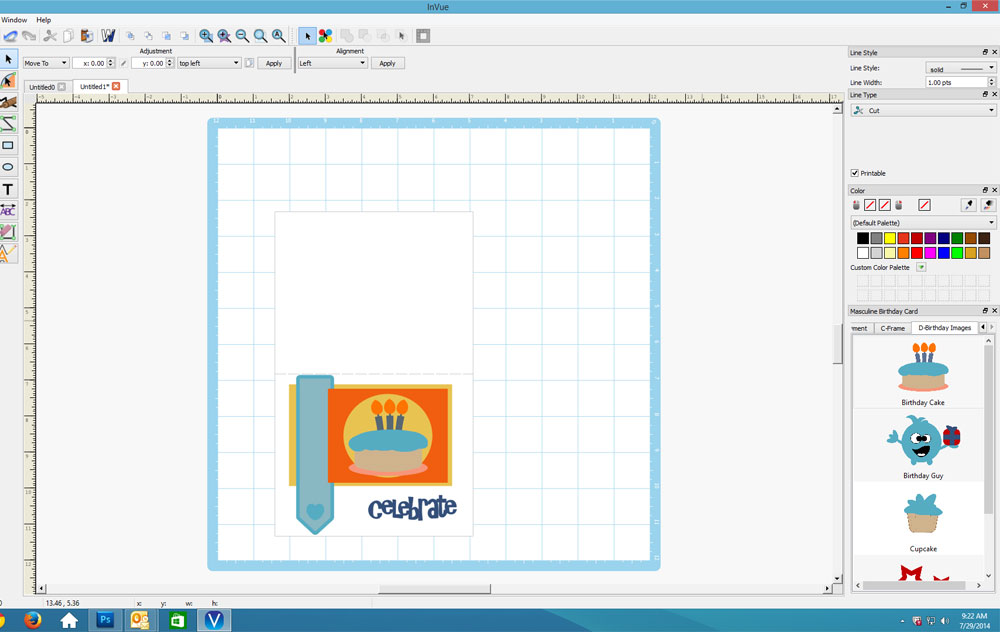 You are going to love this new feature!
Inspiration Studio Pro 2014™
If you are familiar with Studio Pro 2010, you will find Studio Pro 2014 very easy to use. The layout is very similar, but several new features have been added to make this advanced design software even better.  Some of the new features include:
WPC File Preview: When selecting a WPC file to open, you will now see a preview image of the file before it is opened. This makes it easy to browse through the WPC files saved on your computer
New Scissor Styles and Scissor Tools: As well as adding 2 new decorative scissor styles, 2 new scissor options have also been added. You can now freehand draw with a scissor line and cut a shape with a scissor line There are now 14 different scissor lines to choose from and 3 ways to use them.
Change Size by Percentage: You can now adjust the size of an object by using a percentage to increase or decrease.
The SVG File Importer: The SVG Import option contains 2 new updates. The first is in relation to kiss cut (score) lines. A file that was created with kiss cut lines will import with those same kiss cut lines in place. You will be able to see them in the preview window as well. The second new feature relates to DPI. You can now change the DPI when importing an SVG. This is important when importing a file created in Illustrator that needs to be a certain size i.e. a cupcake wrapper.
New Alignment Options: There are two new options on the Alignment (Justification) toolbar : Align to Top of Page and Align to Bottom of Page.
Project Notes: A pop up window allows you to add notes about your project or file. These notes are saved with the files and can be viewed within the file.
Calligraphy Pen: A new calligraphy pen has been added to the Freehand Draw window.
New Paper Texture Options: Previous versions of the software allowed you to fill your image with selected paper textures. This new feature allows you to easily Add or Remove Textures (color fill patterns) from your textures library.
Brush Transparency: This version offers a new brush transparency option. Similar to other design software, it allows you to control the transparency/opacity of a fill color. This is especially useful when layering objects for Print and Cut projects.
More Rhinestone Features: In the rhinestones window, there are 8 additional new features including the ability to add single rhinestones to a design.
New Draw Menu Shape: A spiral has been added to the options for shape.
If you are purchasing the Inspiration Vue and would like to use the Inspiration Studio Pro software, you will need to upgrade to Studio Pro 2014. Inspiration Studio Pro 2010 will not work with the new Inspiration Vue. Inspiration Studio Pro 2014 is available now in the store as a digital download or as a shipped item.
You can also try Inspiration Studio Pro 2014 out free for 14 days.

Both of these software options have cool features that you'll want to explore further. If you have any questions please just ask!
Comments
comments