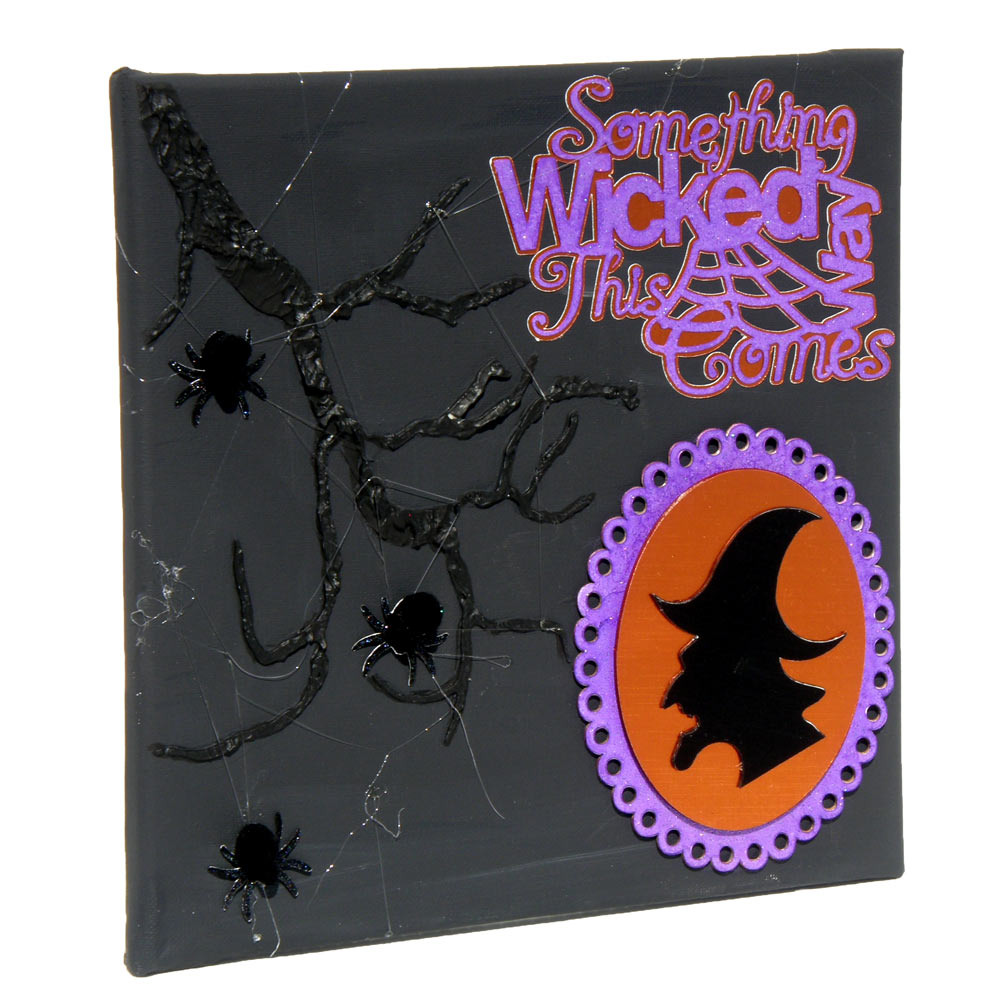 As most of you know I went on the Pazzles Cruise. I was so inspired by the canvas project that Klo taught us that I wanted to share it with all of you. So first of all I got a 12 x 12 canvas. In the class we used the Pazzles Stencil Material but I didn't have any of that on hand, so I took a trip to the hardware store. I found one of those 11 x 11 no trespassing signs and figured "it's plastic, so why not give it a try". While I was there I also picked up some joint compound and some glow in the dark spray paint, but that's for a later project.
I knew I wanted to use the Spooky Branch file from the Craft Room and that I wanted to give dimension to it on the canvas. In the InVue software I designed the whole canvas using several files from the Craft Room and then went to work on my stencil. Having never cut this material it took me a couple of passes, but it cut out great. Using the negative part of the stencil, I taped it to the canvas where I wanted the branch and added the joint compound. I then added some texture with a texture tool and took off the stencil. The branch was awesome. I set it aside to dry and went to work on the other elements.
I cut out each piece of the Witch Cameo file three times as to add some thickness to it. The title I did in glitter paper, but I only had a light glitter paper, so after I cut it out I used alcohol ink to darken it up. After the compound was dry I gave the whole thing a coat of black paint mixed with a little gesso. It makes it much more spreadable on the canvas. I added my other elements, the Wicked Title file, a few spiders and some awesome hot glue webs and it is beautiful. I did use some of the glow in the dark paint to accent the branches and you can't really tell in the pictures but It does glow ever so slightly at night giving an awesome creepy feeling.
Supplies:
Artist Loft Canvas
Gesso
Black Paint
Joint compound
Various chipboard and glitter paper
Alcohol Ink
Black Pom Poms (spider bodies)
Plastic no trespassing sign
Clear Hot Glue Sticks (webs)
Black Ranger Stickles (for the spider legs)
Comments
comments