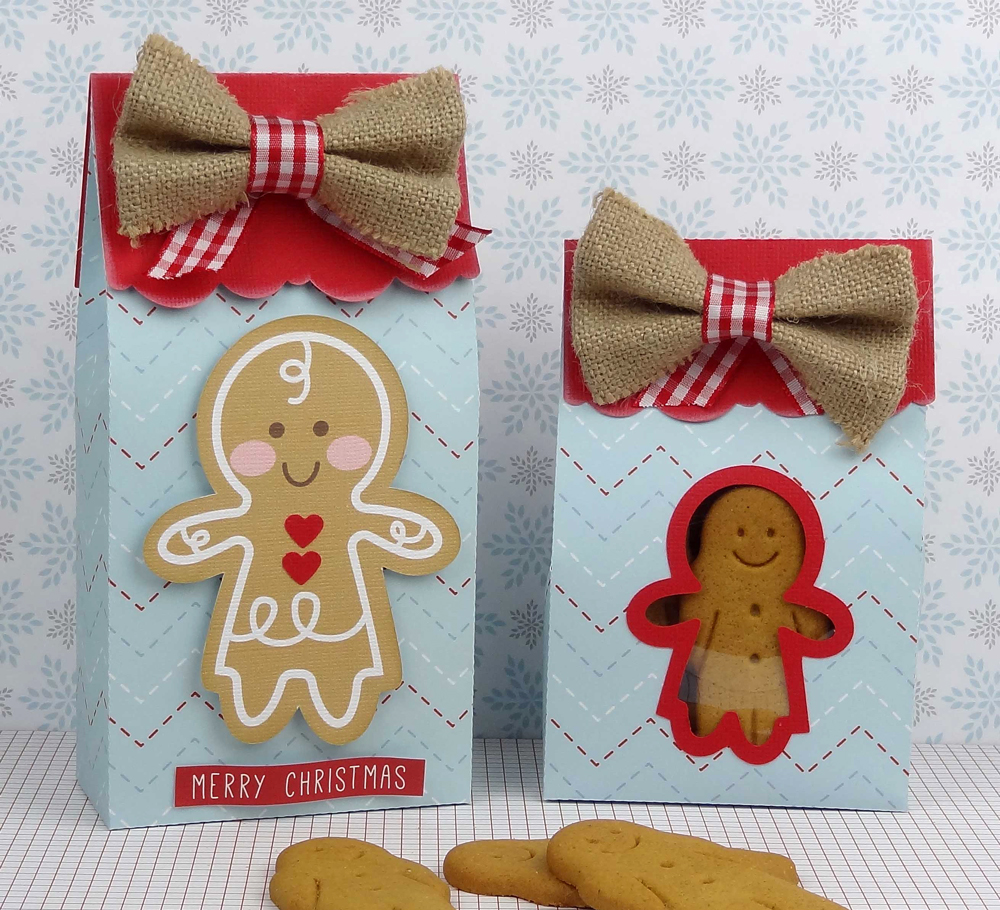 Hi, Joanna here, sharing my Gingerbread Christmas Gift Bags created using my Pazzles Inspiration. I just love making presents for my friends, and using files from the Pazzles Craft Room makes it so easy to make them unique.
I created these 2 different sized bags using the Cereal Box found in the Pazzles Library. I have altered it slightly, using my software. Gift Bag 1, I made tall and Gift Bag 2, much shorter, but I love both sizes. I cut the bags out of good quality double sided patterned paper which gave a good weight to the bag. I added a folded flap to the tops of the bags in red cardstock, using one of the files included in the Lunch Sack Gift Bags Collection, and resized them to fit the two sizes of bags.   I inked around the scallop edges which gave the look of snow on the roof of a gingerbread house!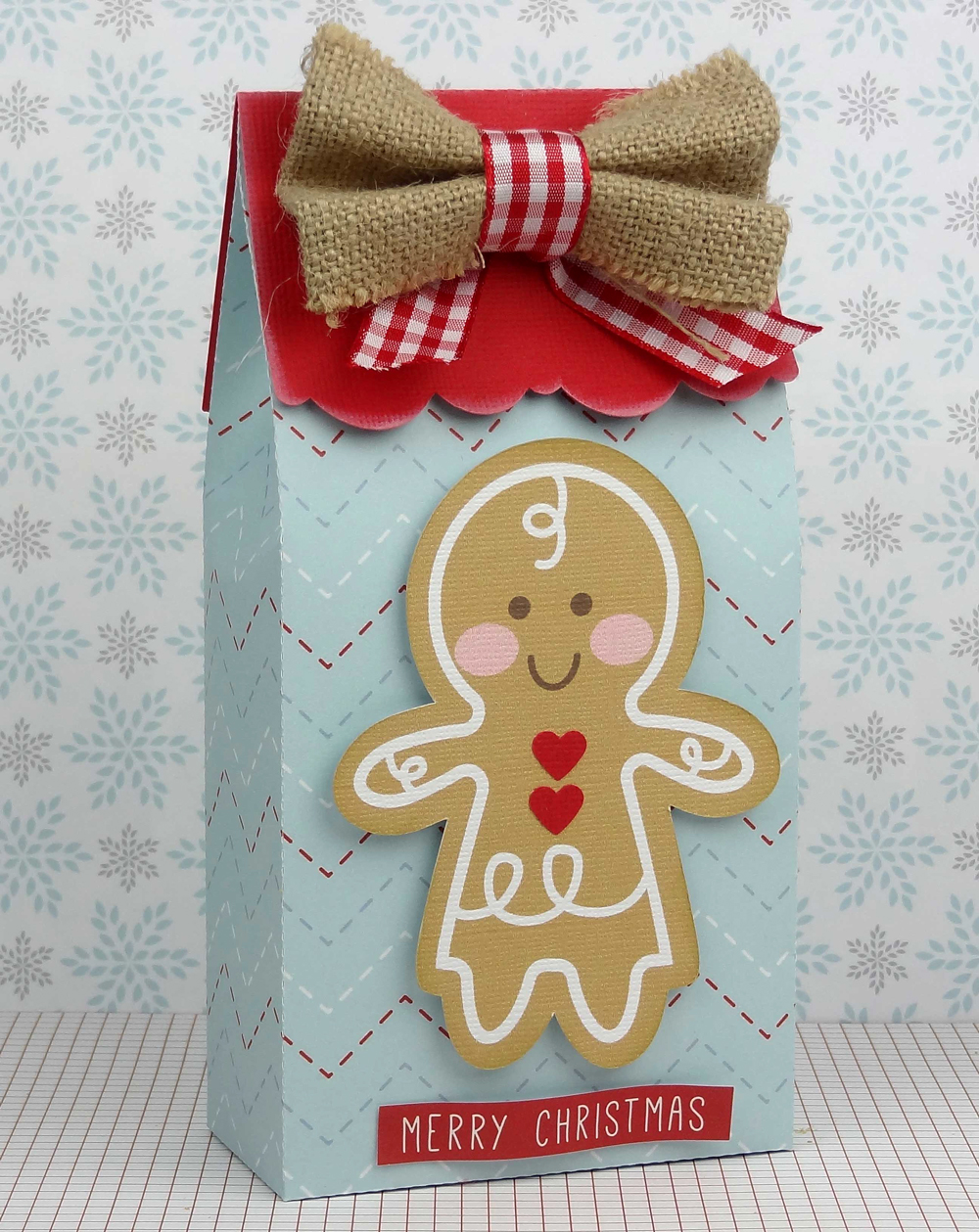 Gift Bag 1 – Print and Cut Gingerbread Girl
I then Print and Cut my cute Gingerbread Girl from the Miss Kate Cuttables Gingerbread Couple set. I changed the color of the cheeks to pink and paper pieced some red hearts. I then adhered the Print and Cut image with craft foam squares onto the front of my paper bag. I finally added a sentiment 'Merry Christmas' to the bottom of my bag which was a border that came with the patterned paper.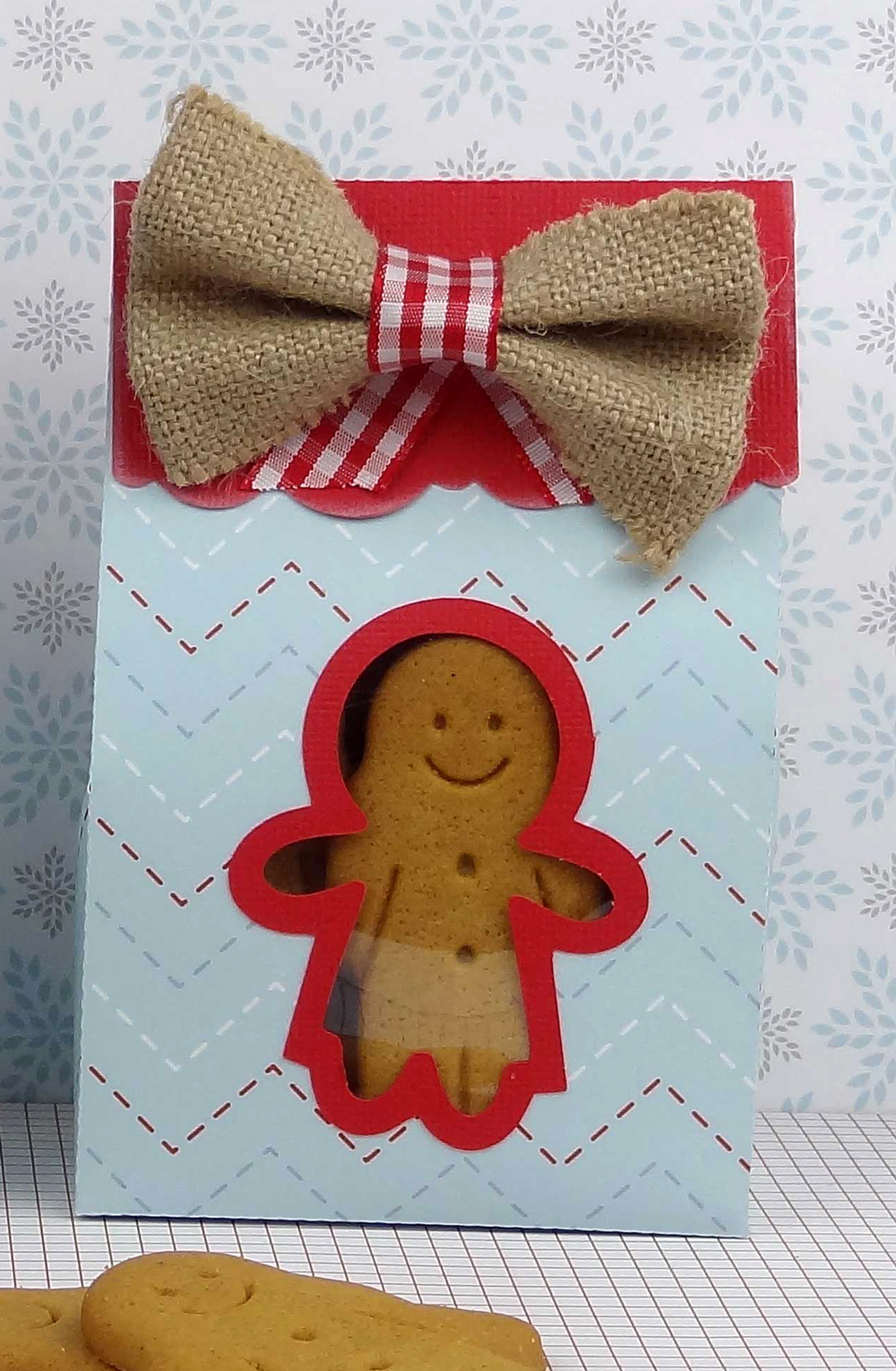 Gift Bag 2 – Gingerbread Girl Window
For my second bag, I thought I would create an aperture of the Gingerbread Girl to give a different look. I used an outline from the Gingerbread Girl and made another outline, to create the thin border around the aperture which gives more definition to the Gingerbread shape.  You may wish to check the video tutorial Creating an Outline, to help you understand how to use outlines. I cut myself some printer transparency to place behind the aperture to reveal the biscuits behind.
I have included both paper bag and the topper cutting files used in my project, so that you can decorate your bags for any occasion. If you like the style of the smaller bag, but don't wish to use the Gingerbread aperture, all you need to do is delete the Gingerbread shape and you will have your own plain paper bag. Of course, you could always replace it with your own aperture shape. The possibilities are endless. Remember, you can change the patterned papers to make these paper bags for all occasions throughout the year. Have fun, and I can't wait to see what you all create using these files with your Pazzles Inspiration. Please take a photo and upload them into the Pazzles Galleries with reference to this project.
A Craft Room Membership is required to access additional content. Please Join Now or Login!
~Joanna
Supplies:
Kaisercraft (North Pole Collection)
DoCrafts (Bare Basics)-Burlap Bow
Red Gingham Ribbon
Color Printer
Gingerbread biscuits
Comments
comments