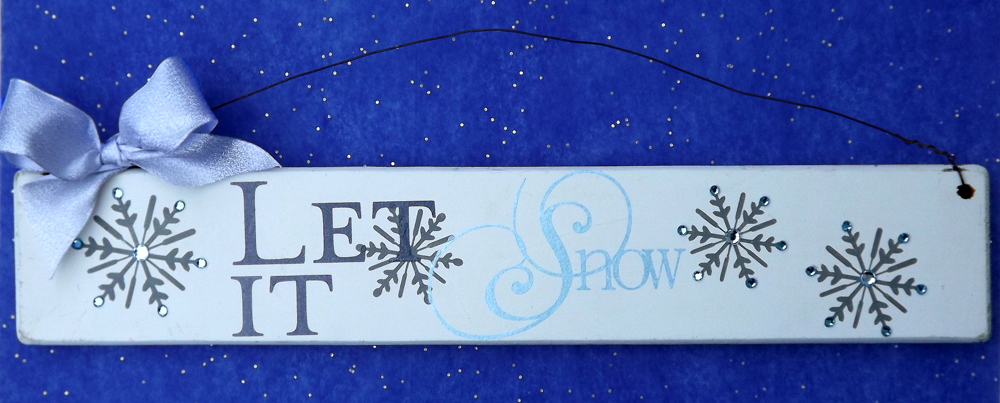 One of my friends was going to throw out an old home decor sign and asked if I wanted it. I originally said no. The sign was funny but nothing I would use. Then I got to thinking about it and told her I had changed my mind and I would love to have it. The whole time I was thinking about how I was going to repurpose it. I decided to make a winter sign instead of a holiday sign, so I could use it throughout the season. I was going to sand the sign down and repaint it but then I decided to just flip the sign over and use the back, as the base coat was the exact color I needed.
I used the Let it Snow cutting file in the Craft Room Library and ungrouped it and arranged it to fit the sign dimensions and added a few more snow flakes. I used vinyl to cut everything out to create a stencil. I cut the snowflakes first and placed the vinyl with the snowflake cut outs on the sign and painted the snowflakes in. Once the snowflakes were dry I cut the Let It Snow part of the file and laid it on top of the dried snowflakes and painted each word in the color I chose. I removed the vinyl and added rhinestones to the middle and tips of the snowflakes and a ribbon to the wire hanger.
When I was finished I had a beautiful sign that was originally going into the trash.
~Heidi
Supplies:
Sign
Paint
Foam Paint Brush
Ribbon
Comments
comments