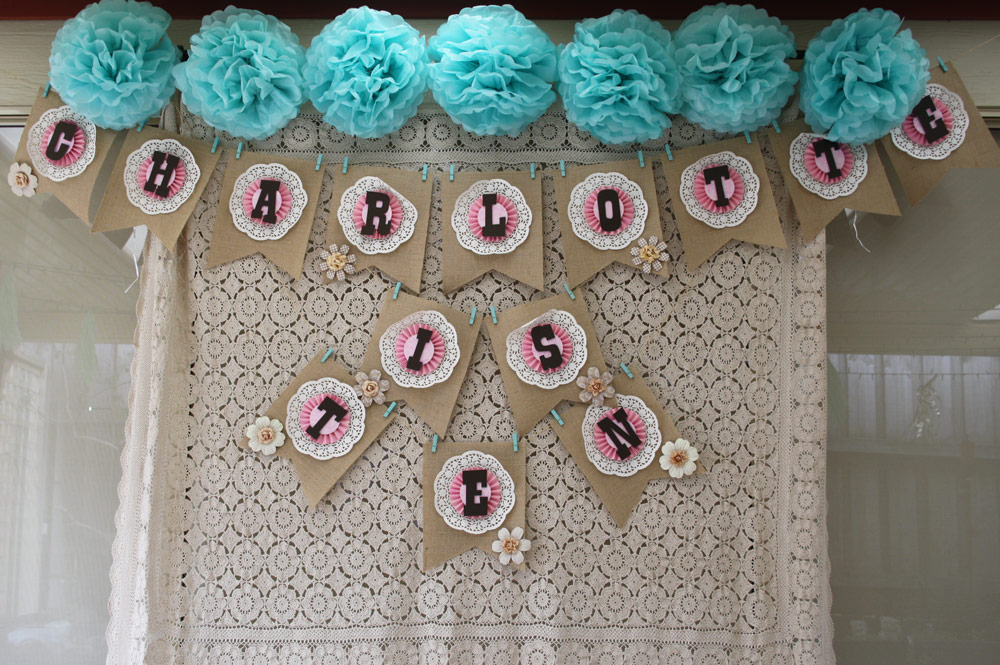 Belle here today sharing with you a vintage banner I made for my daughter's 10th Birthday party last month. We decided on a blend of Wild West and Vintage Country using lace, burlap, red gingham, hay bales and plenty of Country Music! It was a great party.
I knew I wanted to make a banner, and when I came across the Lucky Dip burlap pennants in my local Kaisercraft store I knew I had to have them for this very project.
The banner is made up of several layers and from the bottom up they are – burlap pennant, paper doilie, rosette, circle cardstock, cardstock letters. Each letter is attached to the string by miniature pegs and some pennants have paper flowers attached for extra decoration.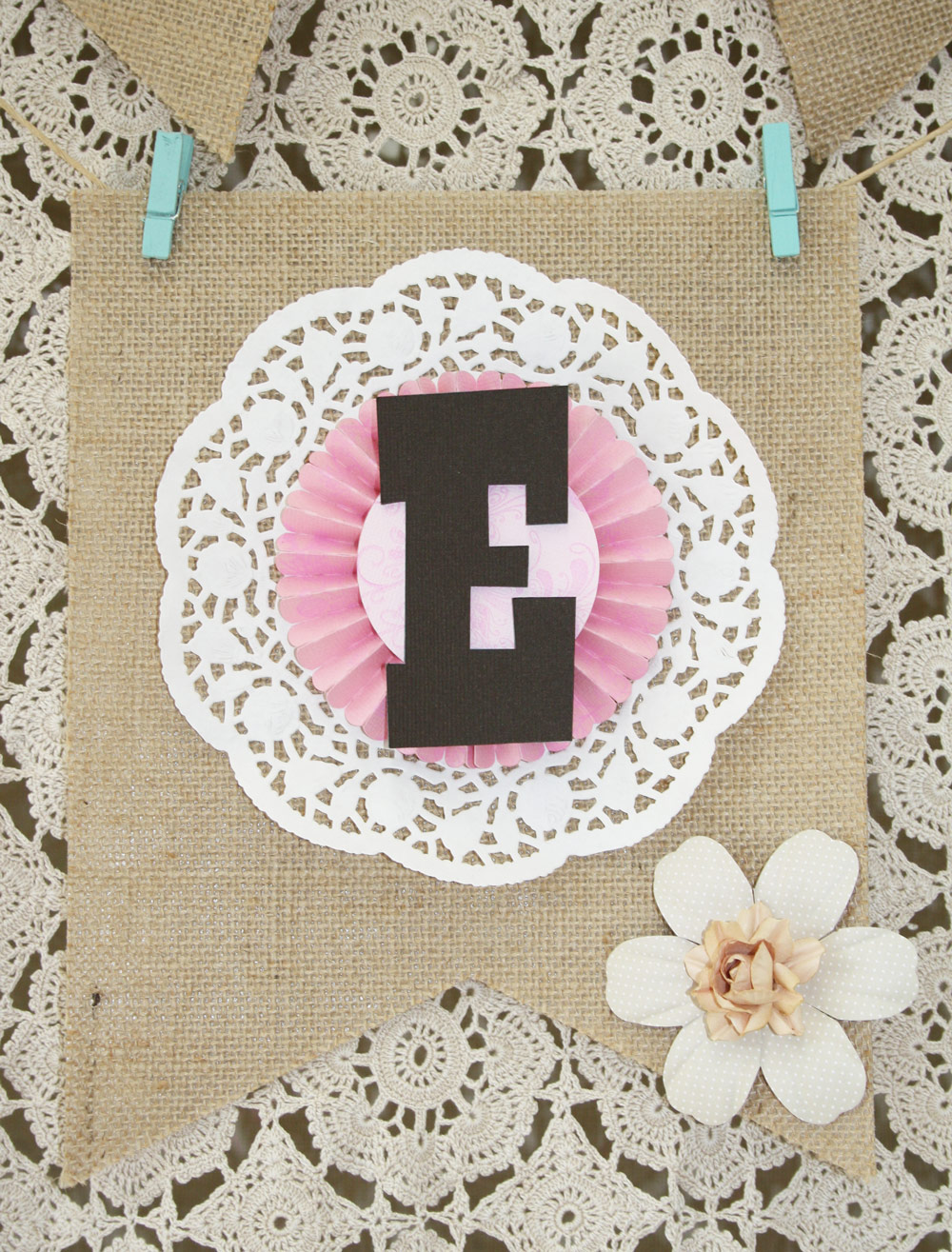 I cut out the rosettes first and stamped them all over with a pretty flourish stamp in a pale pink. Once assembled a 'cover' was needed for the centre of the rosette before I could place a letter over it without it looking weird. I cut out some circles for this and also stamped them in the same flourish stamp in the same pink ink.
The lettering I cut out in a pale blue at first in the Playbill font, and attached them with foam squares to the circles. I also added some flowers every few letters to dress up the banner. My daughter's name has nine letters in it, so the top banner was L-O-N-G! Taking this into account is why we didn't do Happy Birthday Charlotte, and opted instead for Charlotte Is Ten!
For her family birthday dinner the week before the party, we hung just her name in our dining room which looked very pretty.
For the party, our outdoor entertaining area has a 3 metre floor length window next to the sliding doors which creates the perfect backdrop for all things 'party'! I installed a curtain rod above this window a few years ago so I could hang plastic tablecloths as backdrops and hang decorations from them. We have a solid pergola out here, so it's nice and sheltered.
Keeping our vintage country theme in mind, I dragged out an old lace tablecloth and hung it with the little IKEA curtain rings with clips. Behind that, I hung two lengths of teal blue plastic tablecloths to give it a more professional look. I also added tissue paper pom poms to the top of the curtain rod to cover up the rod and curtain clips.
After the party, I wasn't happy with how the banner had photographed. You couldn't see the letters very well. Although I had lovingly stamped those in the lovely flourish pattern too, I decided to cut the letters again in a brown and lay them over the top. As you can see from these photos – the lettering really stands out now.
I absolutely adore how the Inspiration Vue can bring my designs out from my head and make them reality. Everyone loved the banner, and the other crafty touches I'd done to commemorate our little girl reaching double digits.
I hope you too will go ahead and create a heartfelt celebration banner for someone special in your life.
~Belle
SUPPLIES
Kaisercraft Lucky Dip Pennants
Crea8tiv  Paper Doilies
Typo Mini Mint Pegs
Twine
Kaisercard – Candy (pink), Island (blue), Coffee Bean (brown)
Kaisercraft Paper Flowers – beige
Kaisercraft Magic Happens Stamp Set
Hot glue gun – essential!
Foam squares
Double sided tape
Comments
comments