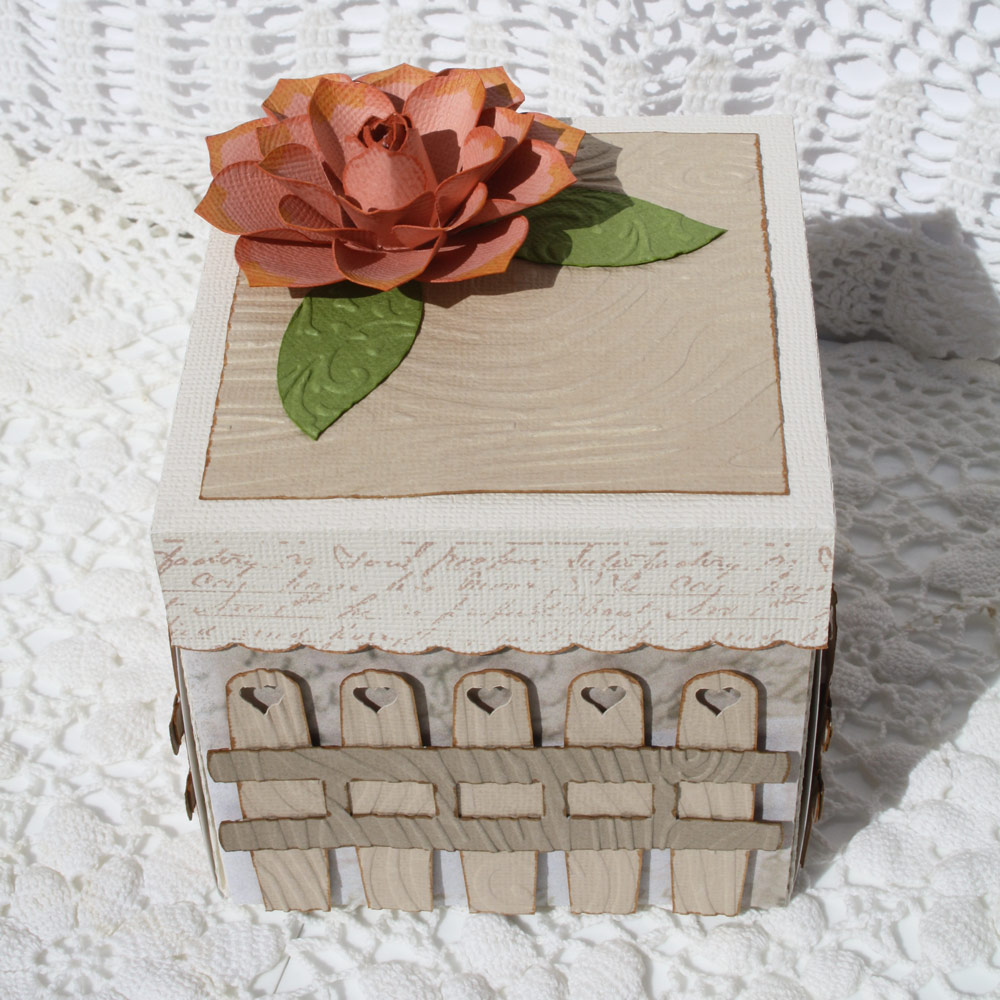 Creating original pieces and making someone feel extra special is why I love my Inspiration Vue so much. It enables us to create so many amazing pieces with the vast array of files to choose from in the Craft Room library or created from scratch.
I've wanted to make an exploding card box for some time, and now I've done one to share with you today. You could whip one of these up as quickly as you like, or spend a bit of extra time to decorate each exterior face and interior section with detailed embellishments.
I decided to keep my design fairly simple using multiples of the same files to decorate, but adding extra dimension by running pieces through the Sizzix Texture Boutique, inking the edges and taking a little extra time to make flowers. The base of the card is simple – layering it with texture and colour is what makes it special. I used the Heart Fence file to decorate the outside of the box.
The great thing about this Exploding Box file is that when the card 'falls' open to reveal the goodies inside, you can make the centre of the card the 'star of the show' with a 3D piece of your choice. I love the chalkboard sign where I've used the text 'Mum – EST 1978' which is when my mum had me – her first child. I added a tab to the bottom of this file to secure it to the base of the card. Using the paper flowers behind it helped it to stand up. I also added a Layered Rose file.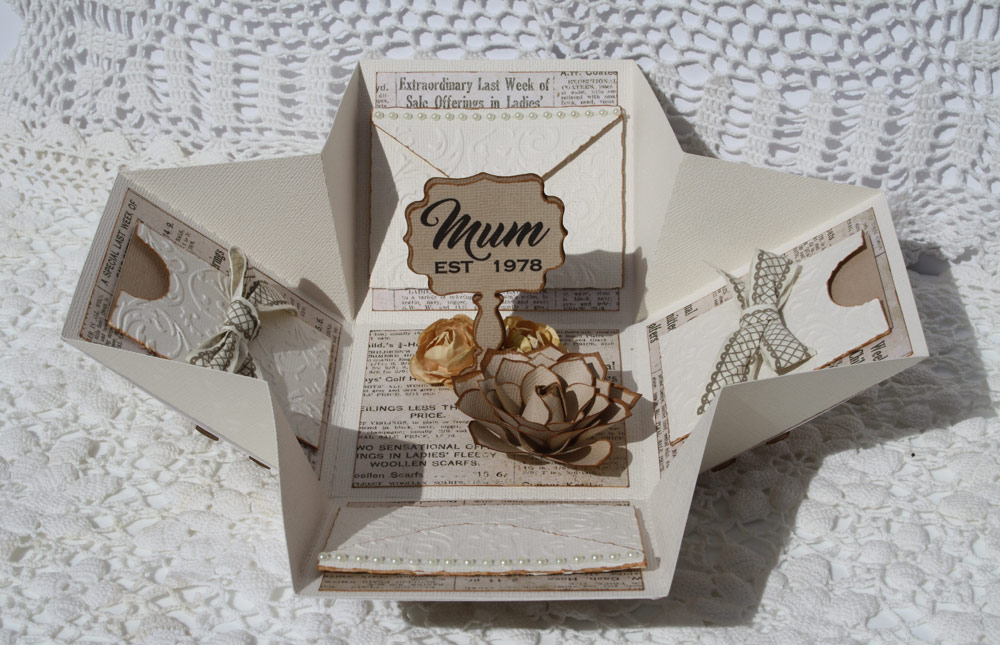 The pockets and envelopes from the Cards & Tags CD are perfect for holding your messages for the recipient. This card can be adapted for any theme at all and will sit proudly displayed on anyone's mantel. This is definitely a project for a very special someone, or a very special commemoration. Graduations are creeping up and this card box would be perfect to celebrate such a milestone.
This is my last official project for the Pazzles Design Team as I focus my energy on work and my family. I want to thank you all for your support over the last two years, as I've learnt so much, made new friends and had a blast sharing my creations with you. I can't wait to see what our new Design Team will create and will continue to share my craft projects on my Flutterbelle Creations blog.
~Belle
Supplies:
Kaisercard – Vanilla, Latte, Cookie, Mocha, Blush, Moss
Copic Markers
Sizzix Texture Boutique Ribbon Pearls
Paper flowers
Cards & Tags CD
Glue
Comments
comments