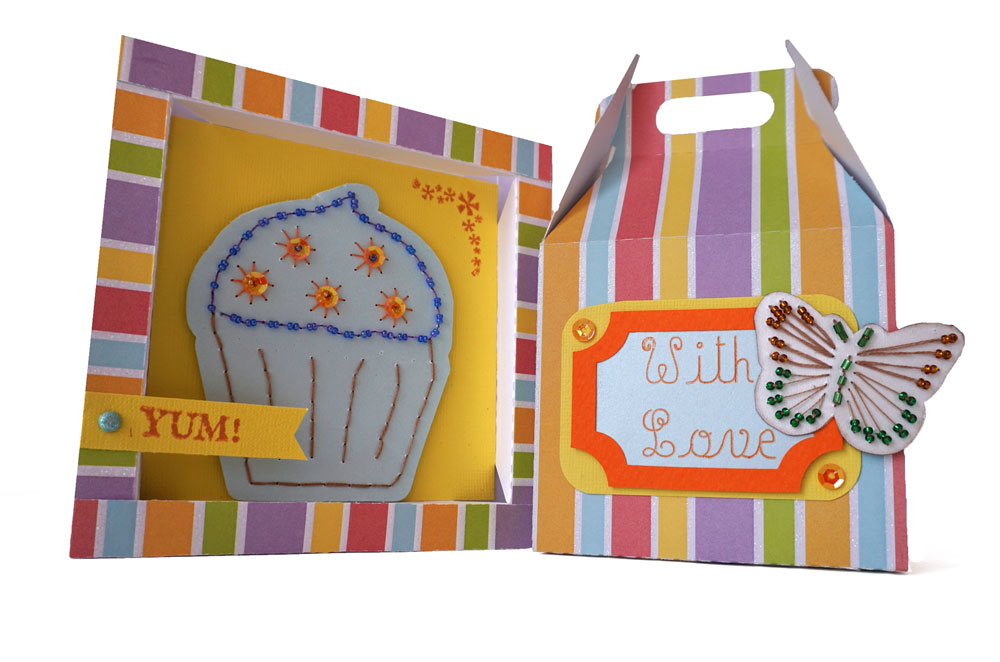 The embellishments are an important part of any project. I have seen stitched cards and beautiful string art pieces and I wanted to do something like that, so I decided use this inspiration to do some embellishments using my Piercing Tool.
I started, looking for some images to use with my Pazzles Piercing Tool. I also watched the Klo's Classroom videos about using the tool. These videos are available for Pazzles Craft Room members. It was my first time using the tool, and I felt in love with it. There are a lot of possibilities to try. I did some trial and error to get the correct space between the holes.
At last I decided to pierce two images found in the Pazzles Craft Room Library: A Cupcake and a Butterfly. I used thread, some beads and sequins to finish my embellishments. I cut another piece for each one, and put it on the back for a good finish.
When I finished my embellishments, I decided to make a box and a card for a special gift. The Shadow Box Card from the Mom and Pop Collection and the Gable Box are from the Pazzles Library.
For the sentiment I used my Pazzles Pen Tool with the Single Stroke font-PA new Monique included with the InVue Software.
Supplies:
12×12 Sheet DCWV The Glitter Stack
8 ½ x 11 ½ cardstock white, blue, yellow and orange
Brown thread
Green, brown beads
Orange sequins
___________________________
Adornos con puntadas
Los adornos son una parte muy importante de nuestros proyectos, ellos hacen gran parte de la diferencia entre unos y otros.
He visto algunas tarjetas con puntadas y también lo que se conoce como Hilorama, asi que quería hacer algo similar. Me decidi por elaborar unos adornos teniendo esas inspiración y utilizando mi Piercing Tool.
Comencé buscando que imágenes utilizar con mi herramienta. También miré los videos de la clases sobre como utilizar la herramienta y que están disponibles para los miembros del Pazzles Craft Room.
Era la primera vez que utilizaba esta herramienta y la verdad es que estoy enamorada de ella. Hay muchas formas para utilizarla. Hice algunas pruebas para obtener el espacio correcto entre los huecos.
Al final me decidí por dos imágenes que encontré en la librería del Pazzles Craft Room : Un cupcake y una mariposa. Utilicé unos hilos, cuentas y lentejuelas para terminar mis adornos. Adicional corte unas piezas para cada adorno y las pegue por detrás para un mejor acabado.
Cuando terminé mis adornos elabore una caja y una tarjeta para un regalo muy especial.
La tarjeta tipo Shadow box de la colección Mom and Pop y la gable box son de la Librería de Pazzles
Para el sentimiento use la fuente Single Stroke – PA New Monique que viene en el software Invue
Materiales
12×12 hoja DCWV The Glitter Stack
pedazo de cardstock blanco, azul, Amarillo y naranja
Hilo café y morado
Cuentas verdes y cafe
Lentejuelas naranaja
~Adriana
Comments
comments