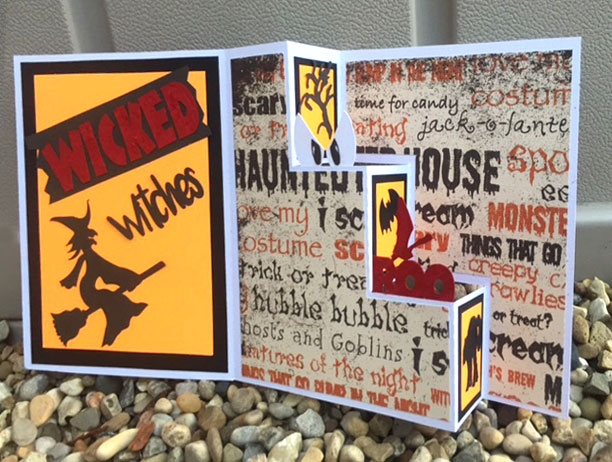 Using the Pazzles Distressing Tool is so much fun to see how the different papers change. If you have not purchased this tool you are missing out on the fun.
For this project I used the Card Template Fun Folds Stair Steps from the Pazzles Library. To assemble this card separate all pieces, then print out the card base.  Once the base is cut out you will pinch fold the inside step section of the card, folding on the fold lines. Once the card is folded you will cut out the inside pieces and glue down on the card.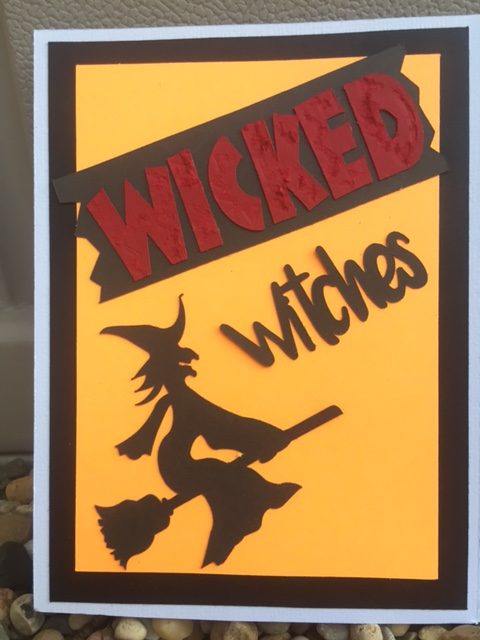 The font used for the word WICKED is Jungle Fever N that can be downloaded for free. This font I distressed using the Pazzles Distressing Tool.  To set up the project to distress, draw lines onto each letter using the connected line function within the InVue software. These can be any line pattern that you choose.  Once you have your pattern, select all those lines and select the line type of distress.  Once you have these lines selected to distress, it will make it easier when sending your project to cut.  Last note- when sending the project to cut/distress please don't forget to change out your Pazzles Tool.
~Shelissa
Card Template
Fun Folds Stair Steps
Cutting Files
Best Witches
Bat
Spooky Branch
Angry Eyes
Boo
Black Cat
Supplies:
Pazzles Distressing Tool
Pazzles Cutting Blade
Pazzles Cutting Mat
Paper Studio "Jeepers Creepers"
Paper Studio red, black, orange and white
Comments
comments