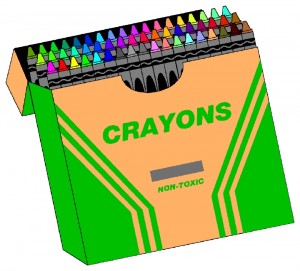 Are you an "8 crayon box" person or do you need the mega box with 128 colors? I am definitely a "128 crayon box" person and believe me I will use every single one!  Whether you work with only a few colors or the whole rainbow, eventually you will need to use the color palette tools to design your project
When you first use your Inspiration software you probably find the color palette window just a little bit annoying. It might seem like it is always in the way and wonder why it needs to be front and center all of the time. Then comes the day when you have an piphany and realize that this box is the portal to a world of color magic. Do you want to change line colors or fill each section with  color so you can visualize your design? No problem!  Want to match your colors to your photo or better yet, the line of papers you are using? No problem! Want to create a custom palette of colors that you save

and use again? NO PROBLEM!!!
 If you are just beginning to use the software you will start with the area (or palette) of color squares. This is like your 8 color box of crayons. It has your basic black and white plus some bright colors. You can chose these colors to change your line color or fill your design with color. Above the color palette squares you will find 2 columns labeled B  and P. You can adjust your chosen color using the slider bar in the columns.
Those of you who are "128 crayon box" people will inevitably find you need to move to more advanced tools. You can use the rainbow color cube to "pick" new colors.  Did you know that the Inspiration software comes with many other  color palettes? You will find an amazing array of colors in the color library. Color lovers will want to try the eyedropper tool. It allows you to pull colors from photos, graphics and web sites to create custom colors. You can also save your custome created palettes to use again.
Be sure to watch the 2 video tutorials that I have created for the color palette tools. I explain the features of the color palette window in more detail than I can do in this column. Once you understand the magic of the color palette tools some of you may even move from the 8 color box to 128!
Take me to Color Palette ABC's part 1 in Building on the Basics.
Take me to Color Palette ABC's part 2 in Advanced Techniques.
Comments
comments