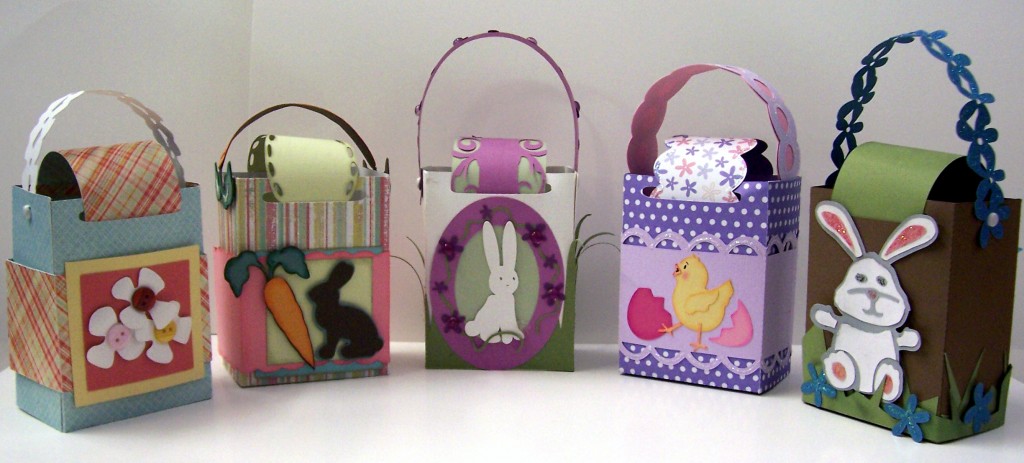 Easter is creeping up on us and we just couldn't wait to share an Easter project with you! These adorable little bags are called "Pocket Purses" and have the distinguishing feature of a band that covers the top of the bag. These purses would be a wonderful way to give out Easter candy or for a pseudo-easter basket (though admittedly they will only hold probably 4 full sized eggs). Whatever you choose to use the purse for, there is no denying they are adorable! On the far left is Amanda's colorful Pocket of Posies purse with adorable white posies complete with button centers. Next is Tatum's Chocolate bunny purse. One of the best features of Tatum's purse is the carrot handle, so don't forget to check out the gallery for more photos! Next is a elegant Easter design created by Lisa. After that is Chris's Chick and Egg purse, her chick is truly adorable so make sure to take a look in the gallery for more closeups. Lastly is a Easter bunny purse which was a second bag created by Lisa with a little more of a funky but adorable twist.

Below are the cutting files, assembly instructions, and supply lists for each purse.

A Craft Room Membership is required to access additional content. Please Join Now or Login!
Comments
comments