Do you remember the Easter Hat Parades when you were at school? Do your children do them now?  I've been looking for an excuse to use the Mad Hatter cutting file and making an Easter bonnet is my excuse!
I had plans to use Easter bunnies, chicks and other Easter symbols on this hat, but when the time came, the lace and flowers that were next to me on my desk called out to be played with and I liked how it looked. In the end, what I came up with is a lovely and elegant little Easter bonnet fit for a little girl or a lady.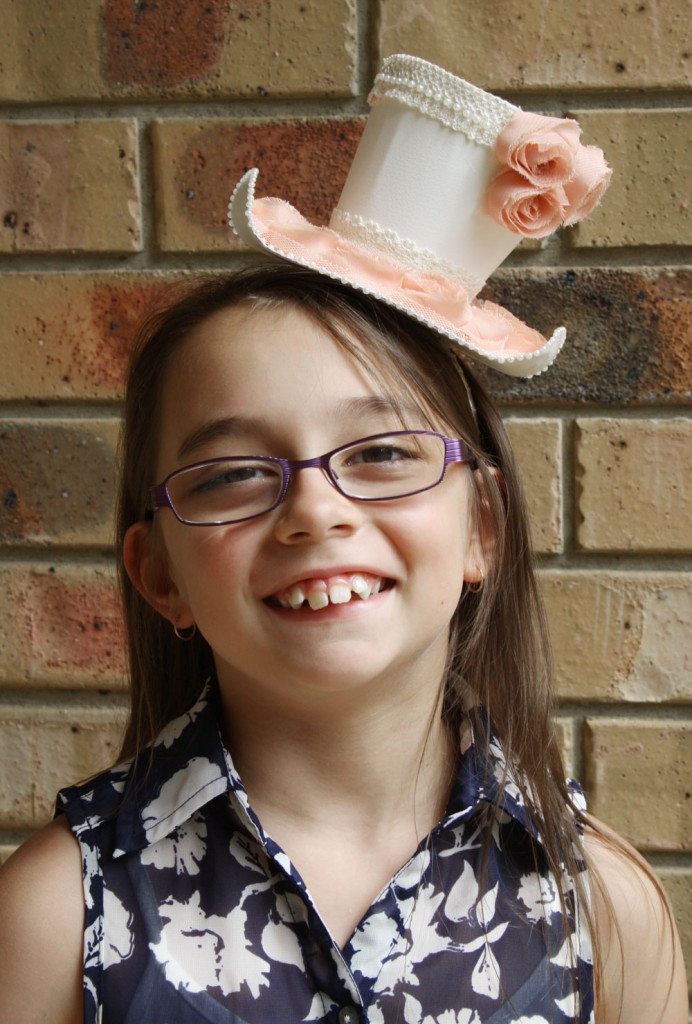 To begin with, I enlarged the entire file so that the biggest piece fit as big as it could on my 12×12 mat. I wanted this hat to be as big as I could make it, but still smaller than a real hat. This worked out perfectly. I cut out all my pieces in a plain ivory cardstock. I deleted the feather, and also the band that goes around the base of the hat. I replaced the band with a piece of lace as you see in the photo.
Follow the assembly instructions in the pdf for the mad hatter file and then the fun begins with decorating your Easter Bonnet. In this case I used some pearls and the ribbon roses to decorate the brim. The three ribbon roses on the top of the hat were cut individually and the mesh folded behind the bloom before attaching to the hat.
Once the hat is complete, grab a plain headband and use hot glue to attach the hat onto the side of the headband. Thank you to my daughter Charlotte for being my model!
I hope you enjoy creating one of these hats as much as I did.
~Belle
Supplies:
Kaisercard – Ivory
Kaisercraft pearls
Kaisercraft ribbon roses
Double sided tape
Headband
Hot glue
Comments
comments