At Pazzles we have been secretly toiling away for the better part of a year on these products that I am so proud (and a little relieved!) to announce to you! I am SO EXCITED about these new products and I hope it won't take long before you are just as excited as I am. There's a lot of really exciting things to talk about so I'm going to break this down for you.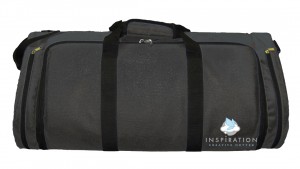 First up is the Inspiration Tote. Ever since the release of the Inspiration this has been on our radar as a product we would really love to have. For years we have talked about what we wanted, created prototypes, and then gone back to re-evaluate. All that hard work has resulted in this truly excellent bag that is designed completely with Inspiration users in mind, all for a great price. Click here to read about all the features and preorder your bag today!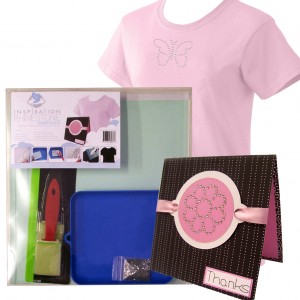 Next up is our Rhinestone Starter Kit. Now that the Inspiration Studio Pro software is available, making rhinestone designs in the software is easier than ever. But where do you go from there? The Rhinestone Starter Kit is the answer to that question. We have spent months developing a rhinestone application system that is easy, affordable, and produces professional results. With the Rhinestone Starter Kit you can start creating completely custom rhinestone designs for scrapbook pages, cards, apparel, and more even if you don't have the Inspiration Studio Pro software. Click here to learn all about our Rhinestone Starter Kit. We also have refill packs so that once you have the starter kit you can just get refills to keep creating. Check those out here and here.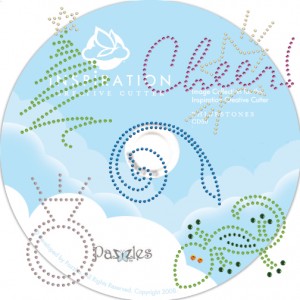 Are you excited yet? Because there is still more! We also have created a brand new Rhinestone CD that is all rhinestone designs! This CD has over 130 rhinestone designs and 3 fonts the you can use no matter what software you own. These designs span all kinds of occasions and holidays plus fun every day designs that are perfect for apparel and crafting. Click here to visit our store and view all of the images included on the Rhinestone CD.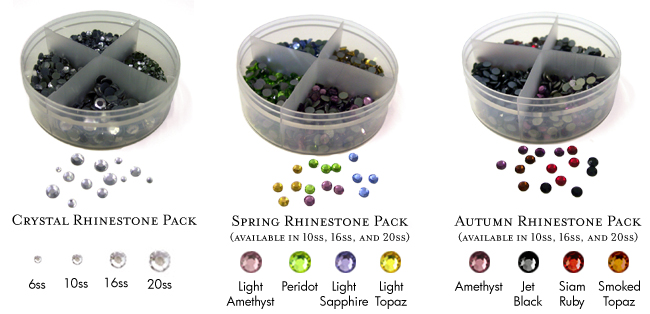 We are also carrying some beautiful hotfix Rhinestones Packs. When I first delved in to creating rhinestone designs I went out to the usual stores to find rhinestones, but I was really disappointed. They were so expensive and they had hardly any colors. It was very limiting. So I came back to Pazzles determined to find beautiful rhinestones that we could provide at an affordable price. It was a lot of work! But the end result is completely worth it. These rhinestones are beautiful, quality, and inexpensive. I really haven't seen a better deal anywhere. And you know what? Rhinestones make me happy and I think they will make you happy too! Check them out in our store.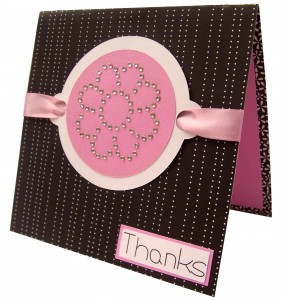 I've made a video showing you how to create your own rhinestone designs and specifically how to make this beautiful thank you card. You will definitely want to check it out. It is a full length tutorial on how to use the Rhinestone Starter Kit (And guess what? A hard copy of this tutorial is included with your Starter Kit!) and includes the cutting file for this card. I have also uploaded a shorter version video to our You Tube channel so you are welcome to share it with your friends. I hope you enjoy!
Also make sure to check out our galleries for more projects created using our Rhinestone line.
creating-rhinestone-designs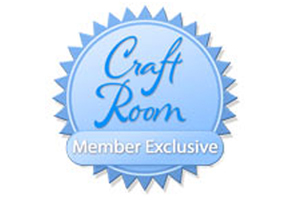 Did you know that you can create personalized rhinestone design with your Inspiration and the Pazzles Rhinestone Starter Kit? Our kit gives you the same tools the professionals use so you can create rhinestone designs for apparel, accessories, scrapbook pages and more! If you can iron it, you can put rhinestones on it! This step by step tutorial will show you exactly how to use the Rhinestone Starter Kit to start creating your own bling!
Comments
comments