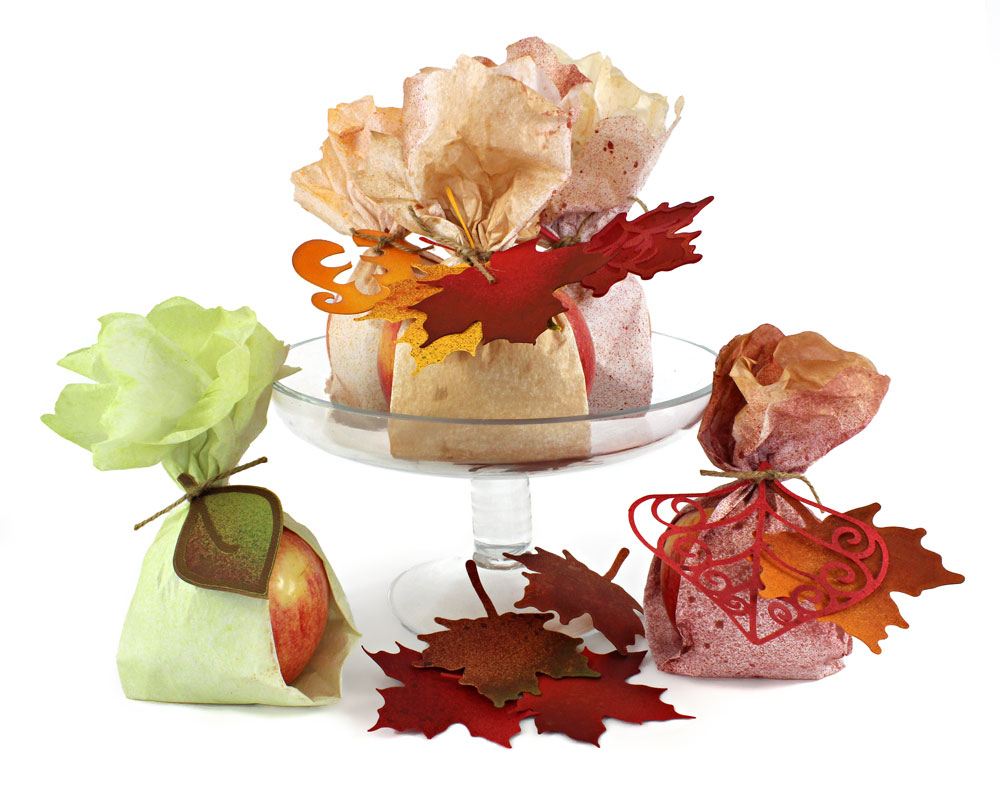 Fall is my favorite time of the year. My grandpa Clyde would take us grandkids for a Saturday drive through Yellowstone National park since it was only an hour away from where we lived to look at all the Quaking Aspen trees changing colors. I was always amazed how those beautiful green leaves could change to the most vibrant reds, oranges and yellows I have ever seen. I always loved the orange leaves best because they would be so bright they were almost neon!
With my fondest childhood memory in mind I created this project to display your favorite leaves from the Craft Room Image Library under Nature > Plants > Nuts and Leaves. There were so many to chose from I had a hard time deciding, which is probably why I ended up making five of them!
I used Tattered Angels Glimmer Mist on the tissue paper and on my leaves. I was thrilled with the way Glimmer Mist actually made my leaves look real! I used standard white tissue paper so that I could get the full effect of the colors (which are absolutely awesome and beautiful). Once I had my tissue paper folded in a strip that would fit my apple, I used twine to tie the tops and attach my leaves. I then cut off the remaining tissue paper on the top using scissors. I cut the tissue paper in a wave to create more dimension to the top.
There are a million uses for this quick project whether it's centerpieces, name holders, or just a simple gift to let someone know they're the apple of your eye.
Supplies:
Tattered Angels Glimmer Mist (Monster Mash, Tokyo, Sugar Maple, Gold, Candy Corn, Leapfrog, and Suede )
Tissue Paper
Comments
comments