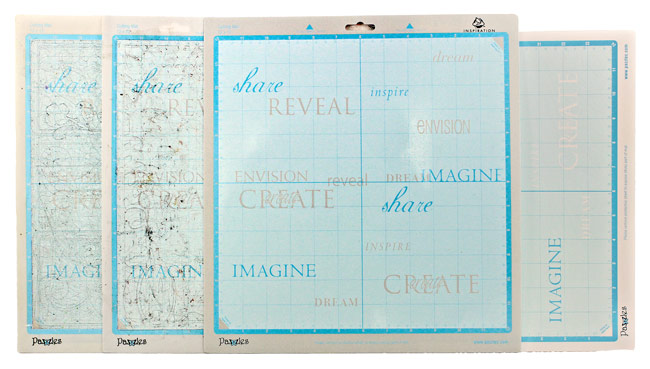 Remember the movie "The Good, the Bad and the Ugly?" I thought of it when I was contemplating what to write in today's blog. I think it is a pretty good description of the current state of my collection of cutting mats. Some are good because they are new. Some are bad because they are so heavily scored I can no longer use them and some are ugly but are still quite usable.
The cutting mat is an essential key to great cuts. Knowing that, we have decided to have a blog devoted to mat care on a regular basis. We have new Inspiration owners joining the Craft Room all the time and want to make sure they know how to use their mats correctly.
If you are interested in making your mats last as long as possible be sure to watch the video below. It will walk you through mat prep, mat care and how to keep your mat clean. For instance, you need to be sure to season your mat before using it, especially if you live in a humid climate. You need to keep your mat protected from dirt and dust so that the the blade will not skip over the bumps under the paper. And did you know that you can give your mat a bath? Water won't hurt it and neither will a mild soap.
Here is a simple list of mat care basics that you can print out as a reminder. Don't forget to watch the video at least once, it will help you understand the points on the list.
1. Before taking the clear cover off be sure to write 'top' on the cover. If you put the wrong side on the mat it will pull the adhesive off.
2. Leave the clear cover on the mat. Using a credit card or the Chizzle tool, rub over the mat in long strokes to press the adhesive into the mat.
3. Take the clear cover off and lightly place a piece of cardstock onto the mat. (Do not use paper for this step.) Pull the cardstock off. Repeat lightly placing down the cardstock and removing it at least 10 times.
4. If the mat still seems too sticky you can pat the mat with your hands to further neutralize the adhesive.
5. Cut cardstock on new mats and use your more 'seasoned' mats for thinner papers.
6. Do not leave paper or cardstock on your mat after cutting your project. Do not leave it on the mat over night.
7. Cover your mat between uses and store it flat or hanging from a hook.
8. Clean your mat by using the Chizzle tool to scrape off as much of the paper scraps as possible. Then use a lint roller or packing tape to pick up any tiny pieces and lint left on the mat.
9. You can wash your mat with with lukewarm water and mild soap. Do not scrub, but you can gently rub the soap over the mat.  Rinse and hang to dry. This often revives the adhesive.
10. If your mat is heavily scored it is time to retire it. Deep score marks will affect how smoothly the blade travels across the mat surface.
11. If you are having trouble cutting a project and you have changed the blade and have cut the paper easily at other times, try changing your mat.
caring-for-your-mat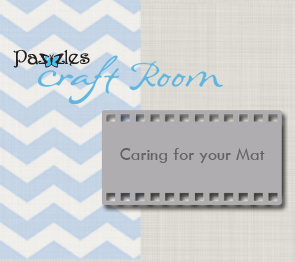 Taking care of your mat properly from the very beginning will make your mat last longer and make your cutting better. This tutorial will teach you how to prepare your mat from the moment you take it out of its packaging. You will also learn how to clean and store your mat for greater longevity.
Comments
comments