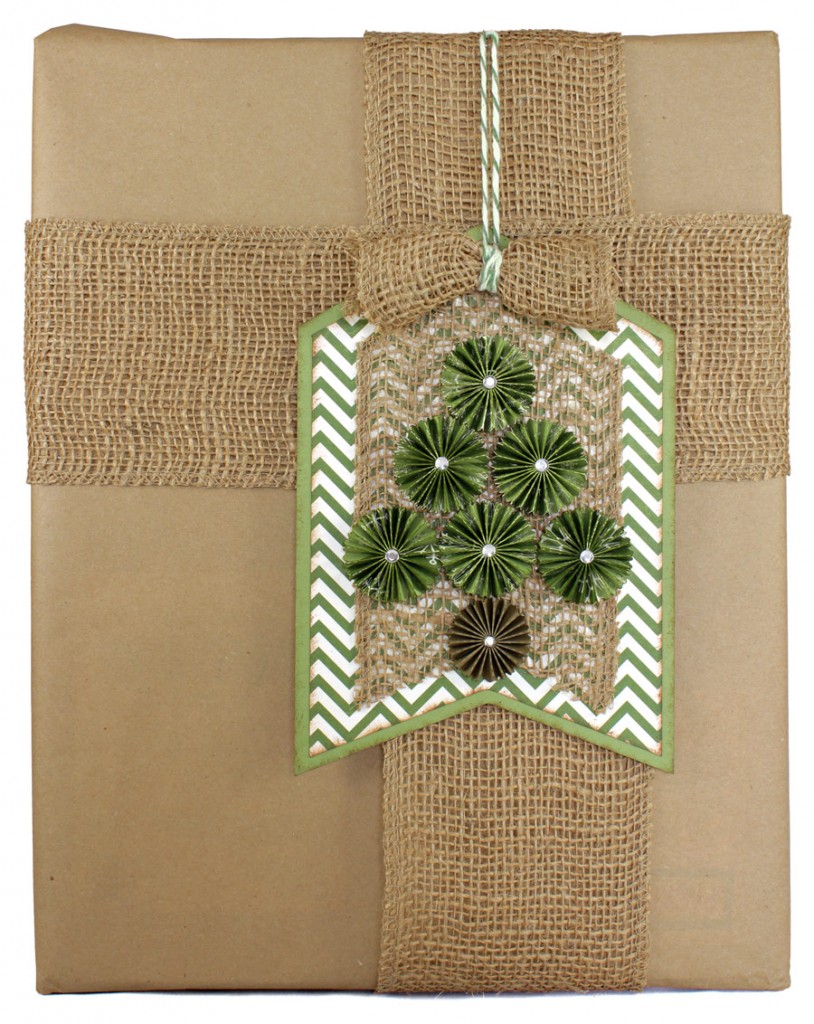 On the seventh day of Christmas the Pazzles Elves gave to me…
Who knew that burlap, chevrons, and rhinestones could make such a sweet combination? This gift tag is made of mini rosettes layered on a extra large tag. The rolled burlap bow tied up with twine tops the tag and couldn't be easier to make. Each little rosette is embellished with a single clear rhinestone to add just the right amount of sparkle.
Begin by making 6 rosettes. I made all six of mine from the same paper but you could alternate colors for a different look. You will also need to make one rosette that is slightly smaller for the trunk of the tree. If you don't know how to make rosettes be sure to check out the Rosette Tutorial. I recommend that you use a glue gun to make your rosettes. It makes quick work of gluing the rosettes into their shape.
Add one rhinestone to the center of each rosette. I used 10ss rhinestones for the larger rosettes and a 16ss for the trunk rosette. A small dab of  liquid adhesive holds them firmly in place.
Ink the tag pieces and glue the layers together.  Then cut a piece of burlap ribbon into a matching tag shape as shown. Glue the burlap to the tag with Tombow Mono adhesive or another strong glue.
Roll a piece of burlap ribbon. Wrap a doubled piece of twine around the center of the burlap roll. Be sure you leave the loop end longer. Tie the twine in the back of the roll. The longer twine loop extends from the the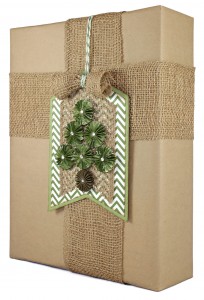 top of the bow and and acts as a hanger. Trim the loose ends of twine close to the knot. Glue the bow to the top of the tag.
I stapled the tag to the burlap for a nice secure hold.
~ Chris
Supplies:
Burlap Ribbon
Twine
Glue Gun
Liquid Adhesive
A Craft Room Membership is required to access additional content. Please Join Now or Login!
Comments
comments