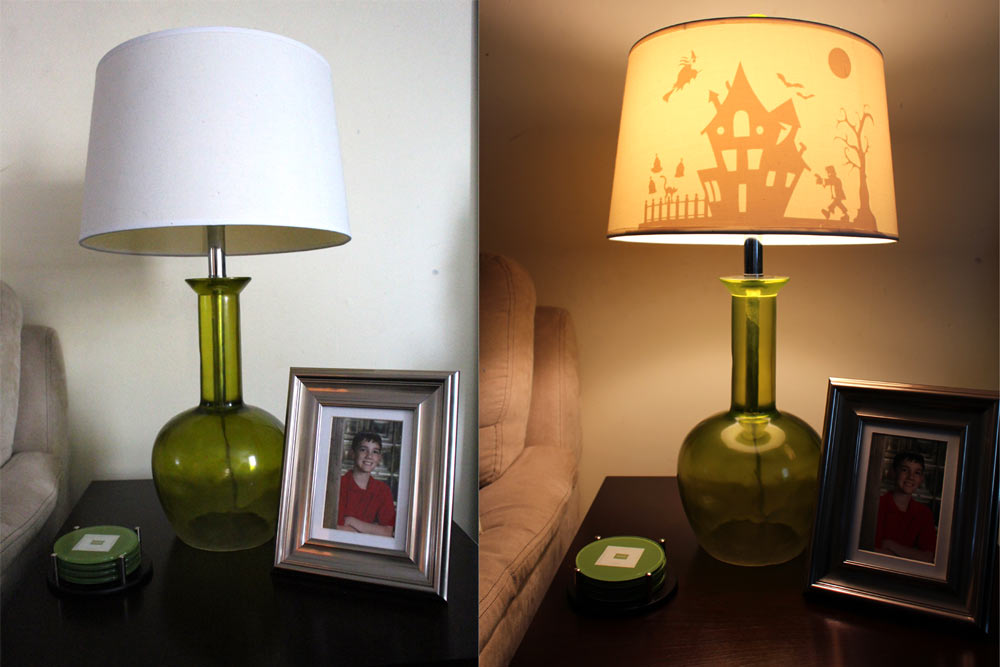 Halloween is right around the corner, and who doesn't like to decorate for the holidays? This is a super easy project and it's so much fun! When the lamp is off you can't see the design. But when someone turns it on, POP, there it is! It is so fun to see their faces when they turn the lamp on! My son said, "It's kinda like the Christmas tree. I just can't stop looking at it."
I combined several Halloween files from the Craft Room Library to create this scene. Once I got my design the way I wanted it, I welded the elements together. (Make sure you reverse your design before cutting, especially if you are adding words.) I cut my design out using Pazzles Wall Vinyl in Cotton (White). I used the Pazzles Pick Tool (A tool no one should be without!) and weeded the design. Then I placed Pazzles Wall Transfer Tape over the entire design. I did not lift the design off the backing paper as it is much easier to position your design with the backing paper attached. I placed my design where I wanted it on the inside of my shade then used a piece of masking tape and taped one edge of the entire design down making a "hinge", so it wouldn't move out of place. Then I lifted the design, peeled the backing off and smoothed the design down, then removed the transfer tape and masking tape. The great thing about this project is that if it's not perfect no one will know. Little bubbles and creases don't show through the shade.
As with most Pazzles projects, the possibilities are endless! You can make your shades super scary, or fun and light hearted. The sky is the limit! Either way I am sure your friends and family will love it! This project was so much fun to make that I have a feeling we will be decorating our shades for every holiday!
Note: If you use a darker color vinyl you can see the design through the shade even when the lamp is off. I like the element of surprise! So for me, white it is!
~Heidi
Supplies:
Comments
comments