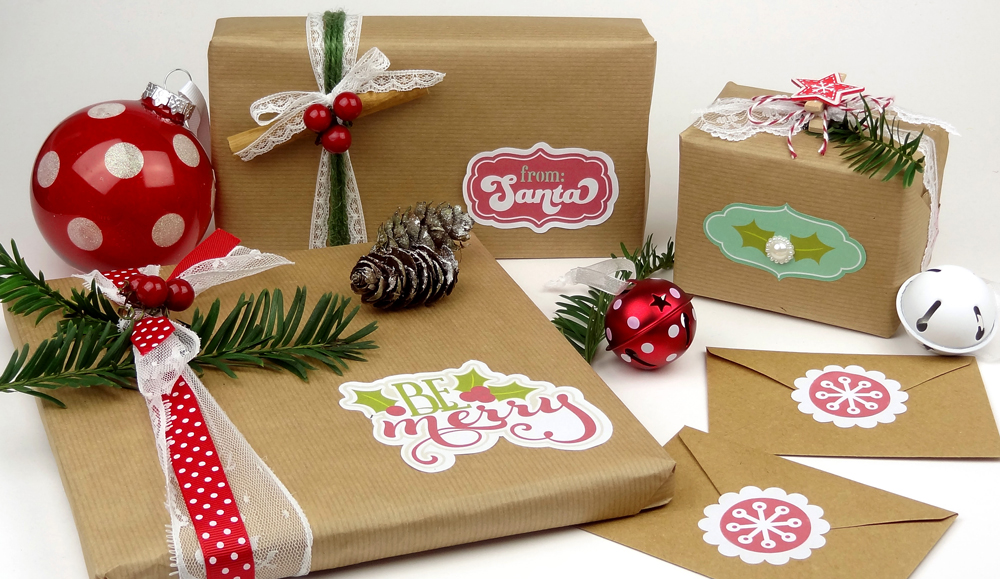 Joanna here with a quick Print and Cut project for you to make your own Christmas sticker labels. I decided to make several sheets of stickers to add as decoration to my brown paper wrapping using my Pazzles Inspiration Vue.
I have used several of Miss Kate Cuttables files which I imported into my software. On the larger present, to the front left of the photo I used the Be Merry Title. You just need to spend a few moments layering up the elements. I constantly referred to the image in the Pazzles Craft Room, to help align everything up correctly. I also used a selection of the Christmas Tags in the Pazzles Library and followed the same process. I removed the ribbon holes on some of the designs as they were not required for stickers. Once the title and tags were looking how I wanted, I made an outline of the outer cutting line. As I was putting my stickers onto brown wrapping paper, I thought a white outline would make the stickers stand out on my presents.
I also made some stickers for the back of my Christmas Card envelopes by drawing a circle filled in red with the addition of a snowflake design from the Christmas Tags set.
I arranged all the stickers on my sheet and printed them from my software, using my colour printer. Once they were printed, I laid my sticker sheet on my Print and Cut mat and proceeded to Print and Cut my stickers. This can also be achieved using your original Pazzles Inspiration, with the Pro software, but you will need to create Registration Boxes for your Print and Cut design. The video tutorial in the Pazzles Craft Room named "Using Cutting Files for Print and Cut" with help you set your project up for printing if you do not have an Inspiration Vue.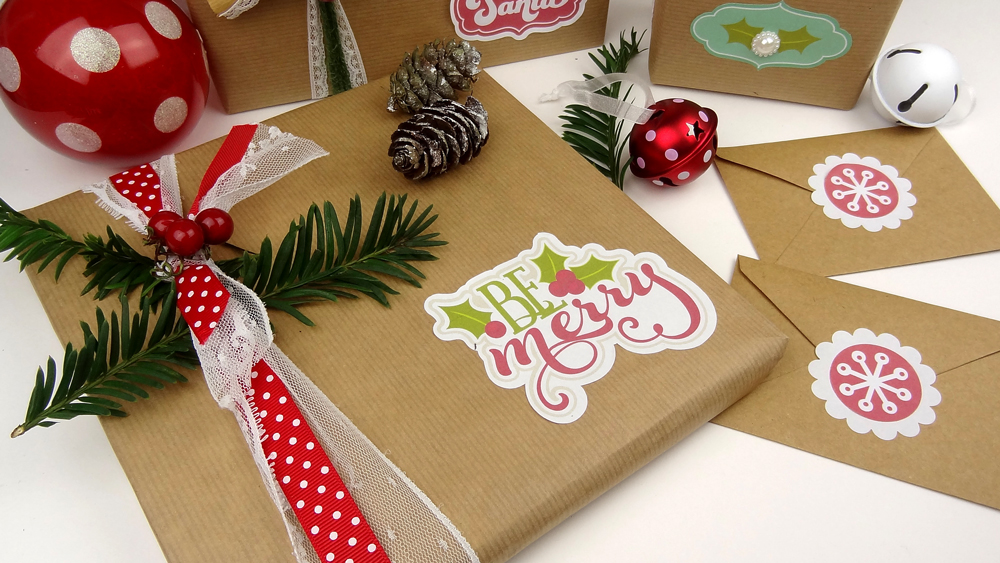 I was so excited when they were all cut out. I removed all the white sticker paper that I did not need, which left me with my stickers all cut out and ready to use on my sheet! Now the fun part…….I used brown wrapping paper for the presents, used assorted lace and ribbons that matched the colours of my stickers and added some Christmas embellishments.
Incidentally, you could use a similar process using cardstock and make these into tags. By using sticker labels and brown wrapping paper, this makes a cheap and far prettier way to wrap up your Christmas presents which is way more FUN than buying the items in the shops, that cost a fortune!
~Joanna
Supplies:
Sticker Sheet (Letter size or A4) – Staples
Colour Printer
Brown Parcel Wrapping Paper – Post Office/office supplier
Embellishments (Lace, Ribbons, berries etc).
Comments
comments