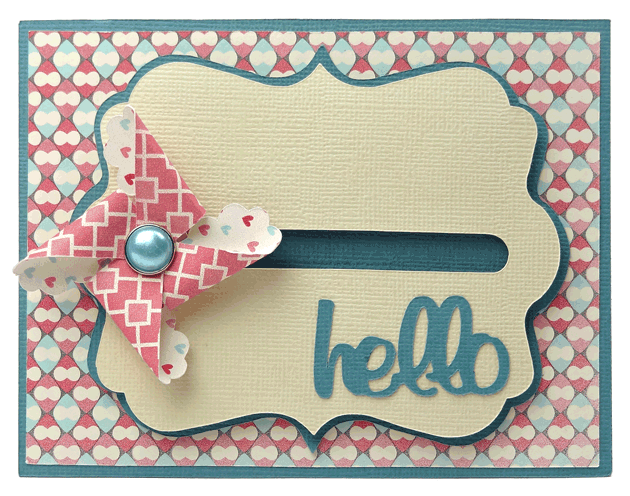 Back in 2013 we shared this card designed by Joanna Wright for National Scrapbook Day and the files were available for only a few short hours. It's such a cool idea, and we've had requests for the files ever since, so today we are re-releasing this project with the files for Craft Room Members. Download the files and start out by making this card. Once you have the concept down, use this idea with any number of files from the Craft Room for a WOW card that is sure to impress!
Spinner Card Technique
Adding a penny spinner to your card gives it a pop of fun.  To make the spinner using the free cutting files, cut out the pieces of your card. You will also need two pennies or small coins and some dimensional dots.
1. Attach the patterned paper background to the card base and assemble your pinwheel.
2.Take one of your pennies and place a dimensional in the center. Make sure to place the dimensional in the center so your pinwheel will spin correctly. Peel off the sticker backing and place the penny onto the back of your pinwheel.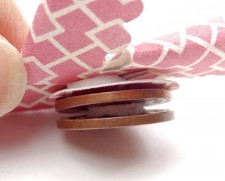 3. Place a second dimensional dot on the back of the penny. Lay your pinwheel face down with the penny/dimensional side up. Lay your fancy frame piece with the cut out slit on top of the penny with the dimensional showing through. Peel off the dimensional backing and place the second penny onto the dimensional. You now have a penny sandwich with the cardstock slit in the middle and the pinwheel on the front. Roll your card side to side and the pinwheel will spin.

4. Use dimensionals to adhere the frame to the card base so that it is lifted off the card a bit. This will give the spinner room to move. Finish off by adhering your cut sentiment or stamp your own.

A Craft Room Membership is required to access additional content. Please Join Now or Login!
Comments
comments