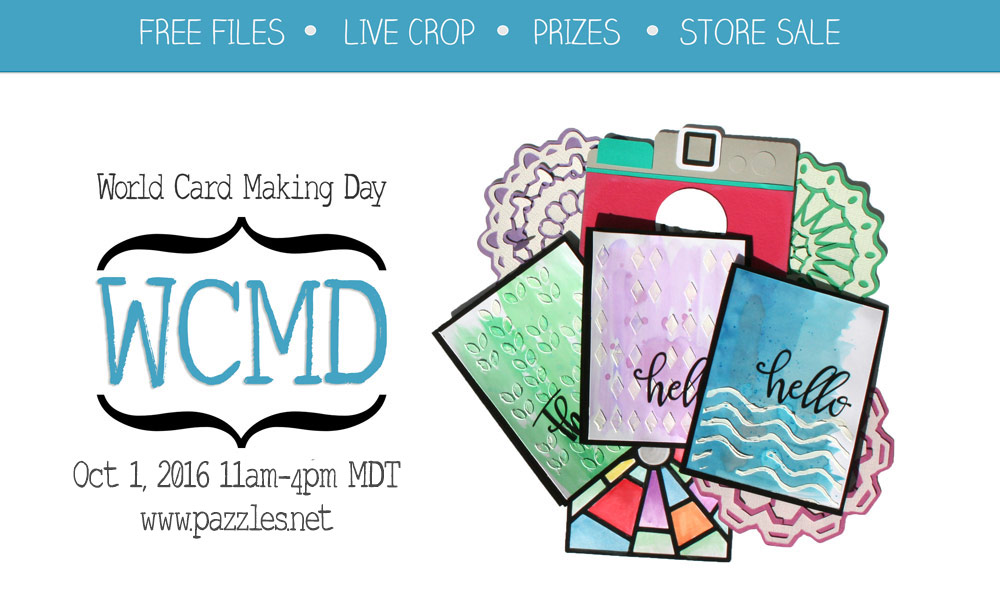 We're planning a little shindig to celebrate World Card Making Day and we hope you'll join us! Here's the plan for the day on October 1, 2016!
Live Crop with Klo: Join Klo in the classroom from 11am-4pm MDT for a live crop. Chat with other Pazzles fans while you work on projects. Klo will be there to answer questions and help you share your projects with everyone. Get pre-registered now for the crop and you'll receive a reminder email. Click here to register!
Free Files: Starting at 12 noon MDT we will share a new card idea and free cutting file with you each hour on the hour here on the blog. There will be a total of four free file posts. These files are free to everyone and will remain free after the party. We will not have formal challenge folders this year, but we would love for you to share your projects created with these files and techniques. Upload your projects to our Facebook page, or the Forum Gallery, or feel free to link to your blog projects in the comments on each blog post.
Prizes: We have prizes! Each blog post will have a prize and specific instructions for winning that prize.
Store Sale: We will be running a sale in the Pazzles online store. We'll be announcing the details later this week, so watch for that!
See you next Saturday for the fun!
Comments
comments