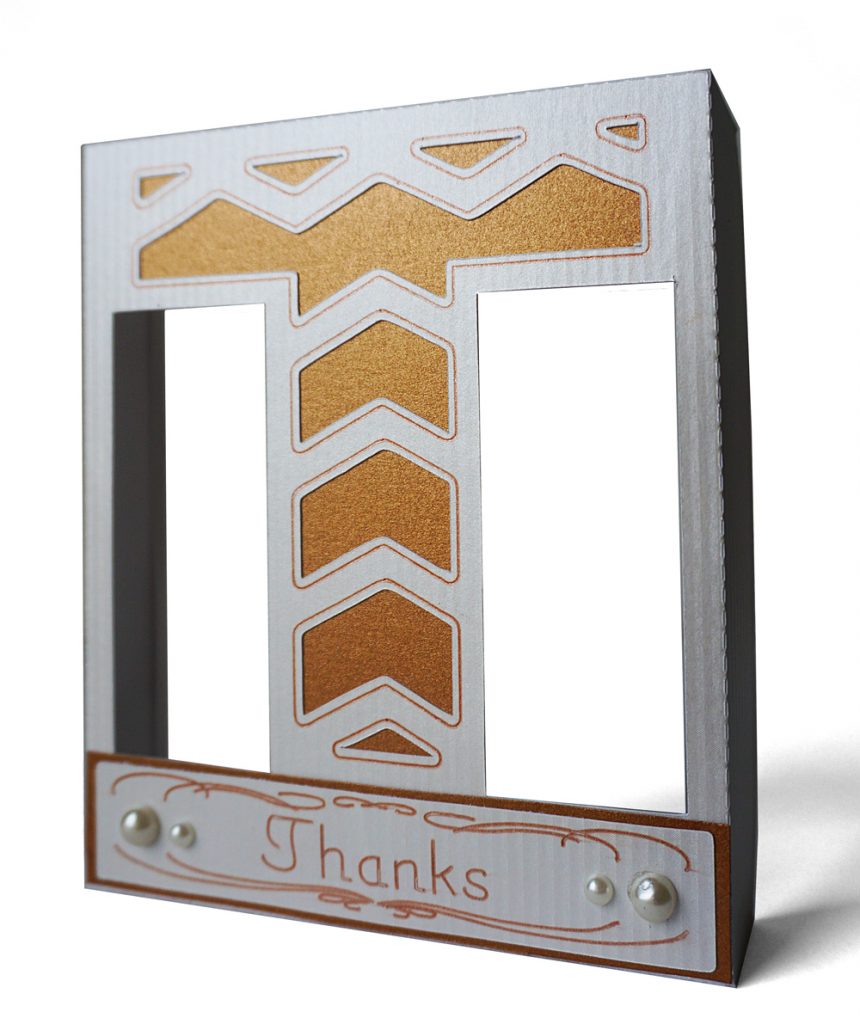 This month there is a special celebration in the USA: Thanksgiving day.  I love this holiday because it is the kind of celebration that would be celebrated around the world. It is time to give thanks for all we have: health, family, friends, work and all other things. So for this special month, using my Pazzles Pen Tool for the project of the month, I decide to create a home decor.
As I was getting started, I went to Klo´s Classroom which is full of knowledge and fantastic ideas. I loved a class about converting paper lace into home decor. If you haven't taken advantage of these classes, you are missing out! The classes are available to all Pazzles Craftroom members.
For the project, I choose the letter T from the Chevron Monograms Cutting Collection and the frame design from the Single Stroke Album in the Library. To use the Pazzles Pen Tool I created an outline for the inner pieces of the letter and text using the PA Artie Single Stroke Font that is included in the InVue Software.
You can use the technique taught in the video for many others projects: baby room decors, parties and anything else you can imagine. The project can be hung or put on a table or shelf.
I hope you I have  your interest in Klo's Classroom for all kinds of techniques and inspiration.
Files used:
Letter T
Frame Design
Este mes hay una celebración muy especial en USA: Día de Acción de Gracias.  Es una celebración que creo que debería ser mundial, porque es un fecha para dar gracias por todo lo que tenemos : Salud, Familia, Amigos, trabajo y tantas cosas más.
Así que para esta mes tan especial y con la tarea de realizar un proyecto con la herramienta Pazzles Pen Tool, decidí elaborar algo para colocar como decoración en casa.
Para inspirarme me di una vuelta por el salón de clase de Klo (Klo´s Classroom), es un sitio lleno de mucho conocimiento y de ideas geniales.  Me encantó una clase donde se convierten imágenes en decoración del hogar.  Estas clases están disponibles para los miembros del Pazzles Craft Room.
El proyecto usa la letra T de la colección Chevron Monograms Cutting files.
Para utilizar el Pazzles Pen tool hice un Outline de las partes internas de la letra y adicione un marco para el mensaje  de la librería de la sección Single Stroke Designs y escribí un mensaje utilizando la fuente PA Artie Stroke Desing del Invue Software.
La técnica que enseñan en el video se puede utilizar para crear diferentes proyectos como decoración de cuartos de bebes, niños, fiestas y todo lo que se imagine. El proyecto puede colgarse o colocarse sobre una mesa o repisa.
Espero que las clases que se encuentran en el ClassRoom sean de su interés pues allí hay mucho conocimiento e inspiración.
Archivos Utilizados:
Letter T
Frame Design
Comments
comments