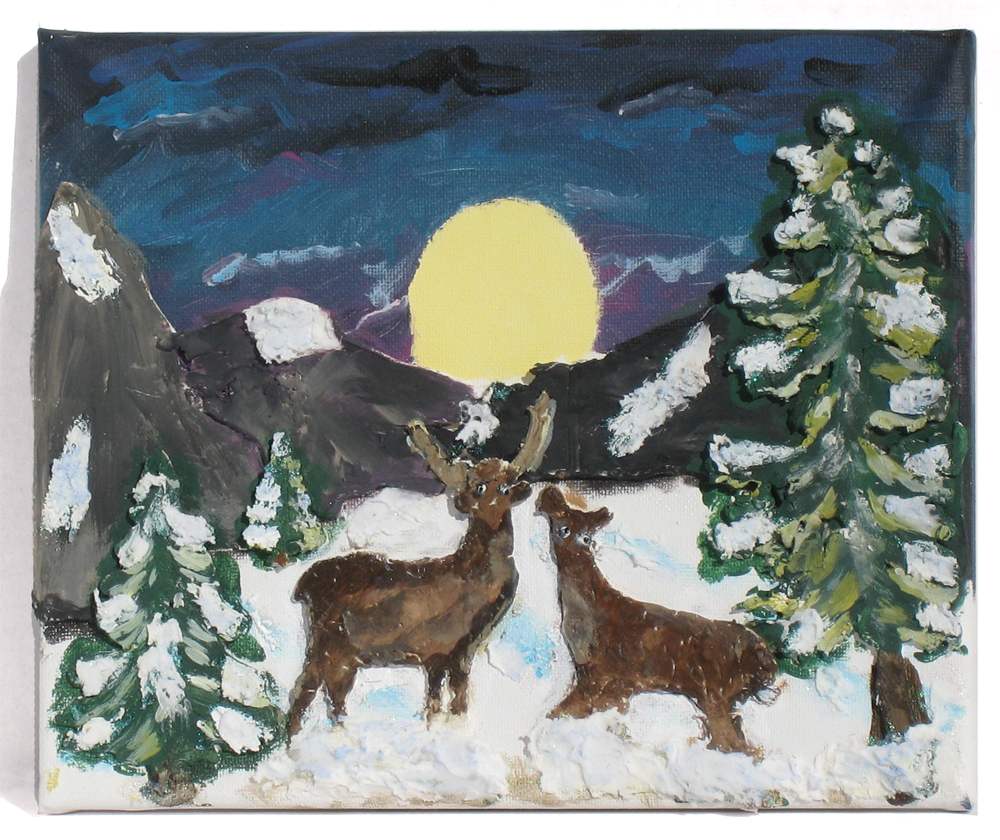 Here's an artsy guessing game for you, what is soft and fluffy, like Play-Doh, without the familiar scent?  Paper clay! Paper clay is air dry type clay, which is softer, lighter in weight and easier to manipulate than polymer clay. Is it possible to "cut" this with our Pazzles machines?
After researching the internet, I discovered that many people have die cut polymer clay, there is much information on this, including many methods. Some roll it into thin sheets and bake it slightly before cutting, others, including fellow Pazzlers, have cut it prior to baking. The pastry tool and mat are the needed tools, but paper clay is soft, almost like marshmallow cream.  The internet did contain some reviews of different brands and types of air dry clay, I had purchased a few before my grand experiment, and luckily two were at the top of the list.
Being brave or brainless, exploring this was sparking my creativity. I was challenged to create a winter themed project, immediately a lovely mountain snow scene with deer filled my head. Sugar plums may have been easier to cut, however deer, with antlers, were stuck in my brain.
My first trial was with Martha Stewart clay, lovely stuff, but it was simply too soft and slid around on the mat. Hearty  Super Lightweight clay worked better, allowing me to cut antlers and a shaggy pine tree-not easy, but the nice thing about clay, if it doesn't work out the first time, simply scoop it off the pastry mat and roll it out again—if it gets too stiff or dry, simply add a spritz of water.  Included at the end of my post are tips that I learned for working with air dry clay. Make sure you clean all the tiny pieces that may get wedged in your rollers and remove the removable rollers prior to cutting.  The places the rollers are located may leave a "dent" in your project; if possible try to place the clay and the object you are cutting between the rollers.  This is not always possible, but a dab of water on your finger can smooth out the dent.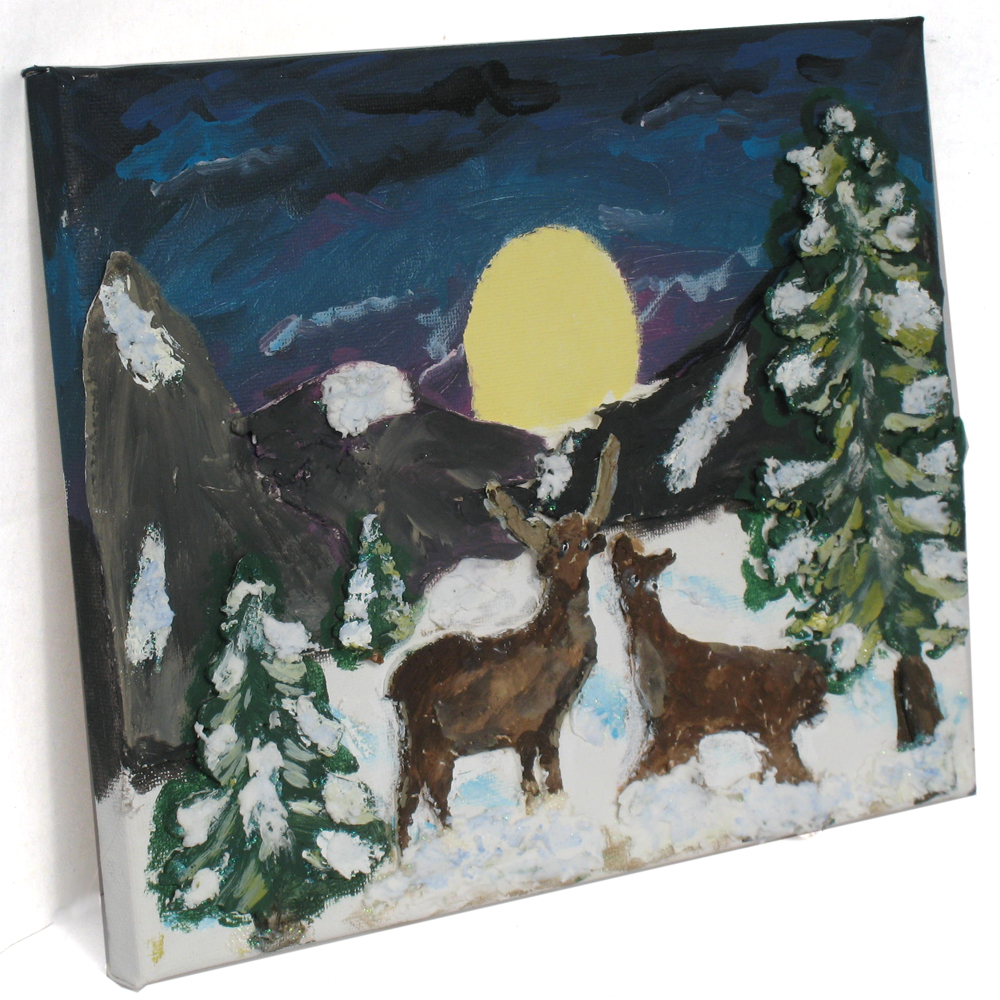 I used an 8 x 10 canvas for my project and applied gesso prior to painting.  Start with the background and work forward while creating your canvas. A variety of acrylic paints were used here for the background and a scrap of paper, post it note or masking paper cut in a circle were used to mask off the space for the moon.  The moon was painted last, after all the clay pieces had been added and painted.  The background mountain pieces were cut first, allowed to dry overnight, and then painted. The trees and deer were cut next, allowed to dry for several hours then painted. Texture was added to the deer and tree using a pointed clay tool before they dried. The pieces were not sticking well to the canvas; a foam brush was used to apply white glue to the backs of the pieces. Although the  clay package directions suggested water to attach pieces, if using large clay pieces it would be preferable to  just add the glue and skip the water .The clay pieces absorbed paint , so many layers of paint were required to get the desired effect.  Texture paste was used to create the dimensional snow on the branches and mountains, with a tiny amount of Distress Rock candy glitter added to the paste while wet.

The Pazzles Inspiration Vue cutter is very versatile and cuts many materials.  Experimenting with a variety of materials and techniques is one of the things I love to do during my artsy time. The Pazzles machines allow me to play and experiment with many types of media, not just paper.  The Inspiration die cut machine inspires me to use my creativity. If cutting clay is not your "thing", I urge you to cut cookie dough, pie crust, fondant, sugar sheets, bread dough or whatever medium you would like to try.

Click Here to Download a Document for Tips Cutting Paper Clay



Pazzles Craft Room files used:
Mountains
Deer from Deer Winter Scene 4 and Deer
Winter trees Winter Pine Tree and Winter Scene

Supplies:
Pazzles Vue cutter and Pastry mat and pastry cutting tool
Hearty Super Lightweight Paper Clay
8 x 10 canvas from Michaels
Dina Wakely Gesso (this is what I have, any kind would probably work)
Acrylic paint-I used a combination of Tim Holtz distress paint, Dina Wakely paint and American acrylic paints
Scotch white tacky glue
Masking paper, post it note or paper scrap cut in circle
Ranger Texture paste
Distress glitter rock candy
Comments
comments