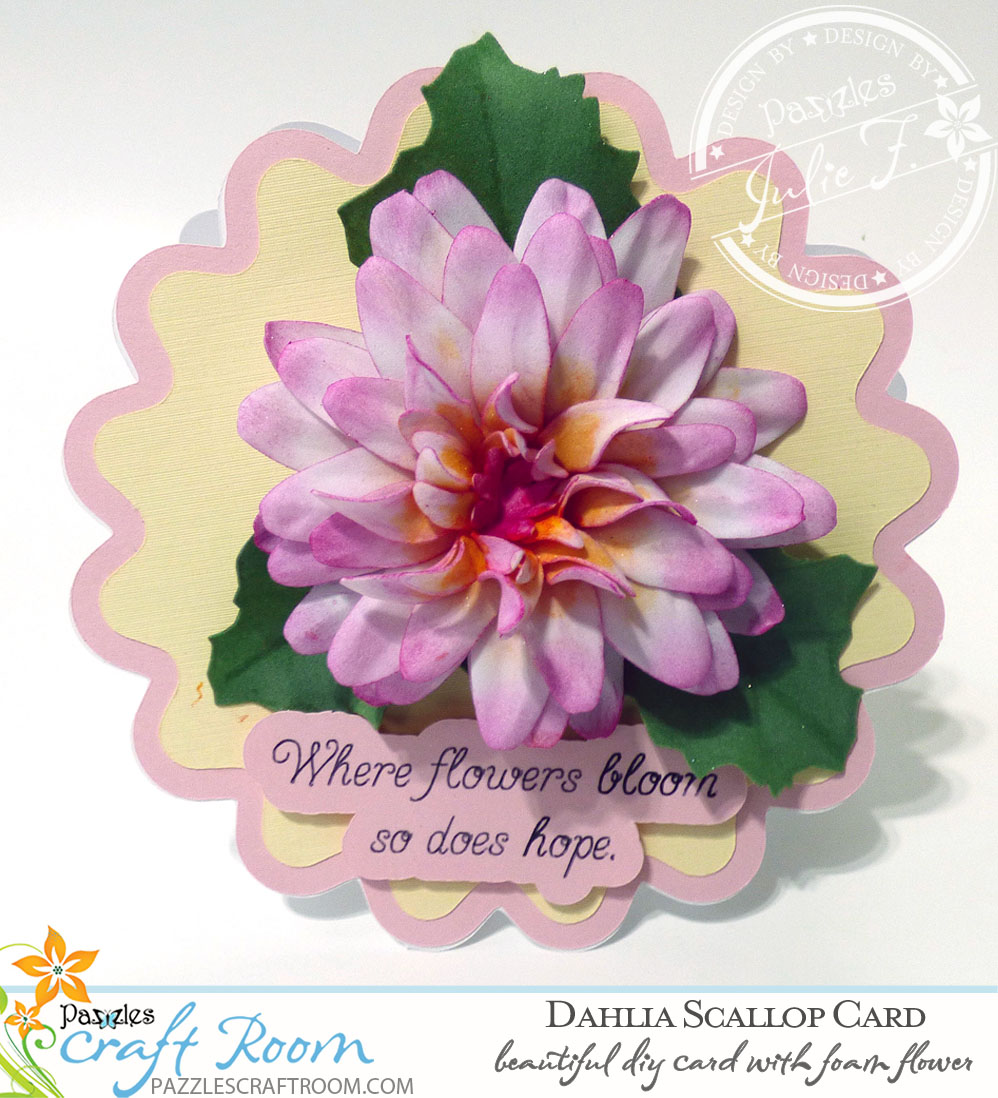 The Perfect Encouragement Card
This 3D foam dahlia on a scallop-edged card will be the perfect encouragement piece for friends and loved ones. The included sentiment reminds the recipient that there is hope. You may use this card as an all-occasion card by changing the sentiment to one of your choice. The inside of the card is blank, allowing you to add a personal note, shape, or additional sentiment.
The card measures about 6 inches in diameter and will fit in this 6"x6" gusseted envelope. You may resize the cutting file to make it larger or smaller, according to your needs.
You may use all 9 petal layers, or as few as one or two layers in your flower, as you prefer. Here is one I made using 5 of the layers provided in the cutting file.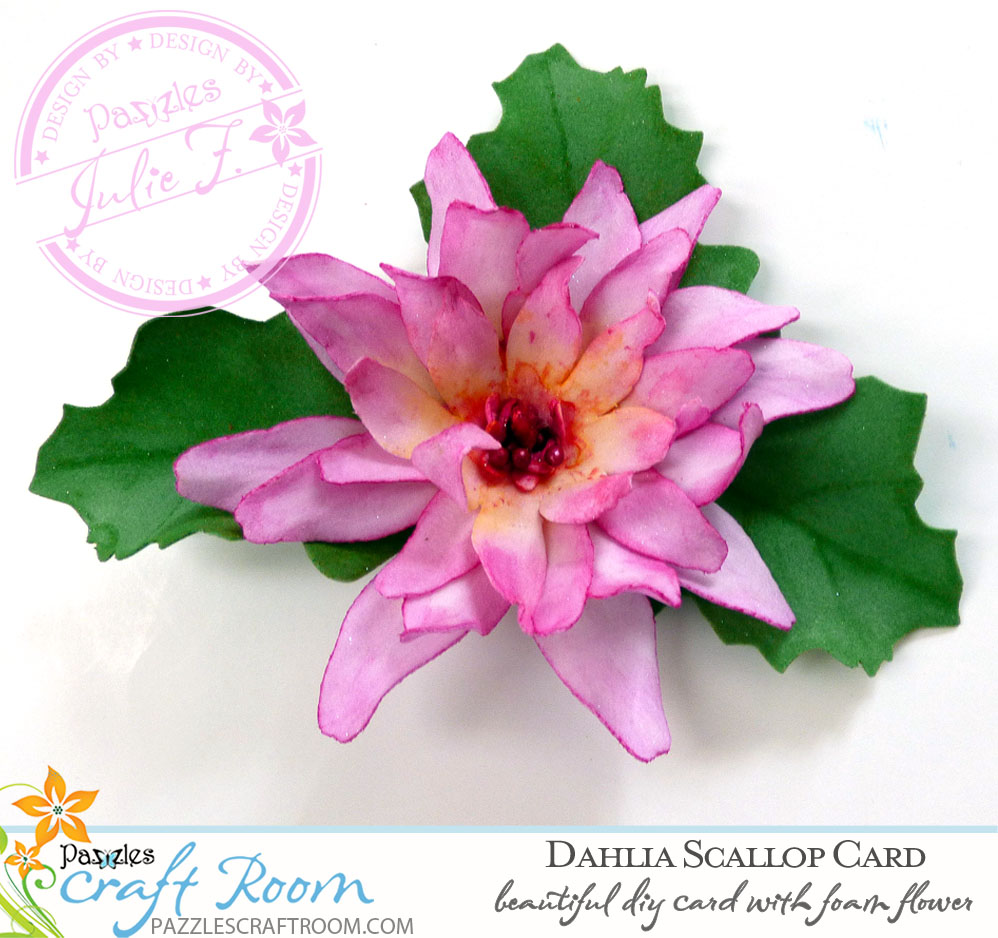 Create the Dahlia Flower in Any Color Using White Foam
You may use any colors, either a single color or combination of your choice. This one is colored with shades of a single pink color. Others I made with two or three colors. If you are using white flower forming foam, you can color the petals with your preferred colors using ink pads, pens, oil pastels, etc. I used sparkle ink pens on my flowers.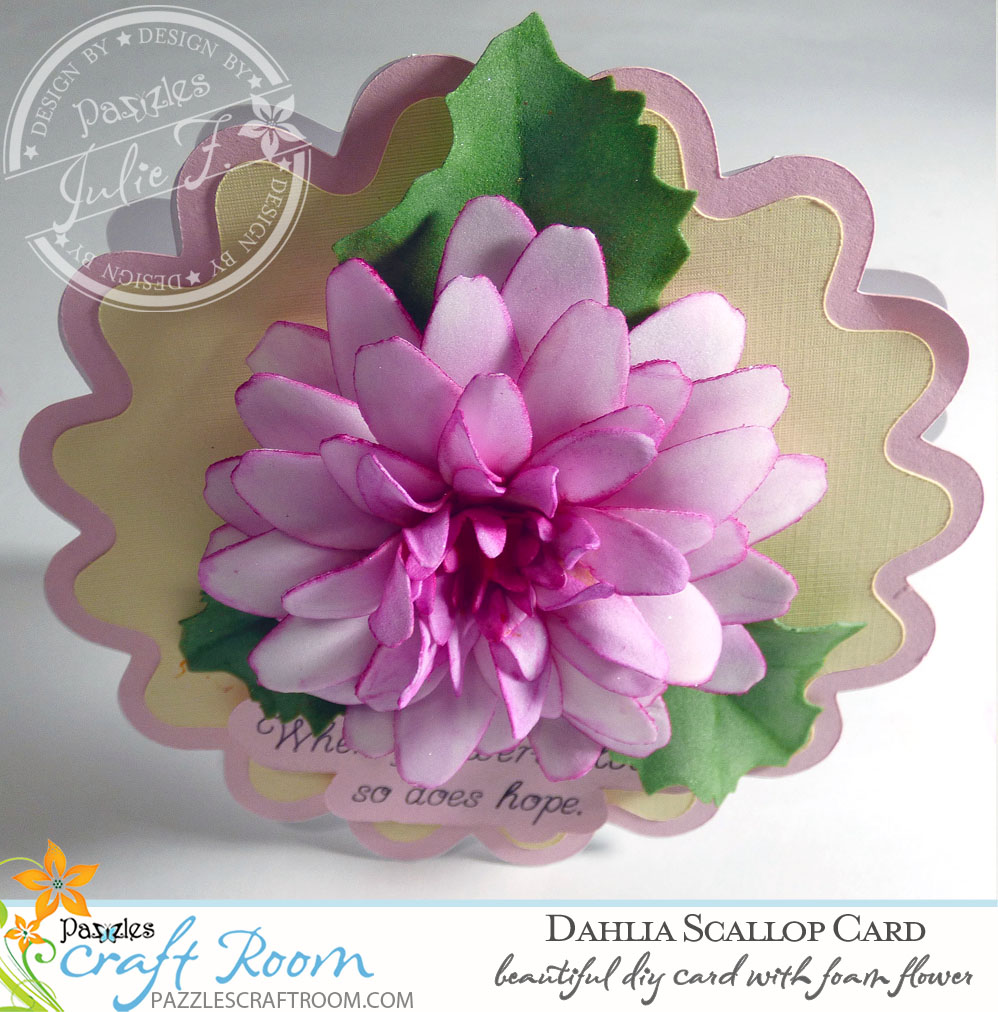 Shape Flower Petals in Variety of Ways for Unique Looks
The flower layers will look different, also depending on how you prefer to shape them. As the layers are heated, they can be folded and twisted to give a random crinkled look.
They can be simply pressed in the center to give a smooth, raised look.
Or you can heat each petal individually, and pinch accordion-style to give a pleated look. You may also combine the shaping style as in this one. It has 5 petal layers that were pleated, and the inner four of them were twisted.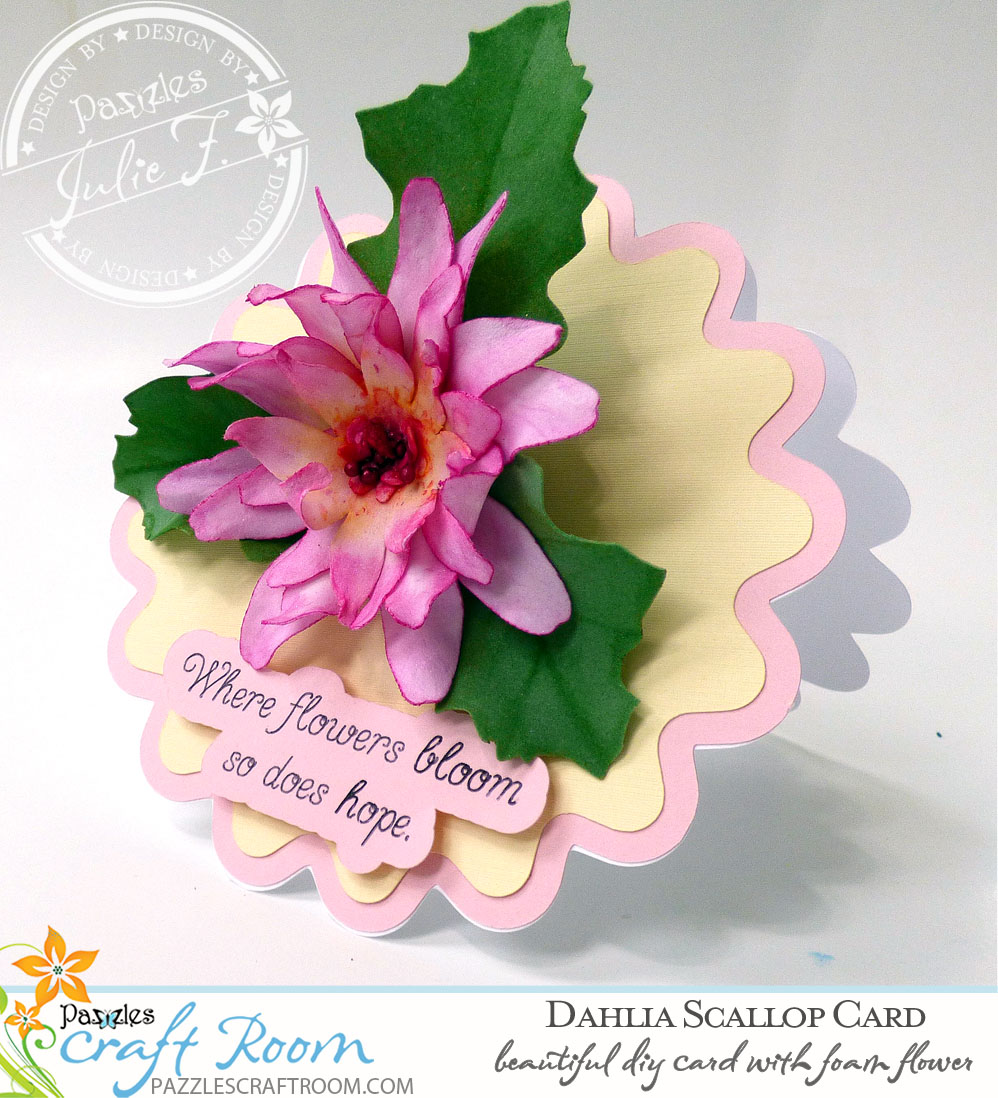 Add Extra Sparkle
You may choose to use stamens in the center of your flower, or fill the center with crinkled layers, as you prefer. It is difficult to see in the photos, but there is glitter in the center of my glittered flower.
To add extra sparkle, you can spray the completed flower with adhesive, then pour glitter over it to give it an elegant touch.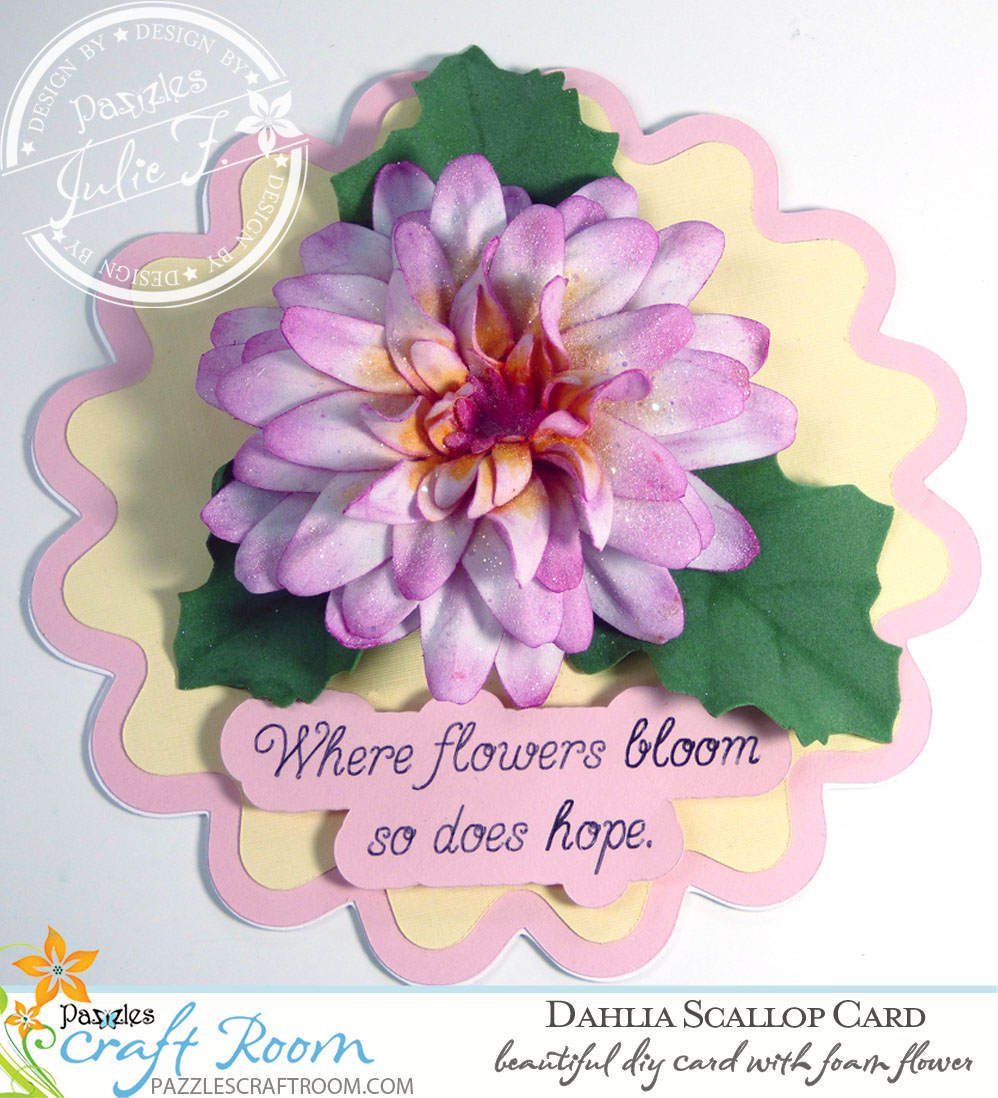 Get Creative with Leaves
You can cut as many leaves as you wish. I used three. To give the leaves a natural look, heat them, then fold them. Hold the crease until the foam is cool. The folds become the veins. Then stretch the foam a bit along the edges to provide some dimension. Adding a bit of color along the veins and edges gives the leaf a more natural look. Alternately, you may use a pen to draw the included vein lines on the green foam before cutting.
Even though you use the exact same cutting file for lots of flowers, each one will be different from the others. It is a unique creation for a unique recipient.
Supplies:
Sheena Sparkle Pens – Spirit (Shocking Pink and Sunshine Yellow)
Black pen, Medium Zebra Z-Grip, Pen holder for electronic cutter.
Glitter- Papericious Frosting Powder
Pop Dots Adhesive
Recollections cardstock 65#, white, pink, and yellow, #Michaels
Thin foam 1mm or less thick in 3 colors Kit with Large ball flower shaping tool and soft foam
Dries Clear Adhesive
Candle Warmer or Iron
Non-alcohol baby wipes 
foam ink applicators
Optional: Spray Adhesive
Love this Dahlia Scallop Card? Make sure to pin and share it!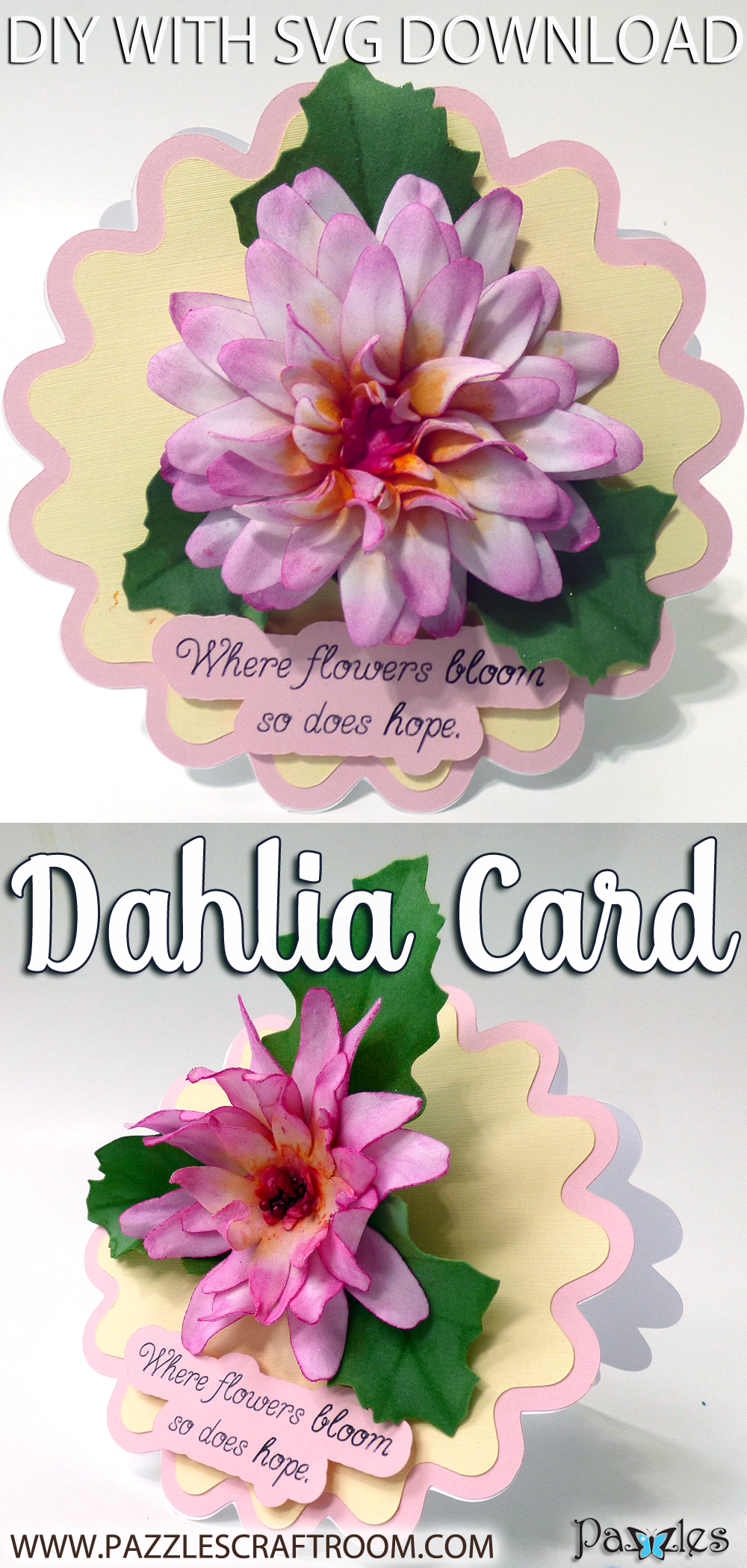 Become a Member!
By becoming a subscriber to Pazzles Craft Room you will have access to this project as well as hundreds of other projects, thousands of cutting files, and so much more!
Get Pazzles Craft Room!
Join Now for only $19.95!

Buy Now!
Purchase this project now and get it in SVG, WPC, and AI formats.
Comments
comments