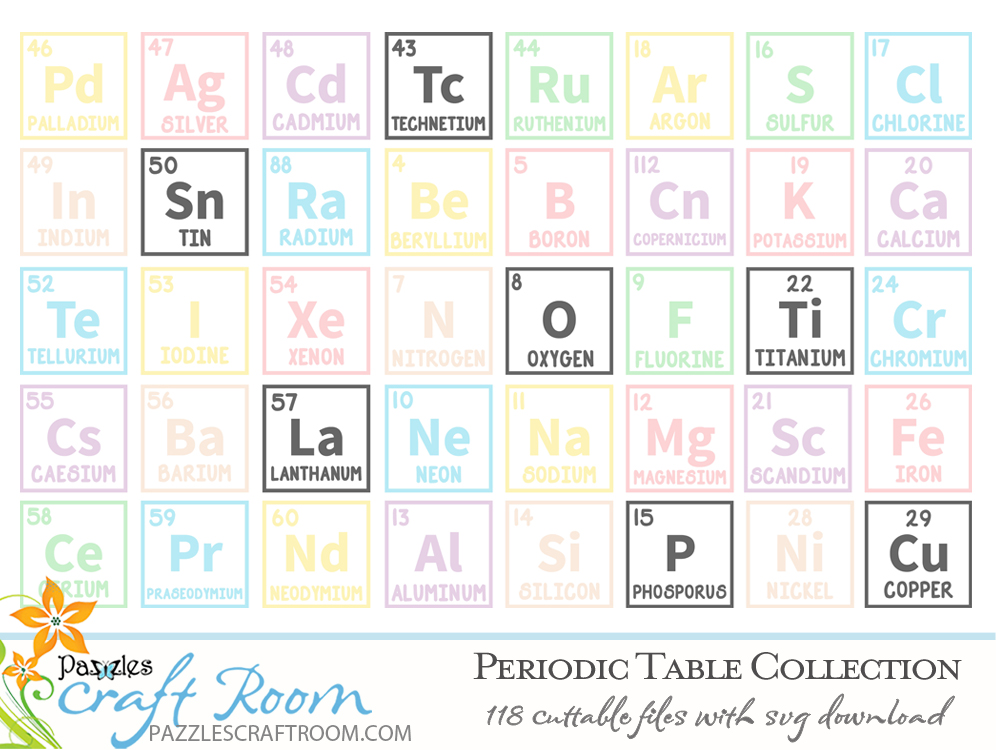 Periodic Table Cuttable SVG Files
It's time to get some science in your crafting! I created this complete set of periodic table elements because I had seen so many clever crafts made using them. Seriously, take a brief look on Pinterest of periodic table DIY crafts and you will see what I mean!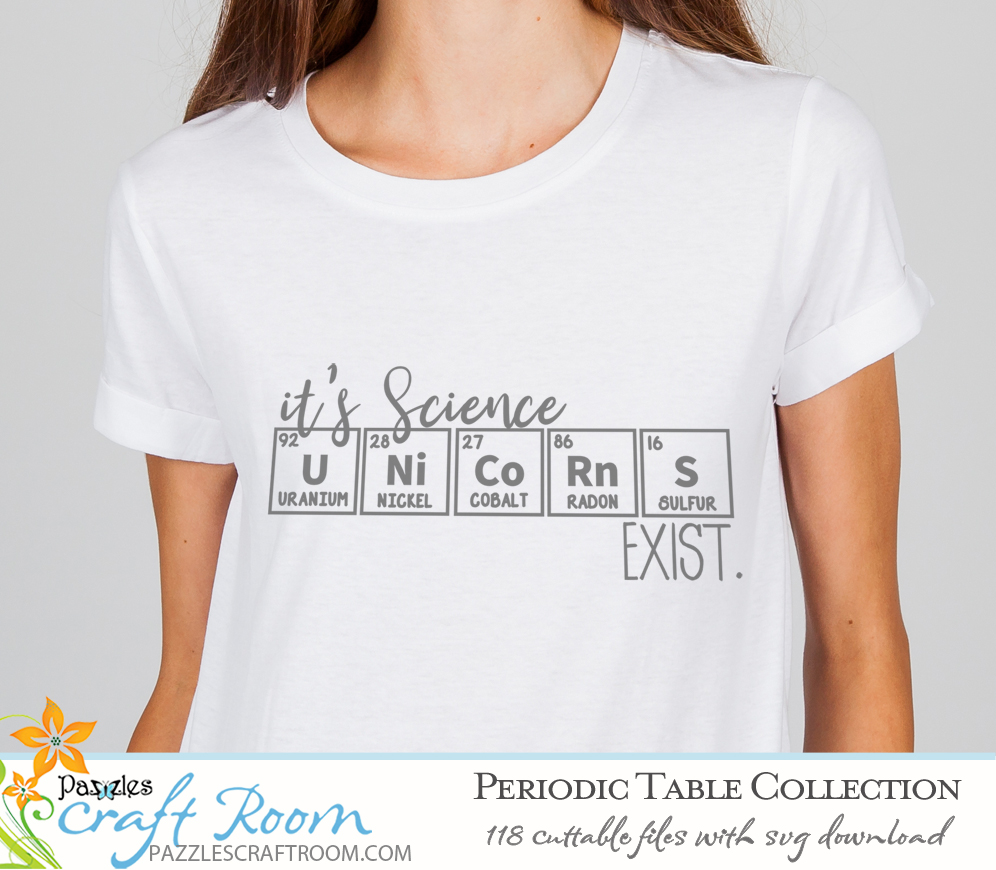 Create Words for All Occasions With Silly Science Puns
There are so many words that you can create from these elements that you can make all kinds of items from birthday cards, graduation cards, father's day cards, valentine's day and more. Make for the science people in your life or just make a silly science pun like I did. Below I have included a bunch of words that you can make to get your creative juices flowing! Once you start seeing the possibilities, you will be as excited about this collection as I am.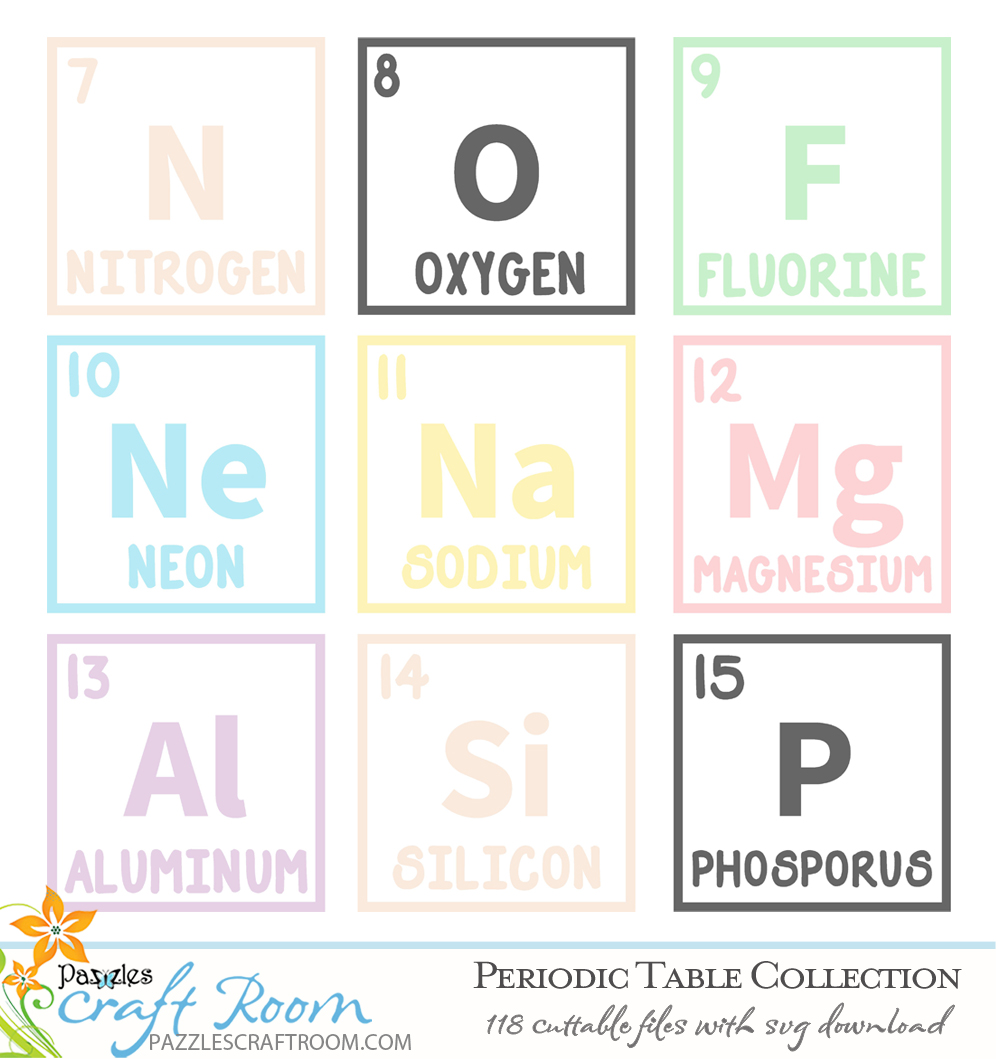 Includes All 118 Elements
There are 118 elements in the periodic table and you will find every single one of them here. That means there are 118 files in this collection making it the biggest collection I have ever done! What can I say? I am a completionist!
Create Endless Word Combinations
Here are more ideas of words and phrases, this is NOT a complete least! There are tons of words that you can make and if you are looking for more ideas, do searches for "periodic table words"! Each element below is put in brackets, for example hydrogen is [H]. For example Unicorn becomes [U] [Ni] [Co] [Rn].
Words and Phrases Ideas:
Iconic – [I] [Co] [Ni] [C]
Genius – [Ge] [Ni] [U] [S]
Congrats – [Co] [N] [G] [R] [At] [S]
Grad – [G] [Ra] [D]
I Luv You – [I] [Lu] [V] [Y] [O] [U]
OMG – [O] [Mg]
Inspiration – [In] [S] [P] [I] [Ra] [Ti] [O] [N]
No Fear – [N] [O] [Fe] [Ar]
True Luv – [Tr] [Ue] [Lu] [V]
U Ar Cute – [U] [Ar] [Cu] [Te]
Nice – [Ni] [Ce]
Beer – [Be] [Er]
Chocolate – [C] [Ho] [Co] [La] [Te]
Oops – [O] [O] [P] [S]
Thnk You – [Th] [N] [K] [Y] [O] [U]
Wife – [W] [I] [Fe]
Husband – [H] [U] [S] [Ba] [Nd]
Father – [F] [At] [H] [Er]
Scary – [Sc] [Ar] [Y]
Hppy Birthdy – [H] [P] [P] [Y] [B] [Ir] [Th] [Dy]
Hppy New Year – [H] [P] [P] [Y] [Ne] [W] [Y] [E] [Ar]
You can make the second letter in some elements (like the "t" in Mt") smaller or a lighter color to make even more words too!
Love – [Li] [O] [V] [Eu]
Smile – [Sm] [I] [L] [Eu]
I Heart You – [I] [He] [Ar] [Ti] [Y] [O] [U]
Thinking of You – [Th] [In] [K] [In] [Ge] [O] [F] [Y] [O] [U]
Sarcasm – [S] [Ar] [C] [As] [Mt]
Miss You – [Mt] [I] [S] [S] [Y] [O] [U]
Sexy – [Se] [Xe] [Y]
Mother [Mt] [O] [Th] [Er]
Love this Periodic Table Cuttable SVG Files collection? Make sure to pin and share it!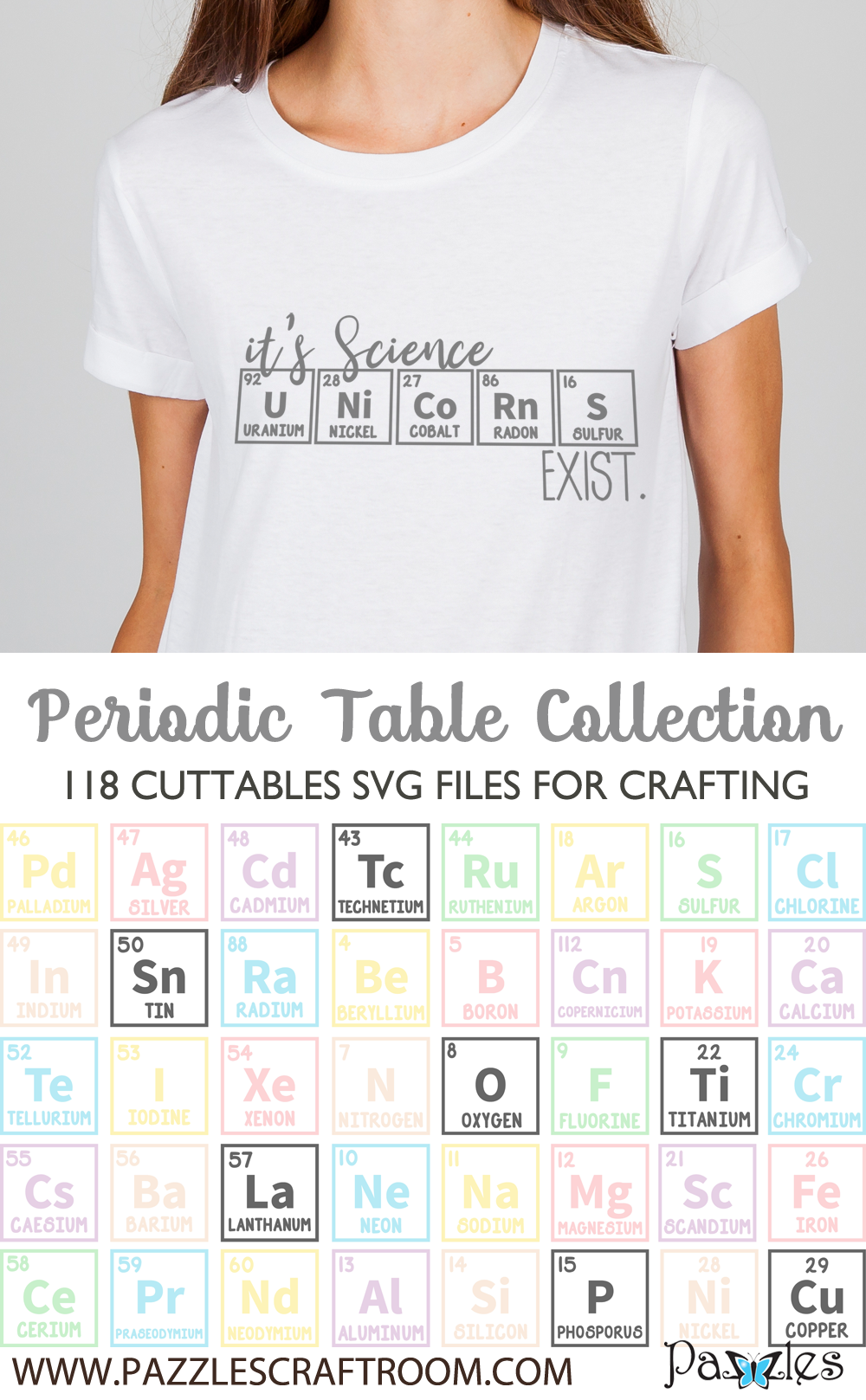 Become a Member!
By becoming a subscriber to Pazzles Craft Room you will have access to this image collection as well as thousands of other cutting files, hundreds of projects, and so much more!
Get Pazzles Craft Room!
Join Now for only $19.95!

or
Buy Now!
Purchase this image collection now and get it in SVG, WPC, and AI formats.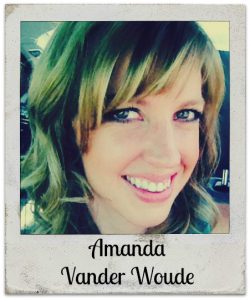 Comments
comments