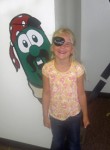 Have you had trouble getting your friends and family to understand what exactly electronic cutting is? Do they kind of look at you blankly when you get excited about it?  I know mine do and it is so frustrating. The men will ask my husband, "So are you and your wife still doing that CRAFT thing?" and you get the feeling they are thinking potholders or macramé. The women will try to compare it to a printer or worse yet, (ugh!!) …..STICKERS!!
 I am over the moon in love with the capabilities of my Inspiration and offer my "services" all the time. Rarely, do they take me up on it. (Maybe that's a good thing but I won't know until they figure out what it is I can do.) Several years ago I cut great big paper letters for a banner in front of church for Easter. I thought that maybe they finally understood how much time I could save. I really don't think it clicked for them because they are carefully preserving the banner and reusing it every year. It is looking pretty worn out to me.
 For the last few years I have offered to cut out Sunday School and Vacation Bible School craft projects but no one took me up on the offer until this year. This summer our church used Veggie Tales™ material and I cut out some wall art for them using the program's Veggie Tale™ line art and vinyl. It was a big hit and the great thing is that the pieces can be peeled off the wall and saved to use again. (That's my granddaughter Kirsten in the picture.)
 A few weeks ago as I sat in a meeting of our Women's Bible Study leaders, I asked (again) if the children's pr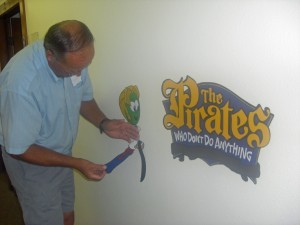 ogram used a lot of cut outs for their crafts. I said I could cut multiples of just about anything in any size and quantity they needed. I could even take pictures from their books and blow them up really big. They looked at me incredulously and said, "Where were you LAST year?!!" ………  Right here, but you just didn't know what I could do.
Do any of you experience similar problems when trying to extol the virtues of the Inspiration?
Comments
comments