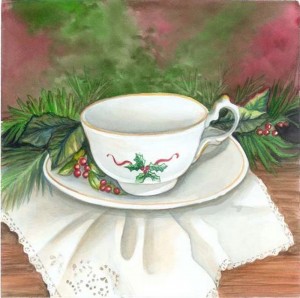 I have to admit that Christmas is my favorite holiday. I know, I know, it is a really busy time. There are presents to buy (or make) and then they also need to be wrapped. There are cards to write and send. The house needs decorating, the tree needs to be set up and the ornaments hung. Then there are all of the extra activities surrounding the holiday. I have a pre-kindergarten program, a first grade program, a Sunday School program, extra choir rehearsals for church, a ministry dinner  and a company dinner to attend. All of that "busy-ness" can make me lose sight of what the season is all about.
So I need little indulgences to keep me in the Christmas spirit. Nothing keeps me going like the smell of cinnamon in the air, a fire in the fireplace, a cup of Christmas tea and Christmas carols playing. (I like Manheim Steamroller and Roger Whitaker!) If I have my tea and cookies on my Christmas dishes it is even better!
One Christmas tradition my husband and I observe every year is to watch A Christmas Carol sometime early in December. (I think the one with George C. Scott is the best.) It reminds me of the things that are really important at this time of year. There are so many memorable lines in it that stick with me all year long.
"There are many things from which I might have derived good, by which I have not profited, I dare say, Christmas among the rest. But I am sure I have always thought of Christmas time, when it has come round as a good time; a kind, forgiving, charitable, pleasant time… And therefore, uncle, though it has never put a scrap of gold or silver in my pocket, I believe that it has done me good, and will do me good; and I say, God bless it!"
"I will honour Christmas in my heart, and try to keep it all the year."
As you hurry through this season, I urge you to take some time to enjoy it. Sit down with your family, sip a cup of Christmas tea and watch your favorite Christmas movie. Then come here and share your favorite  quote with us.
I wish you a wonderful holiday full of joy.  As Tiny Tim said,"God Bless Us, Everyone!"
Comments
comments