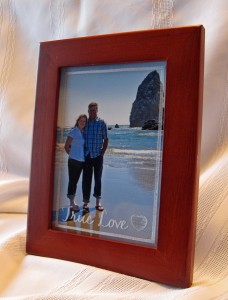 I just finished creating a new tutorial video on the Engraving Tool. I will admit that when I was asked to show examples of different materials that can be engraved on, I was not too excited. It is the holidays after all and I have plenty of projects to do already. However, despite my grumblings, I found that I had embarked on a journey of discovery. I could not believe the different materials that I found to engrave on.
Initially, I think most of us would agree that the first materials that come to mind are metal and glass. But did you know that you can also engrave on plastics, acrylics, wood and paper? I did not have to search far in the craft store to discover an abundance of possibilities. I found metal dog tags and shaped metal tag blanks, wooden tags and popsicle sticks, tiddly winks and thin glass microscope slides to name just a few.
Around the Pazzles office I found even more things to engrave on. Had you ever thought of engraving on a CD? I also tried engraving on the cast off clear plastic spacers that come in the CD containers. I tried the left over pieces of our black mats, our stencil plastic and the acylic sheets we have for clear plastic books. I then turned my attention to our paper supply and found that you can create some fun looks by engraving on card stock. I used a kraft colored cardstock and made the letters pop out with some brown color wash. It really looks like wood. I also engraved on metallic cardstock and was very impressed!
With Christmas right around the corner I can think of all kinds of projects. What about engraving on those mini CD's to make Christmas ornaments or present tags? An economical gift would be to purchase an inexpensive frame and engrave an acylic overlay to protect the photo. Engrave hearts, stars and letters on tiddly winks, drill a small hole in the top of them and string them for a fun necklace or bracelet. Use metallic cardstock and engrave your own elegant Christmas cards. I could go on and on. Hmmm….I wonder if you can engrave on shrink plastic, shrink it and make keychains? I will have to try that and let you know!
Be sure to watch the Engraving Tool tutorial in our video library to learn how to use the engraving tool.
Take me to the Tools and Accessories Videos.
Comments
comments