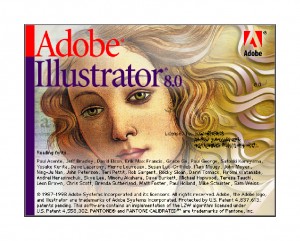 There are a number of different designing programs out there. Many of you, like Norma, are using some of these programs such as Adobe Illustrator and Corel Draw and are excited to see if these files are compatible with your Inspiration Studio software.
I use Adobe Illustrator a lot and want to know if the files I create in this software will import into the Inspiration Studio software?
Norma Rydwell Kent, WA
You will want to make sure that your Adobe Illustrator files are saved as an 8.0 version before you import them into the Inspiration Studio software. To do this in Adobe Illustrator you will want to use the "Save As" option. In the next window that pops up you will be able to select 8.0 from the drop down menu. Once it is saved down you can then import it into the Inspiration Studio software. These files do not need to be vectorized because they are already vector files and can be cut right away. Whenever you import files from Adobe or Corel there may be a little clean up involved, but not much. That's because whenever you import the image it can sometimes import with duplicate or doubled up lines. You may want to zoom up on the image and smooth out any lines, or delete duplicate lines that you see.
Comments
comments