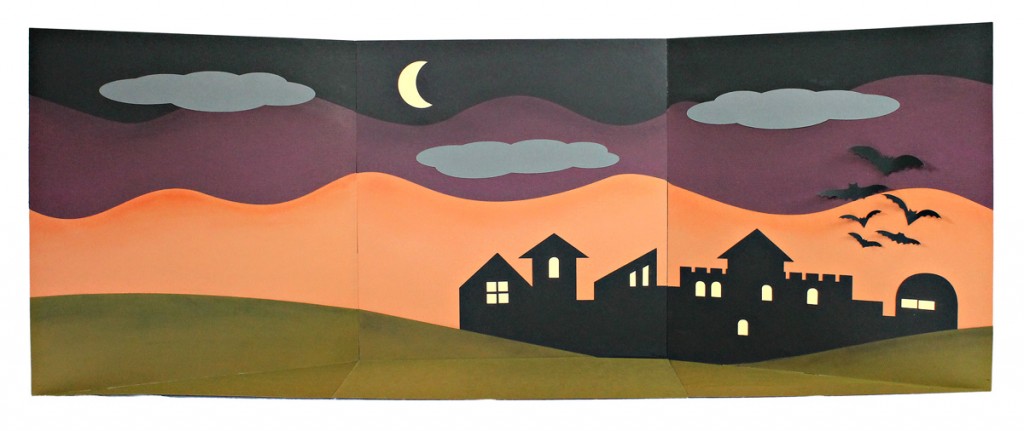 It is no secret that the Halloween season is upon us. Haunted House attractions are springing up in the community, neighbors are stringing spider webs in the yard and costumes are occupying a prime location in the stores.
This year we thought it would be fun to create a 3D Halloween Village. Starting today and each week, for the next three weeks, you will get another part of the diorama. It will be designed so you can fold it up and store it away for Halloween next year. After you put all the loving details into your project you will definitely want to use it again!
This week we are giving you the cutting file and instructions for the backdrop. Next week we will be adding a dimensional haunted house. Of course every haunted house needs a spooky graveyard plus all the traditional Halloween monsters. Those will be added in the following weeks. You can make it exactly as we do, or add your own personal touch.
Happy Crafting!
~Amanda~
Supplies:
2 sheets 12″ x 12″ green cardstock (WorldWin ColorMates in Deep Outdoorsy Olive)
3 sheets 12″ x 12″ purple cardstock (WorldWin Treasures in Royal Plum)
3 sheets 12″ x 12″ orange cardstock (WorldWin ColorMates in Dark Desert Dune)
4 sheets 12″ x 12″ black cardstock (WorldWin ColorMates in Deep Heritage Black)
2 strips, 1.5″ x 12″ black cardstock for hinges, scored down the center, vertically
6″ x 8″ scrap dark gray cardstock (WorldWinColorMates in Deep Heritage Gray)
2.5″ x 5″ scrap pale yellow or ivory cardstock
Adhesive: permanent and removeable
Pop Dots, optional
Chalk or Ink for distressing, optional
A Craft Room Membership is required to access additional content. Please Join Now or Login!
Comments
comments