Introducing the new WPC & SVG Cutting Files from Pazzles, CD #51: Party available on disk or as a digital download! To celebrate, we're having a party here on the blog every day for seven days. Enter to win a Party CD each day! That's seven chances to win and seven winners. One of the seven will be randomly selected as the 'Grand Prize Winner' and will receive every single Pazzles Cutting File CD—that's over 50 CDs!*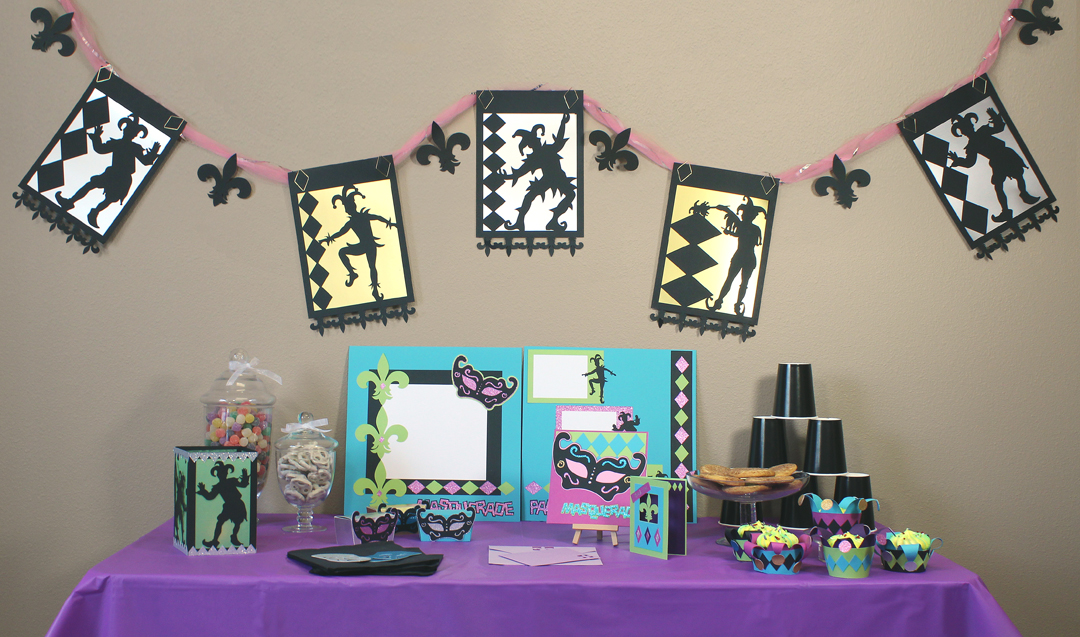 Bring out the bling and show off your sparkle at the Masquerade! Featuring diamonds, fleur-de-lis, and a masked jester, the Masquerade Party can be dressed up for a classy ball or dressed down for a Mardi Gras get-together.

Designed by Pazzles' Founder, Christine, the Masquerade party has everything you need to host a grand affair, starting with the invitation. This sparkly mask card with Pen Tool inside details made a sneak appearance on the Paper Crafts Connection blog.
In addition to the Invitation, the Masquerade Party also includes a Thank You Card, Cupcake Wrapper, Luminary, Favor Box, Scrapbook Layout, party game ideas with instructions, and food ideas with recipes. With all the party planning done, all you have to do is pick a date!
Thanks for checking out today's party, Masquerade, which is one of six fun pre-planned parties on Pazzles' new Party WPC and SVG Cutting Files, available on disk or as a digital download. We're celebrating the CD launch with seven days of parties… But if there are six parties on the Party CD, what will happen on the seventh day??? Stay tuned for the rest of Pazzles Seven Days of Parties to find out!
Comments
comments