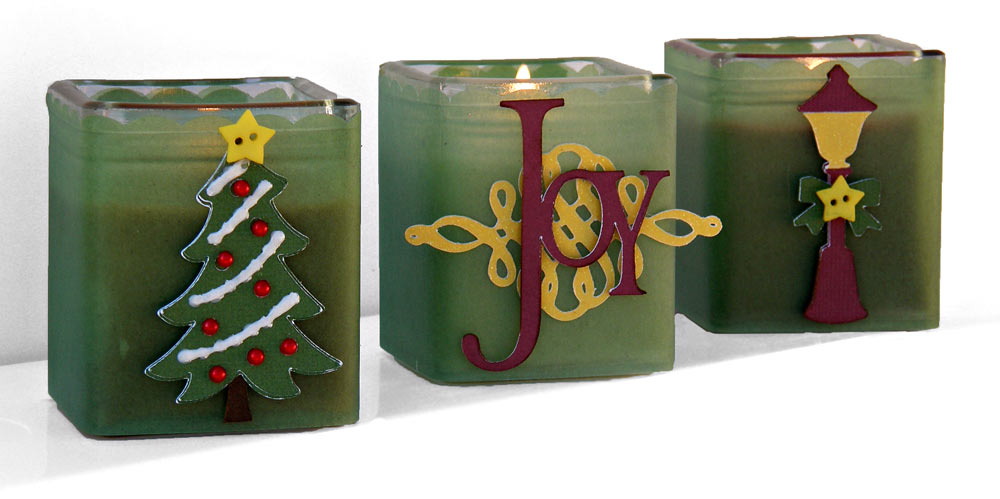 Candles are one of my favorite parts of the holidays. I love the smells, the glow, and the warmth they add to a room. Sometimes though, the plain glass containers can be, well, a little boring. And really, who wants to look at the label or the other side with the warnings? I know I don't. In about 15 minutes you can decorate them. All I did was gather a few files from the Craft Room Library and size them to fit my candles.  The candles I had were small candles about 2.5″. Gather some vellum, a couple buttons, some pearls, and some adhesive, and you are ready to go.
First I measured my candle height and how big around it was and drew a rectangle about half an inch longer than my measurements, so it would overlap in the back. I cut down the top of the rectangle so I could give mine a scalloped top. I then cut three wrappers out of vellum. I chose the Garland Christmas Tree file, the Holiday Lamp Post file, the Joy file, and the Curling Emblem file, and resized them to fit the candles. I used the outline feature in the software on my files so the finished file was just a little thicker. I cut out everything, wrapped the candles with the vellum using sticky strip, and added my finished files to the front. And that's it.
This is a real simple, quick project. Mine are going on my mantel, but these would make a great gift. Having a few on hand for those "surprise" guests is a good idea too.
~Marjorie
Supplies:
Vellum
Comments
comments