It's beach week in the Craft Room! The Pazzles Design Team has come up with some fabulous beach inspired projects to share with you this week. Soak up the sun and sand this week and join us! Be sure and check out our Beach Week Pinterest Board for even more summer inspiration.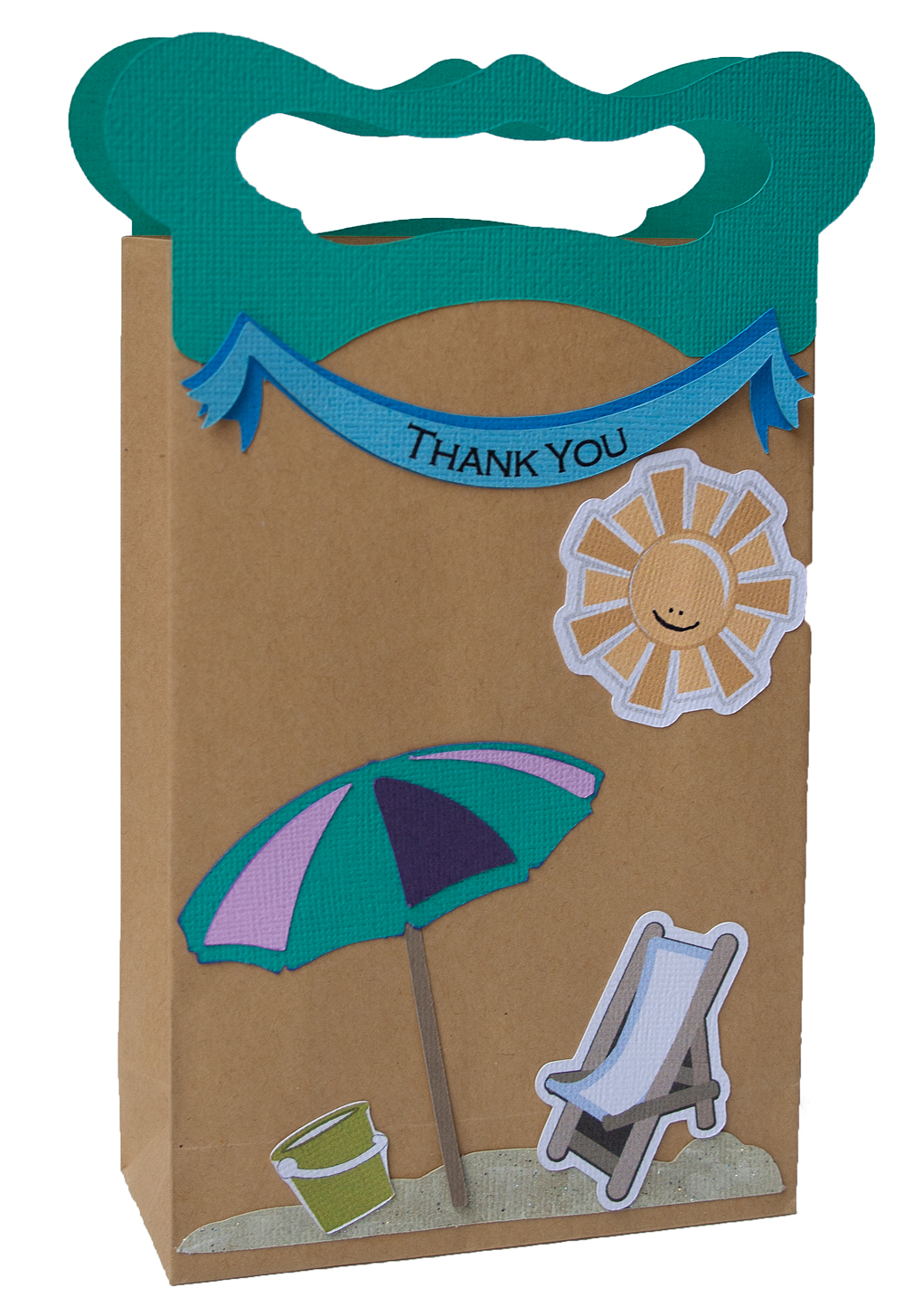 Here in Australia we are heading into winter, but in the northern hemisphere, summer is on your doorstep. If you're throwing a beach party to celebrate the beginning of summer, you might like to create favour bags similar to the one I created using my Inspiration Cutter, and fill the bag with all kinds of summery treats.
Party favours are fun to make and mixing and matching different files in the same theme makes for a fun project. I used the Lunch Sack Gift Bag Vintage Handle file for the great looking handles on my paper bag, resized to fit on the bag. The next file was the Swag Banners with Thank You text printed onto the top layer using the text fit to path function (refer to Fit Text to Path Video). I used a darker blue for the bottom file and then a lighter colour for the top. Line up all elements of the Happy Sun file and then create an outline to cut out the very outer layer so the image can be printed onto it using the Print and Cut method.
I used the sand shape from the Beach Umbrella file and after inking it with white ink I sprinkled white embossing powder onto it and set it to give a sparkly effect. I was going to sprinkle it with sand, but I think this looks better! The bucket was easily print & cut. There's another Beach Umbrella file and I only used the umbrella from this file by cutting each piece out and putting it together after inking the edges. The Beach Chair file was created using the print and cut method as well.
I lined everything up in my software just as I wanted it to look on the finished piece. I measured the plain paper bag first and drew a rectangle the same shape in the software as the base. Each element of the project then came together within those confines.
Favour bags don't have to be boring! Think of them as a mini scrap layout or card layout and let your creativity soar!
~Belle
Supplies:
Bazzill Basics Cardstock
Comments
comments