"Let it Go, Let It Go……" is sung in our household, and my car repeatedly! This movie is so loved in our household, that my almost 5 year old son has chosen it as his theme for his upcoming birthday party at the end of August.
The Pazzles Party CD 51 holds many amazing files that can be tweaked as required for your chosen theme. I adore making party décor and favours, and these files give you an excellent base to work from. Most of the pieces of my party are taken from other themed parties on the Party CD and remade with my winter party theme.
Circus Pinwheels to Ice Pinwheels
These make the quickest little additions to a sweet table or to give as party favours. I plan to make more of these in coordinating colours, and adding a touch of glitter to the corners adds more festivity! They don't have to spin either, fastening them to a paddle pop stick and used as a static display is quite okay.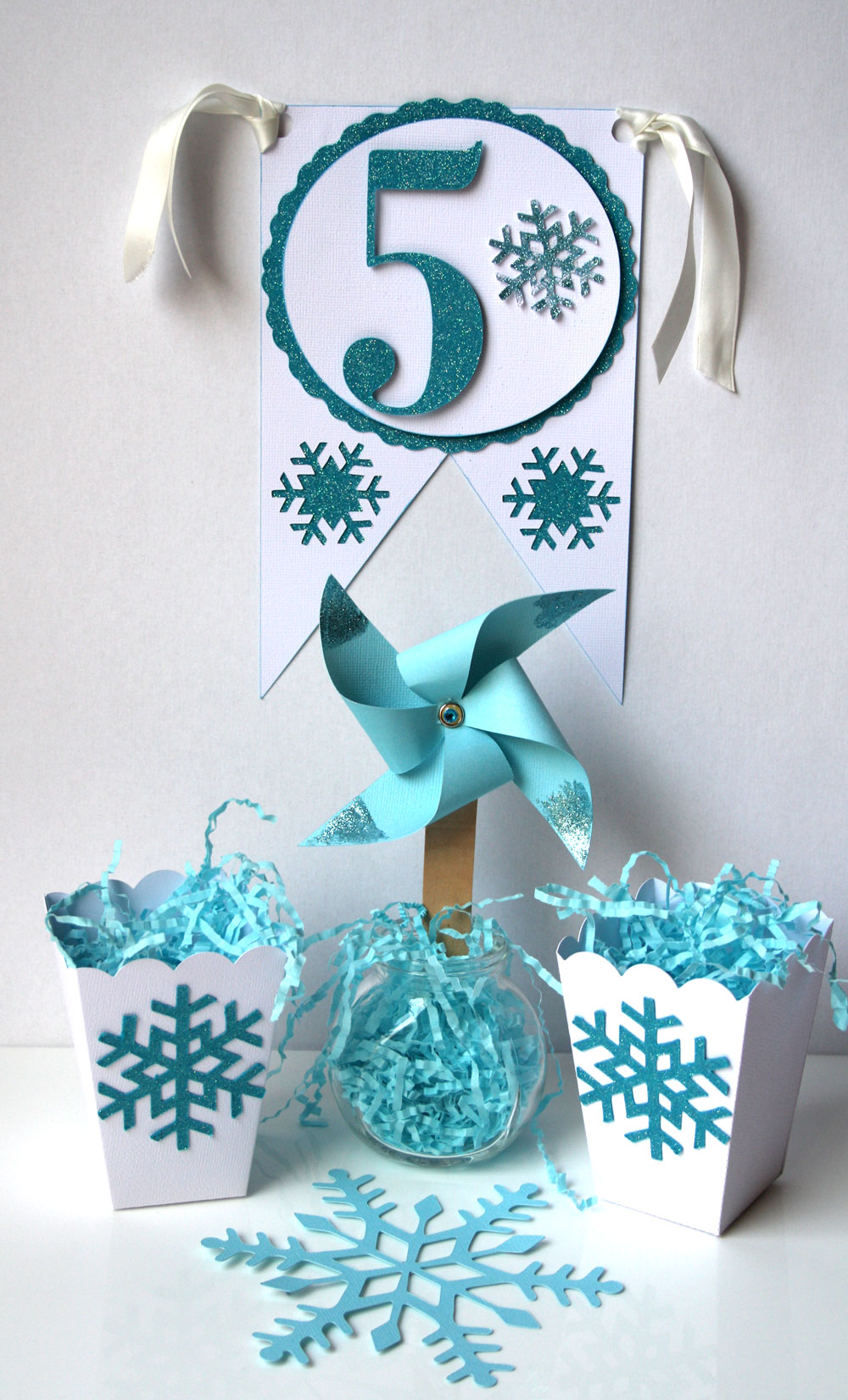 Baby Food labels to Sweets Jar Labels
I deleted the third layer of this file and just kept with two layers. I decided to add the Winter Snowflake file behind the text for interest. Inking the edges of the shapes before assembling makes them stand out more too. I much prefer the look of inked edges. I feel like my work is complete and not so 'flat' looking.
I had these cute jars laying around, and cut pieces of glitter paper to size and popped inside the jars to pretty them up. When the ribbon and food labels were added they looked great!
Circus Popcorn Boxes to Snowflake Treat Boxes
Cutting these little beauties out is so quick, and they could be used for food, favours, or table centrepieces. Reaching for my glitter paper stack, I was surprised by how well my machine cut these out. The paper has a bit of a felt type backing, and I thought it might not cut very well. I increased my pressure a bit from cutting cardstock and did two passes to ensure clean cuts all the way through. SUCCESS! I added snowflakes to keep with my theme.
Circus banner to Birthday Pennant 
This file doesn't always have to be used in a complete banner. I decided to feature it with a number 5 instead of spelling out a name or other message. The glitter paper stack came out again and made this 'pop'. The little snowflakes that I cut out then became their own little decorations. One of them was used next to the number 5 after coating it with glitter and the other simply adhered in a group of other snowflakes. Adding a piece of glitter paper behind the snowflake cut-outs balanced the pennant.
I raised up the white oval with foam squares as well as the number 5. I added two little circles to the top corners so I could add some ribbon for extra decoration.
Diva Hanging Diamonds
I just used the spiral 'springs' for this easy little decoration. The first one I cut out hadn't spread out so well, so I glued a little button to the bottom to weigh it down. The second one I cut out, I pulled it off the mat in a spiral and that made it spread out much better! I learn as I experiment sometimes.
Rosette Snowflake Border
As I was setting up my items to photograph them, I felt the shelf needed decorating. So I cut out three lengths of one of the Rosette Snowflake Borders and adhered them to the front of the shelf. They acted as a bit of a 'fence', but also a lovely addition to the foreground of my photos and an extra decoration. I think these would look cute adhered to the perimeter of a cake stand as well.
I was going to use patterned paper for these projects, but I think the plain cardstock has given more impact in their simplicity. A touch of glitter here and there is all they needed. Each of these items are so easy to put together, and it's quite exciting watching it all come alive. I have so many more ideas to try and will certainly build on this collection for Zachary's upcoming birthday. Come back and visit my blog in September for more photos and projects which will have more of a boy's touch with the addition of Sven & Olaf. Zachary loves the decorations I've done so far, and perhaps his sister has influenced his love of all things sparkly!
~Belle
Supplies:
Kaisercraft Cardstock (Coconut)
American Crafts Cardstock (Light Blue)
Craft Bug Glitter Sheets
Shredded Filler Paper
Large wooden stick
Comments
comments