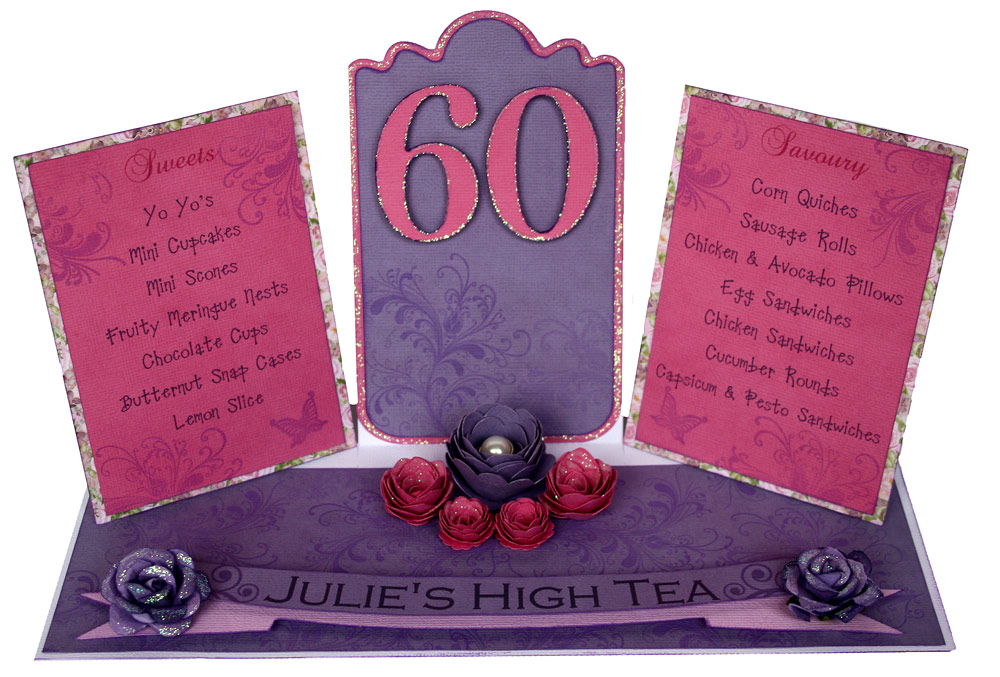 When the Easel Card Collection was released I was super excited. These are some of my most favourite cards to create and the Triple Tag Easel Card file was perfect to use as a centrepiece for an upcoming friend's 60th Birthday High Tea.
Once you've chosen your colour theme and cut out all your pieces this comes together really easily. I used the fit text to path function for the banner text and printed a partial Miss Kate Cuttables Pretty Swirls at each end of the banner. Some foam squares and a couple of Kaisercraft blooms with glittered (KindyGlitz) petals finished off the front section.
The centre tag was embellished with some more KindyGlitz around the pink border and a couple of stamps. A 60 with inked and glittered edges completed the centrepiece on the top layer. A few Twirled Flowers in various sizes finished with a bit more glitter and a pearl brad for the larger one added to the centrepiece feel of the 60 tag.
I have used a flourish stamp to give the plain cardstock a lift and pretty it up, but using patterned paper will make this project even quicker. You now have a gorgeous centrepiece for a special friend on her birthday.
OPTIONAL – I increased the whole file so it fit the width of the inspiration cutting mat. This means that the tags were also resized to match at the same time. I did increase the height of the tags slightly. (This isn't necessary – it's just I wanted it a touch larger than a regular card to fit the menu.)
~Belle
Supplies:
Kaisercraft Weave Cardstock  (Coconut, Lilac and Bubblegum)
Kaisercraft Patterned Paper (True Romance Collection – Love Story)
Versa Colour Inks  (Violet & Orchid)
Kaisercraft Pearl Brads  (Silver)
Kaisercraft Magic Happens Stamp Set
Comments
comments